USAopoly's Harry Potter CLUE Game Review and Give-Away!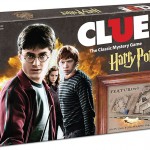 Aug 15, 2016
As Leaky reported earlier this year, USAopoly re-released their popular Harry Potter version of CLUE. Leaky was able to review USAopoly's Harry Potter twist on the classic mystery game.
It has been at least a few years since the Harry Potter version of CLUE was on store shelves, but if you missed the game the first time, you are in luck! The game is back, and it does not very much from the first release edition. If you have friends that own the original and can compare the two, don't worry, you are not missing out on any fun. With an updated box that offers slimmer, more efficient packaging, the contents of the Harry Potter CLUE game is still the same.
(Click to enlarge pictures throughout article)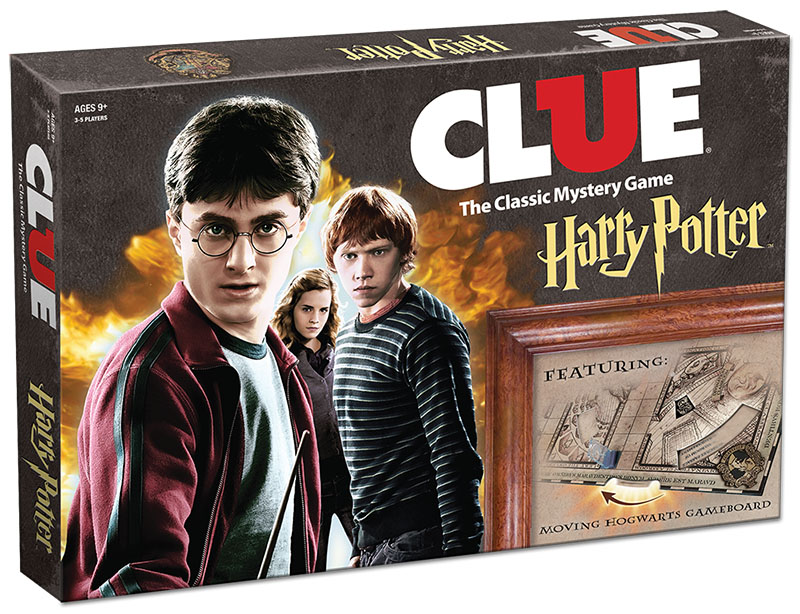 With Hogwarts as the setting, featuring our favorite rooms from the beloved Harry Potter books and films, fans can play as their favorite Harry Potter characters as they discover Who, with What, and Where a dark magic crime was committed (a Hogwarts Student was kidnapped–oh my!). For parents who may have worried about the age appropriateness of a a murder mystery, Harry Potter CLUE is about key members of Dumbledore's Army saving a D.A. member/friend who is very much still alive. The game is still suggested for Wizards and Muggles over nine years of age.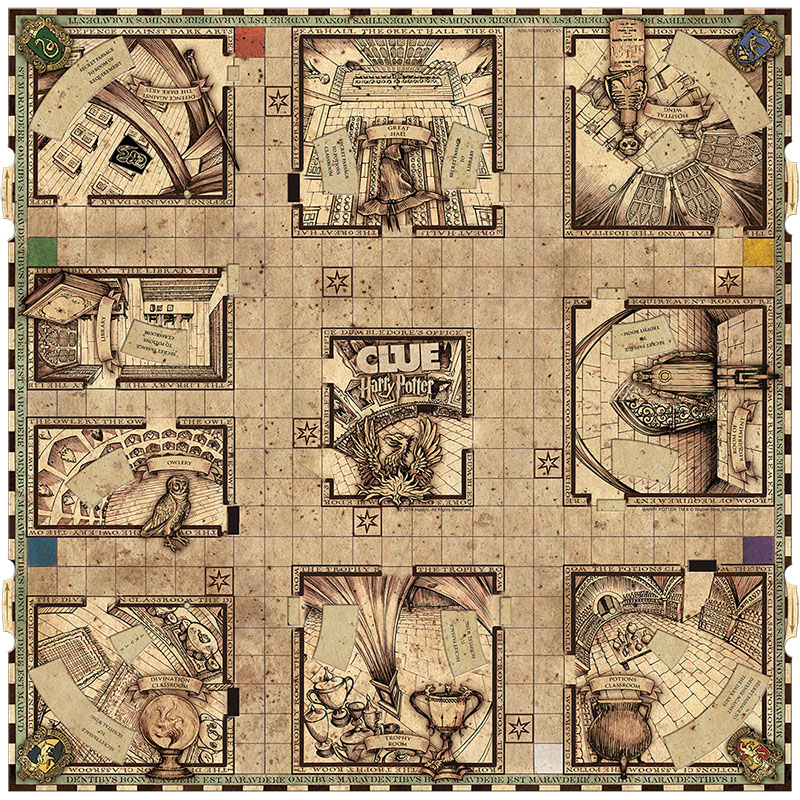 It is Harry Potter and the Wizarding World, of course, so there are a few tricks to this version of clue–passages and corridors that are open one minute, are sealed shut the next, like moving staircases. A Hogwarts di bares all four houses (as well as a dark mark and HELP star), and tells players which rotating game board wheel to turn to open and close passageways.
USAopoly lists what is included to give fans an idea of the game that they have created:
33 Help Cards
6 Mark Movers
21 Mystery Cards
[? Dark Mark Cards]
40 House Point tokens
6 Suspect Tokens
2 Standard Dice
1 Hogwarts Die
4 Rotating game board wheels representing each of the 4 houses
Custom Instructions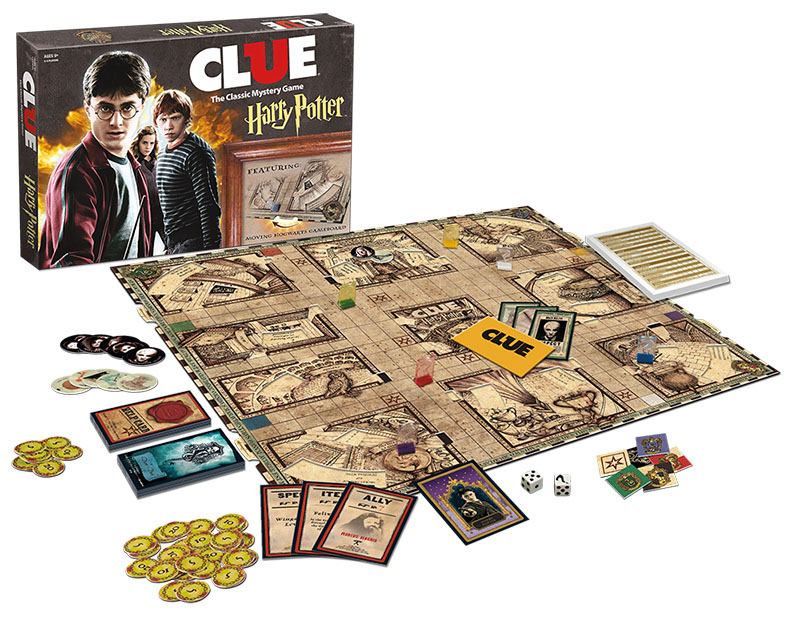 In addition to the normal challenges of the classic CLUE game, players also have to be on the look out for the Dark Mark, which, as all fans know, causes trouble! However, where there is a Dark Mark, there is also help. The game provides HELP cards (an item, an ally, or a spell) to help ward off danger. Unlike classic CLUE, in Harry Potter CLUE, players must also keep track of their house points. Run out of house points, you lose the game without having the chance to solve the mystery. 3 players start with 60 house points, 4 players begin with 70 house points, and 5 players begin with 80 house points. Dark Mark cards (which appears by rolling the Hogwarts di, or turning a rotating game board wheel) forces game players to lose house points, while HELP cards (acquired by landing on a star or rolling one on the Hogwarts di) help players keep their house points.

With all the extra Harry Potter-components, the game itself is not too difficult. It is about the same difficulty level as classic CLUE. The added house points, opening and closing passages, dark marks, and help cards make the game more interesting, not confusing.Players may have more trouble pronouncing Impedimenta or Petrificus Totalus from the choice of "weapons" featured in the picture above. The directions are very intuitive, though we at Leaky suggest all players start with two or three HELP cards, rather than one as the game's directions suggest.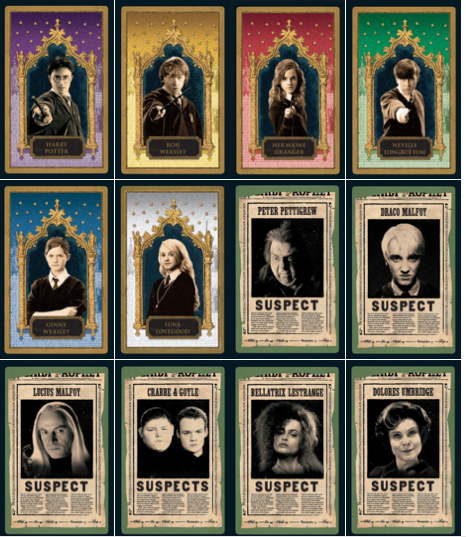 USAopoly's Harry Potter CLUE suggests 3-5 players, choosing one of the 6 Dumbledore's Army characters to be kidnapped. However, for Harry Potter fans that are familiar with other Harry Potter character that are not featured in the game, you can name a hypothetical kidnapping of a different character and use all six game pieces. This comes in handy during game night parties of more than 5 people; just adjust house points accordingly. This Harry Potter game is perfect for a night in with friends or an evening of family fun!
More pictures of this board game being played can be seen at the bottom of the article.
HARRY POTTER CLUE GAME GIVE AWAY!
In partnership with USAopoly, Leaky is hosting a give away–giving one lucky Harry Potter fan the chance to win this Harry Potter CLUE game! The first fan to correctly answer the following puzzles and "riddles" (5 riddles related to the Harry Potter CLUE board game, and 2 bonus riddles), by emailing [email protected], will receive the Harry Potter CLUE board game from USAopoly! Bewarned, any Muggles or Dark Wizards answering the riddles and puzzles on Facebook or Twitter will be automatically disqualified from the give-away; answers must be emailed! (It's no fun if one person gives away all the answers first!) Good luck!
Which CLUE characters do the Harry Potter characters in play represent in relation to their color?
I can help you and I can harm you; by chance I can block you, but 17% of the time you will always be grateful for my help. What game piece am I?          
Use the above picture to answer the following "riddle." While your game piece is between rooms, one of your four fellow player rolls the dice and a Dark Mark appears. The Dark Mark card applies to you. You take a look at your Help Cards, and decide whether or not you are able to play one. In the next round, you role the Hogwarts di and must turn the Slytherin wheel. The door you were going to exit the Great Hall from is now blocked and a Dark Mark Appears on the board. You draw a card from the Dark Deck that applies to you. You take a look at your Help Cards, and decide whether or not you are able to play one. In the final round a fellow player rolls the di and get a Dark Mark and draws a card from the Dark Deck that applies to all characters. You take a look at your Help Cards, and decide whether or not you are able to play one. What is the best-case scenario in terms of your remaining house points?
There are nine ways to receive my assistance, you can find me in the corridors, you can find me in a roll…What feature of the game am I?                                                          
Using the scorecard in the picture, find Who, What and Where to finish the game with the following "riddle." I am a loyal follower of the Dark Lord, an important part of me was taken from me, I died during Harry Potter's journey in Deathly Hallows, which SUSPECT am I? I freeze my opponents, I can freeze man and select other beasts, as time passes you will become free of me, what "WEAPON" am I? At times what you seek can be found here, in times of trouble I have been known to be useful, even if I cannot assist you directly I can give you the knowledge you need, what ROOM am I?
Two Bonus Riddles:
Riddle #6
First think of the person who lives in disguise,
Who deals in secrets and tells naught but lies.
Next, tell me what's always the last thing to mend,
The middle of middle and end of the end?
And finally give me the sound often heard
During the search for a hard -to-find word.
Now string them together, and answer me this,
Which creature would you be unwilling to kiss?
7. Answer the following riddle by each separate part before giving the full answer:
The first is the fourth, a disappointing mark. You'll find it in parked but not in park.
The second is the less fair of those who walk on two legs: grubby, hairy, a disease of the egg.
And the third is both a mountain to climb and a route to take. A turn in the city, a glide through the lake.