Daniel Radcliffe and Emma Watson's Jeans Auctioned for the 'Jeans for Refugees' Project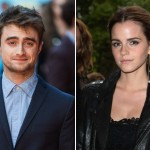 Aug 19, 2016
Emma Watson and Daniel Radcliffe have both donated to the  Jeans for Refugees project, joining over 100 other celebrities in raising money for the International Rescue Committee (IRC).
Emma, Dan and other stars (including Elton John, Harry Styles and Kate Moss) have donated a pair of their jeans, which are then painted and customised by project leader, Johny Dar.
Dar comments on the donation of Daniel Radcliffe's jeans: 
"Daniel continues to make shockwaves through his magic wand, and with his subtle sexiness.  There's a dynamic movement in the design of his jeans, and different painting techniques incorporated – hand-drawn geometry, and arrow patterns (which reminded me of Harry Potter's signature scar) in blue and indigo that play with the cut and movement of the denim.  And details in 3D metallic steel along the legs, like a code. Painting Daniel's jeans was a steady ride, with a sense of complete confidence, no matter where the ride takes you."
On reinventing Emma Watson's jeans:
"Emma has her own personal fairy tale going on that shows so nicely in how her jeans turned out. I really loved working on these – it was like painting a story and getting to know it while I painted…"
33 pairs of jeans are already available, and the first lot of men's jeans are being released from today [Friday 19th August], coinciding with World Humanitarian Day.
Even more jeans worn by celebrities will be released over the summer, and the project will also host events involving the public.  
Currently, Sharon Stone's jeans are the most popular with a current bid of £4,179.
View Emma and Dan's jeans below, and read more about the project  (and how to participate in auctions) here!