Live from GeekyCon: The "Cursed Child" PotterCast!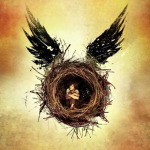 Aug 19, 2016
PotterCast joined up with MuggleCast and others to produce a live podcast from GeekyCon in Orlando, titled "LeakyMug and the Cursed Child."
(This talk is full of spoilers! Listen on iTunes here, or by searching for PotterCast on services like Stitcher, or wherever you listen to podcasts. You can also direct download here!)
This special group of podcasters stayed up all night reading Harry Potter and the Cursed Child, the published script of the eighth Harry Potter story/stage play. Most of the audience had also gotten little to no sleep, discovering the secrets of Cursed Child. Despite being zombies, this group of podcasters had a blast leading a mass book-discussion on Cursed Child.
Cursed Child was certainly an…interesting…Harry Potter story, but it is a new Harry Potter story. SO MUCH HAPPENED. Going into the script-book spoiler-free and completely unaware of its contents, many people experienced the euphoria of a new Harry Potter story. The podcasters were certainly dumbstruck.
Some fans will like Cursed Child, some will definitely not. It is officially a part of Harry Potter canon; even though J.K. Rowling did not write it, she has put her stamp of approval on every detail. Melissa expressed how much she loved it, especially Scorpius Malfoy, who has been deemed a warm cinnamon bun to precious for this world!
As many people know, when Harry returned, so did Voldemort. Along with his offspring, the Belletrix-Voldemort love child named Delphi. Could there be a Harry Potter story without some sort of Voldemort? The podcasters pondered this. Harry and his son go on another extraordinary adventure, but also a familial journey at the same time.
Since Cursed Child begins "19 years later," and continues on, Harry, the Trio and other Hogwarts students are now adults. The podcasters talked about Harry, the grown up human, Ron and Hermione's relationship, the trio through time, the story from perspectives of other characters, Ginny's role, and the development Draco. Harry is a top auror trying to police the Volde-rumors. Hermione is now Prime Minister! There are politics, and the podcasters discuss the politics of fear. As the leader of the Ministry of Magic, the podcasters talk about Hermione's security system of puzzles…easy enough for teens to break through?
There is also a lot to discuss about the next generation, new characters. First thing on everyone's mind was Albus and Severus's loving relationship. There are new Slytherins featured. For the first time in Harry Potter Slytherin is featured in a really good light. At one point in time during the story, in an alternative reality, Harry Potter's most kind house (Hufflepuff) offered up Cedric as a Death Eater. Then of course there is Bellatrix and Voldemort's baby to discuss….some of us still haven't wrapped our heads around that! Which begs the question, who really is the Cursed Child?
The Cursed Child script is fully of crazy twists and turns for the podcasters to discuss–the crazy trolley witch ("anything of the trolley" will never be the same),time travel, alternative universes as a result of time travel including Voldemort's Hellish future, a show down in Godric's Hallow and the missing 24 hours from that fateful night Harry's parents were killed.
In the midst of it all that, podcasters discuss Cursed Child as a movie or not?
LeakyMug and the Cursed Child is now available on iTunes here, or by searching for PotterCast on services like Stitcher, or wherever you listen to podcasts. You can also direct download here!