The Mudbloods, The Parselmouths to Reunite at LeakyCon 2016! See the Full Wizard Rock Lineup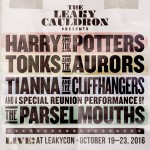 Aug 19, 2016
LeakyCon 2016 has announced its wizard rock lineup. Harry and the Potters, Draco and the Malfoys, The Whomping Willows, Lauren Fairweather, Tonks and the Aurors, and Tianna and the Cliffhangers will perform at this year's convention, from October 19-23, 2016 at the Marriott Burbank hotel.
These bands will be joined by The Mudbloods and The Parselmouths, who are coming out of retirement for their special appearances at LeakyCon. Tickets are still available at LeakyCon.com/register.
The news was announced via a set of posters the LeakyCon team found on the community notice board at The Leaky Cauldron.
General passes for LeakyCon 2016 are on sale now! Get your ticket today!