Tom Felton on Joining 'The Flash'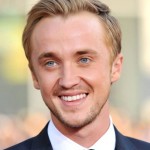 Aug 23, 2016
Tom Felton appeared at San Diego Comic Con 2016  to talk about starring in CW's The Flash. He will be appearing as a series regular, portraying Central City Police Department crime scene investigator, Julian Dorn. Showbiz Junkies interviewed him exclusively on his character, his views of the show, and if he's seeing Cursed Child.
He spoke about personally loving the show:
"I marathoned my way through about 35 episodes, fell in love with the show, just felt like something very different, something very new, something completely that I didn't expect it to be type of show. It has a wonderful feel good factor, kind of comfort level. I said a metaphor last night and it's a terrible one so excuse me. 'It's like the comfort of watching Friends but with the excitement of watching Spider-Man or Batman."
And how mutual fan moments occurred when Tom arrived on set:
"It's odd, I won't lie. Especially since I found out after the first scene for me that Grant and Jesse are both Potter fans. So they were sort of secretly doing this fanboy moment I think while I was neck deep in it myself. It was fun but also surreal. I have to sort of keep (cool). Like, 'Oh my god, you're here! You're talking to Barry Allen!'"
On his knowledge of the show, and his character's connection to main character, Barry Allen:
"I feel like that was probably a question to pry into storylines. If so, I don't know, honestly. I'm sure you get that answer relentlessly at these things, but I don't know anything. They asked me to play a character I really want to sink my teeth into, and that was it. That was really enough for me to go, 'Yeah. Sounds fun.' I tried to get the writers a bit tipsy last night to no avail. Also, really, I don't have any interest in knowing. As long as I have the next two episodes…it's a lot more fun doing it that way. I have complete faith and trust in the writers that they know what they're doing. They don't need my two cents or my opinion. I'm just excited to get it as they come."
Tom hasn't had a chance to see Cursed Child yet, but he's heard good things from other cast members who have visited – perhaps Bonnie Wright, Emma Watson, Rupert Grint, Helena Bonham Carter or Jim Broadbent gave him their views of the play?
You can watch the full interview below, and read more at Showbiz Junkies here. You can also read more about his role in the show here.
Season three of The Flash starts airing on CW on October 4, 2016.