Dan Radcliffe Talks Cursed Child and Finding His Own Perfect Musical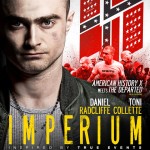 Aug 27, 2016
USA Today recently sat down to ask Harry Potter's leading man, Daniel Radcliffe, about acting, especially in theater. This, of course, brought about the topic of the new Harry Potter stage play, Harry Potter and the Cursed Child.
Dan is known for his roles on stage. He made a very bold and exposing break out in Equis while finishing up the Harry Potter series, and then shocked the world that "Harry Potter" could sing and dance when he blew audiences away in How to Succeed in Business without Really Trying. Dan talked about finding the perfect musical or theatrical play before he committed to returning to the stage. In his opinion, stage acting is the hardest type of profession in his field and he needs to be in love with a stage acting job before taking on the responsibilities of that work.
Of course, everyone has been asking the original Harry Potter cast about their thoughts on the Harry Potter stage production, Harry Potter and the Cursed Child. Many Harry Potter actors have seen the play, and shown their support. Daniel Radcliffe loves the idea of it, but doesn't have any strong feelings about the plays part in the Harry Potter world. He's happy the fans are happy. The video of this Q&A with USA Today can be seen below.

Dan Radcliffe's most recent film project, Imperium, opened in select theaters in the United States last week. USA Today asked about Dan's role in the film, and how it challenged him. This video can be seen below.