First Trailer For 'A United Kingdom' Starring Tom Felton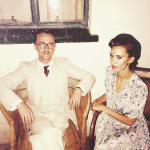 Aug 27, 2016
The first trailer for A United Kingdom starring Tom Felton has been released. A United Kingdom is directed by Amma Asante and it focuses on the love story of Seretse Khama (played by David Oyelowo), a former African royal who marries a white Englishwoman called Ruth Williams (Rosamund Pike).
A United Kingdom is set to premiere at the Toronto International Film Festival in September. The official TIFF page for the film says the following:
"Amma Asante (Belle) helms this biopic of Seretse Khama (David Oyelowo), the former African royal who courted controversy with his interracial marriage to Englishwoman Ruth Williams (Rosamund Pike) and later led his nation to independence from the British Empire as the first president of Botswana.

Two luminous actors, David Oyelowo and Rosamund Pike, bring to life one of the great forbidden romances of the 20th century. That it's all based on a true story gives Amma Asante's follow-up to the acclaimed Belle even greater impact. Both sweeping and intimate, A United Kingdom illustrates how love can challenge even the harshest constraints."
According to Hollywood Reporter, Felton portrays a character called Rufus Lancaster who is a "posh and polished district commissioner to Bechuanaland who wants to prevent Khama from getting married." The images below are from Tom Felton's Instagram account and offer behind the scenes glimpses into the production of the film.
The trailer itself focuses more on Oyelowo and Pike's characters, whose controversial love story is the focus of the movie, but it will certainly be interesting to see Tom Felton in a historical drama like this. The director of the film, Amma Asante, is known for her work on Belle (2013), a historical drama that is inspired by the 1779 painting of Dido Elizabeth Belle, a illegitimate mixed-race daughter of the nephew of William Murray, the 1st Earl of Mansfield and a Lord Chief Justice of England.
A United Kingdom will be the opening film of the London Film Festival in October and is set to be released in the UK in the 25th of November 2016.  At the moment the film does not have a confirmed U.S. release date. For more information on the film, Entertainment Weekly has released an interview of Oyelowo and his role in the production of the film.