Leaky's "Fantastic Beasts" Set Report: Talking to Colin Farrell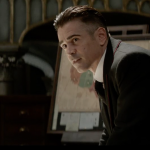 Sep 12, 2016
Colin Farrell plays "Graves," a powerful auror, and right-hand man of American wizarding president, Seraphina Picquery. Some would say Graves is a "bad guy," one of the "evil characters," or corrupt. Say that in front of Colin Farrell and he will call you judgmental for not giving Graves a fair chance, or the benefit of the doubt. We have yet to meet Graves, so perhaps we shouldn't jump to conclusions, so we talked to Colin Farrell to see if we could learn a little more about his MACUSA character.
Colin is probably one of the most experienced actors in the cast, having been in a variety of roles before being cast in Fantastic Beasts. We asked the Irish actor about how his part in Fantastic Beasts challenged him.
QUESTION

You've been in such a variety of different roles. And how is this role different or challenging for you?

COLIN FARRELL

They're all different and challenging in their own specific ways. But if you're asking about this one– maybe it's a bit challenging to throw wands out and nothing actually happens until the wonderful wizards, the real wizards of you know, the world of technical vision come into it. But whatever is released from the tip of your wand into the world — but that was a bit embarrassing the first time. Trying to figure out how to– you know, 'cause you have a relationship with this stuff. I can't imagine what it would be like for an actor for the first time when they say action to say, "Bond. James Bond." I take my hat off to anyone who does a <makes whizzing sound>. I've seen all the [Harry Potter] films and when I was kid I was aware of wizards and magicians and witches and wiccans and all sorts of thing so, yeah, to have a wand– <laughs> which is both ridiculous and very cool. And I have wand.

QUESTION

What was in this project for you as an actor like, what drew your interest in?

COLIN FARRELL

Work. And the world that it exists within. I mean its enormous amounts of fun. I have a f***ing wand. I mean seriously, seriously, I'm not even joking, you know, and I've done plenty of things that have been you know, <sighs> more that have had a strain of despondency or pain or loss or violence and all that. So, this feels very different from anything I've done. And it's kind of nice that I've done something that my boys could actually see. I mean they may not want to right now or like it. And that's fine also, but J.K's imagination is obviously just an extraordinary, extraordinary thing. You know, the energy that that one woman has put out into the world. The moods she has affected, the parents that she's created moments for-for fathers and mothers reading books to their children or children recounting to their parents. I mean it's amazing what she's put out into the world. So, on reading the script I got caught up in that energy.
Colin brought his wand for us to look at and pass around. As seen in the picture below, Graves's wand is about 15 inches in length. Its a sleek piano black with a simple silver band at the top of the handle with a rounded silver ornament at the end of the handle.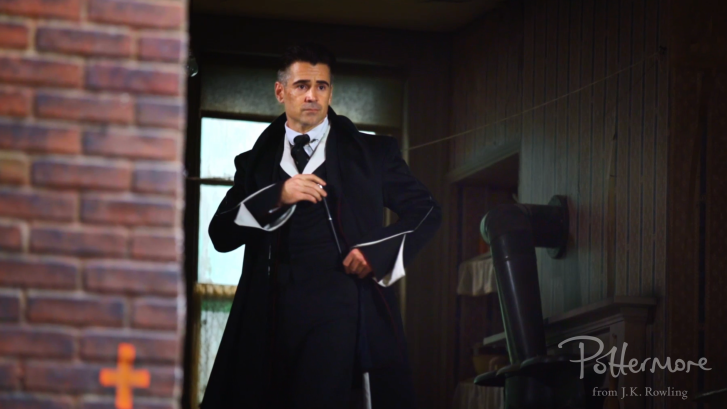 Colin Farrell didn't come into this extension of the Harry Potter franchise blind. Turns out, he's a fan of the films and appreciated David Yates's wealth of knowledge. After a phone call with Yates he took the role.
QUESTION

Can you talk about how you got involved? How you auditioned? Saw the script and everything…

COLIN FARRELL

I got a call about a call. I got a call about a call with David Yates. And myself and David got on the phone, first, I think. I don't know if I read the script and then talked to David or I talked to David and then read the script. But whatever it was we spoke and exchanged thoughts on the character and the script and that was it, really. We spoke a good bit actually. I think we spoke two or three or four times or so. And he's wonderful and obviously he has an incredibly comprehensive and insightful knowledge of this whole universe and this world and it's philosophies and ideologies and behaviors and so, he was and has been since then just a wealth of information and a stalwart for references that are really helpful. So, that was it really and as I said I've seen the first eight Harry Potter films and loved them all. And so it's a very cool thing to be a part of. It's fun.
He didn't refer to anyone else who worked on the Potter films during the course of filming Fantastic Beasts. This branch of the Wizarding World is just different enough, he didn't feel the need. It all rested with David Yates.
QUESTION

Eddie told us he spoke a little bit to Ray Fiennes beforehand mostly about working with David Yates. But had you spoken to any of the cast members of the previous films going into this?

COLIN FARRELL

Nah… But this is a different thing. Ah! If I found myself in a room with Ralph or even if I had to see "Mad-Eye" Moody, Brendan or anyone I know, I probably would've said how was it working– you know, if it came up naturally, but I didn't feel the compulsion to pick up the phone or call an agency and see if I can get an actor's number to check if everything was kosher. You know I talked to David Yates on the phone and he was lovely and gracious and smart and as he is and I loved the script so, it was just go to work, you know.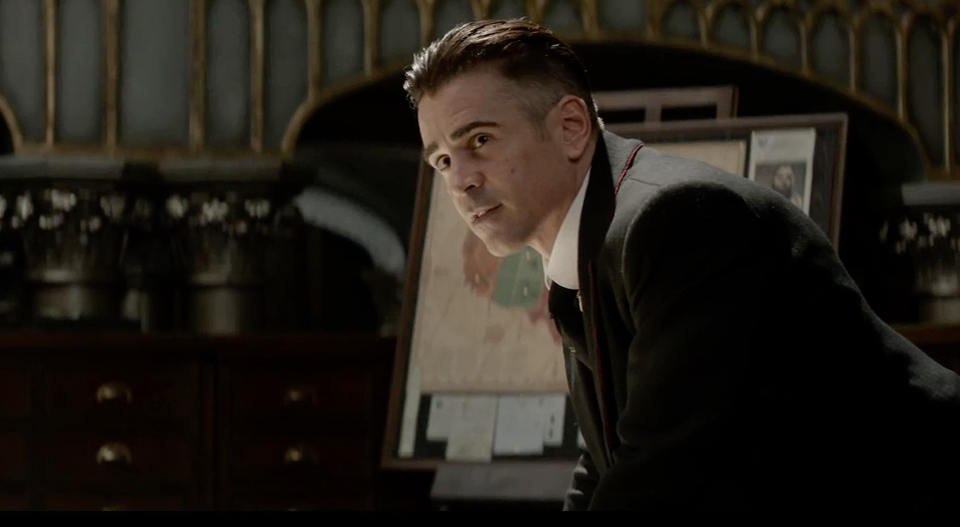 During the course of the day, we had been continuously discussing Fantastic Beasts and its all-adult main cast, its more "adult" themes, and the tonal differences between this series of movies and the Harry Potter films. A veteran actor, we asked Colin about the "adultness" of the films. He laughed. Then told us all that adults were all five-year-olds on the  inside, and that adults were just harrier kids. In all seriousness, Colin said that being respectful of the audience and the minds of adults and children was taken into account.
QUESTION

The characters in this film are all adults and it feels like it's delving into some kind of political and social themes that are maybe a little more grown up, but were also prevalent in the Potter films. So has that been kind of fun to get into a big franchise movie that's delving into interesting stuff?

COLIN FARRELL

Yeah, sure, I mean regardless of the scale of them, you try and attempt to and sometimes you have to go look the film isn't asking this of you. So, just relax and enjoy it. But no, I don't think David will be interested in just rendering this world in the way that he could render it which is one of spectacular action sequences and beautiful special effects and magnificent sets and costumes and music and lighting and camera movements and all those things. He really does come from a place as far as I've observed every time of what the emotional truth of every single moment is as rote as that may sound. He really does, I've observed with other actors and I've obviously talked to him myself.

But you're right. I think you know that the themes in the original Harry Potters as well are kind of adult themes because eh, let's face it– we're all just hairier kids really. You know, I'm still dealing with a five year old inside. Who isn't getting enough of this and doesn't get enough of that– So, you know the idea, and of course the friendships that were explored and even momentary dissolution of some friendships or the reconnection of same friendships that were represented and the journey from child to adult that was represented in the first one.

The first eight were pretty significant journeys to chronicle in a film that could be just as I said entertainment for children. I think David's very respectful of the audience. He's very respectful of the minds and the intelligence of children as well as adults. But yeah, there are some weighty themes in this. And they're a burden in some way but there should be enough for everyone to get something either emotionally or a shit load of gorgeous things to look up to.
We finally got down to the nitty gritty of how his character fit into all of this. According to Colin, Graves's title is "Chief Security Officer Wizard of MACUSA," right hand to the president. He is a powerful guy, equivalent to the president's Chief of Staff. We delve in:
QUESTION

Speaking sort of generally to who your character is and how does he fit into this world and Newt's world when it sort of explodes out into–

COLIN FARRELL

Yeah, I play the chief security officer for the protection of wizards, for MACUSA. And I am the right hand man of President Picquery, who is played by the lovely Carmen Ejogo. And that's it really. <in a deep voice> I am a very powerful wizard and naturally skilled. He has a natural aptitude for magic, but is also highly trained and somewhat powerful and there is a mystery that is, has descended upon the city of New York in the twenties and I am one of fewer called Aurors. But we're investigating what is going on in New York.

New York is kind of being turned on its head and there is this statute of secrecy where by the No-Majs, who are the American equivalent of muggles. We're completely living in absolute hiding and secrecy and denial of our own existence in relation to No-Majs, in relation to common citizenry. So, there is something happening in New York that threatens to expose the world of magic and it's incumbent on me and President Picquery, but me in a more kind of active way on the street to try and figure out what's going on. And then, Eddie's character comes into the frame and it unfolds from there.

QUESTION

Since your character's kind of high up within the struggle between muggles and magical people. Will we see him kind of grapple with the morality of how he's keeping things separate or is it more responsibility driven?

COLIN FARRELL

Both. 'Cause some people find themselves as the doers of responsibility as a result of their own morality– a morality that's been opposed upon themselves. So, both I think, yeah. Absolutely. I mean my character has a very particular ideology which he speaks of.
We talked a little about Graves's interactions with Newt Scamander throughout the film. Turns out naughty Newt gets a call home to his big brother across the pond, who is also a powerful auror like Graves.
QUESTION

Can you say a little bit about what your character sort of makes of Newt personally, and are there other characters you have a lot of screen time with or interact with?

COLIN FARRELL

I have a good bit of screen time with Eddie, nice bit of screen time with Katherine who's Tina and with Ezra. The relationship with Eddie's character Newt, I've corresponded with Newt's brother who's a very, very powerful Auror also. At the other side of the Atlantic called Theseus who's commander and so, I don't know Newt but knowing his brother– initially there's a fondness and then there might be a little bit of tension.

QUESTION

The name Graves and just looking at the wand… is it safe to assume he's a pretty serious guy?

COLIN FARRELL

Yeah, he is. Well, he's somebody who I suppose who moves through life with a keen awareness of the burden of his responsibility. You know, he feels the weight of that. He wouldn't moan about it, complain about it. He holds his position as a great honor. But also there's great responsibility that has been bestowed upon him to protect this whole world of wizards that are teetering on the brink of potential persecution. So, yeah he's a serious calf.
Like the others, Colin prepped for his role. Unlike the others, he hadn't taken advice from J.K. Rowling about his characters. Just David Yates.
QUESTION

What about getting into character for this role… is there anything special that you did to get into this magical world at a certain time period in America?

COLIN FARRELL

You can always obviously go off the script as a blue print and I actually had some really great, very helpful constructive chats as far as I was concerned with David that kind of gave me an idea of what he felt the kind of timbre or tone of the character was and so I just took the script and took his thoughts and my own opinions and thought about it and then you get into the costume and they put this thing into your hand and shit starts to happen. You just have fun with it and try– But as you were saying trying to honor the fundamental truth of the person you're playing or else you're just going through the numbers I suppose or at least it feels like that. But at the end of the day, you just– waters warm, jump in, and play around.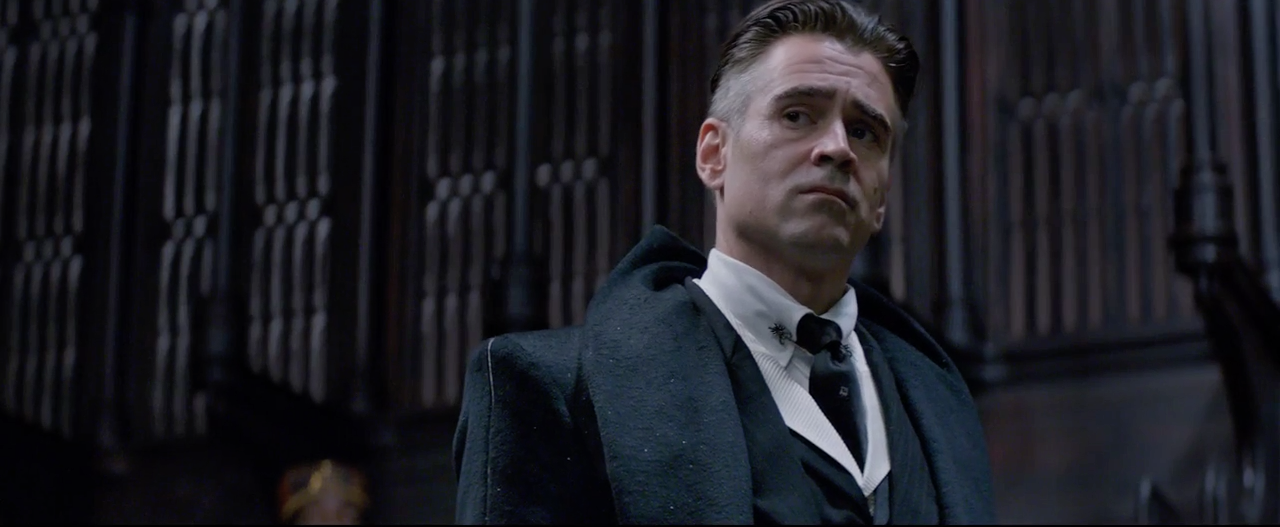 QUESTION

Did you have any interesting or helpful constructive conversations with Jo Rowling about your character?

COLIN FARRELL

No.

QUESTION

No? Not yet?

COLIN FARRELL

Well, I've had a conversation with her by virtue of just reading her work. That's kind of a conversation…
We tried asking about the scenes he had been shooting earlier that day. But at this point, Fantastic Beasts was still a "SUPER TOP SECRET CAN'T SAY ANYTHING EVER DON'T EVEN TRY ASKING" film project.
QUESTION

What can you say about the scene that you shot–

COLIN FARRELL

(interrupts) Nothing.

QUESTION

About what you shot today or what you shot in the past?

COLIN FARRELL

Pretty much nothing. Where's the e-mail that said, "Don't say, don't say, don't say. Say it's a wonderful experience." No, I mean, today, what did we do? Wands transcend national borders, for sure. There's greater level of tension that builds throughout the film as what happens often in films, but it's very clear in this one. And the tension is as a result of whatever the mystery is that's taking place in New York City that's creating havoc. And creating a kind of imminent threat as to the kind of dissolution of the statute of secrecy and the exposure of the world of magic. So, the scene I was doing today was Graves is at a particular point where he is taking charge and taking control or at least trying to and feeling like he's getting close to resolving or exposing what the issue at hand might be.