Leaky's "Fantastic Beasts" Set Report: Talking to Katherine Waterston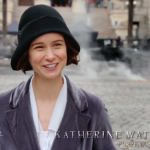 Sep 12, 2016
Before meeting Katherine Waterston, we already new that her character Porpentina "Tina" Goldstein was an ambitious worker at MCUSA (the American Wizarding government) when she meets Newt Scamander, her future husband. Tina has been regulated to an office well below her abilities and skills, after she stood up for the wrong person. She is a character with a good heart that longs to fight for what is right. She has a sister, Queenie (played by Alyson Sudol), that she is very protective of.
When Katherine Waterston comes to visit, the first thing we notice is that she is not in costume, but she has brought her coffee and her wand. Katherine is visiting us "at work" on her day off, which was very kind of her. (Thank you so much, Katherine!) Like her ambitious MACUSA employee character, and Newt's wife, Tina Goldstein, Katherine is soft spoken and even tempered, and takes our difficult questions well, and without revealing a single insider secret to the Fantastic Beasts films.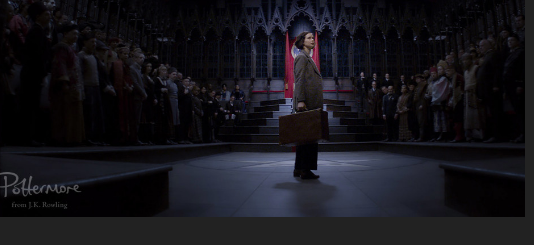 We quickly learn that Katherine is obsessed with wands. She is also extremely attached to her wand—which she helped design, along with her wardrobe for Tina, making personal decisions that gave private details on her character. She held onto her wand like it was her most dear possession, and we did not dare ask her to pass it around the table for us to see.
QUESTION

Is it strange for you to realize we're a little less than a year out from the movie opening and people can buy your wand and that you'll be on toys and t-shirts and all that. Is that sort of strange in your future?

KATHERINE WATERSTON

Well, I did think about that a little bit when I was figuring out the costume and figuring out which wand to pick because I was just approaching it the way I always do. I mean obviously, this is my first wand but picking shoes for a character, the clothes and all the different things that you consider when you're figuring that stuff out during pre-production. And some of it has to do with practical needs and then specific little weird ideas you have about the character that nobody else ever knows about– and that all of those decisions were ultimately going to maybe wind up on a doll or something.

It seems so weird. It's kind of a wild thing because they're so personal to me. Those decisions and which wand I picked and it's really almost an entirely private matter. They were things about one wand I was attracted to over another, I never talked to anybody about. You know, I didn't talk to David about or anything. It just was like, yeah, this makes more sense for Tina but you know, then, then that's going to go into some kind of mass production. (laughs) It's really so strange.
She said her wand was just the right length, and heavy enough—she wanted a heavier wand to feel as if her character's spells were getting a little more oomph. We could see it was a simple brown wand, with two simple wood bands at the top and the end of the handle, distinguishing the handhold.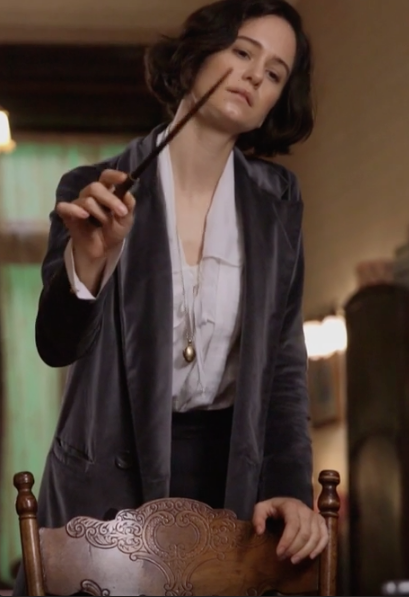 We begin a more serious discussion by asking her about the world that her character lives in. Katherine is enraptured by the 1920's culture of the film, a period film where a man is dominant, yet the American Wizarding congress has an African-American female president. At the same time, Newt's and her relationship is well balanced, Katherine said she felt that Newt was Tina's destiny.
QUESTION

We had a chance to visit the MACUSA set and it's really beautiful, but one thing that a couple of us noticed is that there's these statues of presumably pre-eminent wizards that are kind of up on the columns around there. And we noticed that they're all men. And you can imagine that perhaps in a nineteen twenties government there's not much female representation… Is that something that your character deals with at all… does she feel those pressures?

KATHERINE WATERSTON

Are they really all men? That confuses me and I can't even tell you why.

KATHERINE WATERSTON

So, what was really important to me was that it was heavy enough 'cause initially it wasn't heavy enough and also that it was sort of simple because you know the wands pick you. And I was wondering what a wizard would feel like when their wand picked them, what it looked like, would you think– Oh, maybe this is a bad sign, that it's not so special looking– is this gonna mean I'm not gonna be much of a wizard or something.

You know or a witch so, anyway, that was the question that I wanted to have so, that's why it's simple. But to answer your question I feel like there's the period the film is set in but then there's also a lot of sort of magical permission a little bit in the world we're creating. It's doesn't seem to be divided by race or sex in ways that the world was in the twenties or in the way America was in the twenties. We have a female President. There are different rules than our world.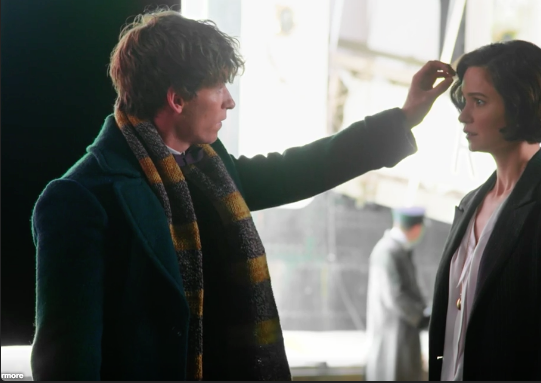 A large part of Tina's world is MCUSA. Katherine talked of Tina's work in the wizarding congress, saying that it felt true to form with real life. In the film there is a lot of bureaucracy and power structure to wrestle with. She even talks about the magical tube delivery system that functions as MCUSA's communication across the work place.
QUESTION

Speaking to those details when we were on the set of MACUSA. There were all these small little details, like one slip of paper where you have to like document what spells you cast in on your visit. And so, I was–

KATHERINE WATERSTON

(interrupts) Were there were loads of desks where you were?

(Yes, there were.)

QUESTION

So, I'm just curious because we've had eight films and the books to figure out how the British wizarding world operates. What can you tell us about what the day to day life of like the American Ministry of Magic is like? What are their concerns?

KATHERINE WATERSTON

I mean there's like a big concern I'm pretty sure I definitely am not allowed to talk about that's going on in this film. As you saw there's like a lot of bureaucracy and– did you probably saw the tube things coming off the desks so, we're like using delivery systems of the period but in a much more magical way. I'm not sure if I'm allowed to say how. I keep saying things like this to you guys to see if you're gonna be like, oh, right, they told us that already. (laughs) When I see blank faces I'm like, nope, not that. But that's like again another cool way that we're mixing the sort of magical world with the period, aesthetically. But there's like a very clear power structure and– <laughs> Some people are more powerful but not unfair. I'm nervous to tell you anything. Oh, my God…

QUESTION

I was gonna ask you about the political feel in the atmosphere of the movie because it seems to be a lot more focused on the American Congress than the Ministry of Magic ever played in the British Harry Potter world. And we have a lot of central characters that work within MACUSA so, I was gonna ask you just in general, how American politics has an influence in it?

KATHERINE WATERSTON

Well, I don't know. I sort of feel like that's a better question for Jo 'cause it's her invention but I think part of it might be just due to the fact that this is a story about adults. I mean we're not in the classroom because we're adults, you know what I mean and so, it's just sort of a natural place where they would go once they've all grown up. And then, I think, also, there is this factor of the outsider in America that is part of why– (laughs) So, boring– I'm like you know what I mean– I can't tell you anything.
Katherine felt as if she had more time to live her character, Tina, and the balance of material versus freedom. She had rituals for getting ready to play her part. In the atmosphere of creating the film, working on such a well-known franchise, it was magical and unlike anything else she has ever done. Katherine talked of the overwhelming amount of detail that went into creating the film, such as using 11,000 extras. The details, the time and commitment to doing everything down to the smallest detail just right is what she truly appreciated when working on this film set.
QUESTION

Were there any rituals that you did? Or any music that you listened to or anything to really get into the character of the period and the actual character?

KATHERINE WATERSTON

You know, I guess, what is it like, Superman goes into the phone booth to change or something, I feel like there's sort of this idea that that's how actors work that we have to like, place ourselves somewhere and then suddenly the character <laughs> emerges or something and I feel like it's a lot more there's no kind of guarantee like that. Like, one day the way the shoes make me walk might really ground me or something and another day I might just feel like, eh, these are just shoes and I don't know– connection to it and then you need something else or some days you just don't know why but you just don't have to do anything at all to help bring yourself into the moment of the world. It's just there for you, so, I don't have like a– thank God I have this song to play because without it who knows if I would've been able to find this character or something.

But you know, a lot of the actors are listening to music from the period. So, sometimes it's also just like the atmosphere can be helpful. You hear something coming from another trailer and you're like, oh, right, yeah, of course, it's the twenties. Seeing all the extras around who– there's eleven thousand extras that will pass through this film by the time we wrap. And I've never worked on a film like that. Even films I've worked on that have like lots of street scenes, because the budget was low they either recycling extras or are finding ways to justify or angles to shoot out to use fewer people. I feel really grateful to them on this because they do a lot of the work for me, too. I remember– I think it was the first day of shooting I rounded a corner that is a New York City street corner that had been built here, and it wasn't just extras walking around in costume. It was– that's a couple and they're having a fight and they got into a car accident and there's a mechanic there fixing it.

And there's just all of this detail and so much of it, no one will ever see. Sometimes, I'd look at the angle of the cameras and I think, "All those guys on the trollies back there." Like maybe no one's gonna see them on those trollies but I can see them and I can feel them and they are giving me a lot to make myself feel, trick my brain into thinking I'm in this world and so, I don't remember the question but that's something that's going on. <laughs>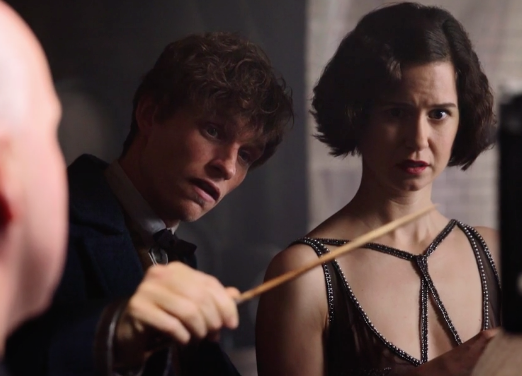 Like Eddie, Katherine felt her part to research the wizarding world of Harry Potter, and keep consistency. She even wrote spells on a little slip of paper to help her keep track and remember.
She helped build Tina's character, working out the smallest detail. Katherine had met J.K. Rowling for the first time just a few days before we sat down with her. Upon mentioning the meeting, Katherine's eyes lit up, a large smile spread across her face and she almost glowed. Katherine gushed about discussing her character with the creator and author herself. Jo sat down and just started spilling encyclopedic knowledge on the character that Katherine had grown to love and embody, and Katherine drank up the details.
QUESTION

Alison was saying you guys had a little bit of freedom especially since these aren't characters that readers already know so, how did your character develop that much once you took on the role and started having conversations with David and maybe J.K. Rowling?

KATHERINE WATERSTON

Yeah, it's strange because the last two films I did were based on books. One was based on a biography and obviously I was playing a real person in the film. Before that was based on a work of fiction so, I had like a lot of experience recently working with that kind of guide. They're both really fun ways to work because when you have the material then you can kind of mine it and re-read things and you know, two people read the same book and have a totally different idea of what a character will look like– all that stuff and it's so personal. So, I really enjoy having that but then, of course, without it you kind of have more responsibility as an author in a way. Obviously we have the script but to fill in those blanks– it's kind of hard to measure if you work more at that kind of development. When you have the source material or not…

QUESTION

Did it change very much from what was on the page at the beginning to when you started shooting?

KATHERINE WATERSTON

I mean again it's sort of the same way as when you read a book. It's the same thing when you read a script. Sometimes we'll walk into a set and I'll think, oh, this film doesn't look like this. You know, 'cause I read the script and I saw it in my head in some other way. Which is a lot like what happens when they're writing a movie that's based on a book, I'm like, Ah! He doesn't have a beard. You have these visions in your head about it. But I feel like you come in with some sort of good foundation for who the character is and then it does grow and change every day. You have to be available to let that happen as it goes because every scene is a discovery– informs the character more and that's what's so much fun about working on something that takes a long time to shoot, because you have more time to live with the character.

QUESTION

It's seems like from what we're hearing is that Newt has kind of been spending a lot of time with these creatures that he's studying. And Tina, it seems like she's maybe reserved, might be by the book. I don't know how she is socially, but I'm curious to know how these two characters find a connection. I don't know how many details you can go into on that but just their general chemistry.

KATHERINE WATERSTON

Well, so you know that's something that even if I was allowed to talk about, I probably wouldn't want to talk about because it's so much fun to go to a movie and find out how people connect, and what that's about and the gift of this one is that you guys don't know. Do you know what I mean? Because they aren't the book so, I feel like it's a nicer thing for me to do to not tell you about that because then you can get to find out by watching it.

QUESTION

Oh! Can you talk about meeting J.K Rowling, and your first thoughts about when you first read the script? Like, what you thought of it…

KATHERINE WATERSTON

Well, I just met her. So, that I can answer more easily probably 'cause that's more fresh in my mind than the first time I read the script which is now like, seven months ago. But we all just kind of stared at her and smiled <laughs>. Kinda dumbfounded to be finally meeting her and then, almost as soon as we started speaking to her, she started to do kinda what I imagined she would do and was hoping she would do when we met her which is just start telling us stuff 'cause she has this encyclopedic knowledge of this world.

It really exists in her mind and to such incredible detail so, I just had to fight the urge to like pull her into a corner and just hog her about Tina questions 'cause I know she probably knows like how I skinned my knee when I was five or whatever. You know what I mean? Like, she just has that kind of detailed mind. And then when I first read the script I just thought it was beautiful. It was really moving and really didn't feel like Number nine. You know it didn't feel like this sort of tired thing. It felt really fresh and new, which was what was so appealing about it to me. And also just moving and so, you know. <laughs> Now, we just sit around biting our nails hoping that the movie's as good as the script. 'Cause we started off with a good thing which is a good, good way to choose projects, you know.
I asked her if she felt the pressure of being a "new Hermione" in a sense—a role model for young fans, particularly girls, in an ever popular and growing franchise. Katherine thought for a minute. She told us that the Fantastic Beasts films were quite different than the Harry Potter films—more about adults, facing adult situations, over coming being outsiders in America. This recipe cooked up women characters that were strong, but still very different from the growing and maturing school girl Hermione idealized.
QUESTION

What was it like to kind of become the next big female character from the Harry Potter universe when Hermione's become like an icon since those books came out and kind of taking on that mantle of– some people probably look up to?

KATHERINE WATERSTON

It never occurred to me to compare myself to her just because we're both female, in any way. You know, they're totally different characters and I don't feel like I'm stepping into her shoes simply because I'm a woman. It's just amazing to be a part of this world that means so much to people and I don't have any problem with considering it in that way. It just never occurred to me to think of it in those terms and probably it would make me nervous at the thought of it (laughs) because she was so good in those films. So, I just don't think about that.