Leaky's "Fantastic Beasts" Set Report: Talking with Stuart Craig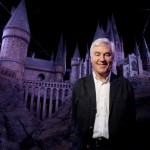 Sep 12, 2016
Stuart Craig's soft-spoken voice welcomed us, and we hung onto every word he began to spill. As he pointed to the pictures around us and described how he built the world of Fantastic Beasts and Where to Find Them, I couldn't help but feel that I was listening the words of a Wise Man in the film industry. After his years of experience, his work on all eight Potter films, it was clear there was no other expert for the job more perfect than he to build a 1920s New York for the first Fantastic Beasts film.
One of the most interesting questions, and one that many fans would love to know the answer to, was answered by Stuart Craig.
QUESTION

Given the richness of the Harry Potter universe and its history, have there been many Easter eggs or references to things that you guys have put in this movie that fans may connect to something that shows up in the Harry Potter movies? Because we're working between two different continents…

STUART CRAIG

Well, references to people actually is the biggest connection and there are only very few of those, but Dumbledore is mentioned and so, it's that. It's the reference to– I don't think there's any particular prop that carries forward from one to the other.
Even though that is probably not the answer many Harry Potter fans want to hear, there are still many exciting aspects of Fantastic Beasts, including what Stuart Craig does best–building the world itself through production design. The rest of the interview focused on the beauty and intricate fascination of building a 1920's Wizarding world, and how that fit into the Harry Potter universe.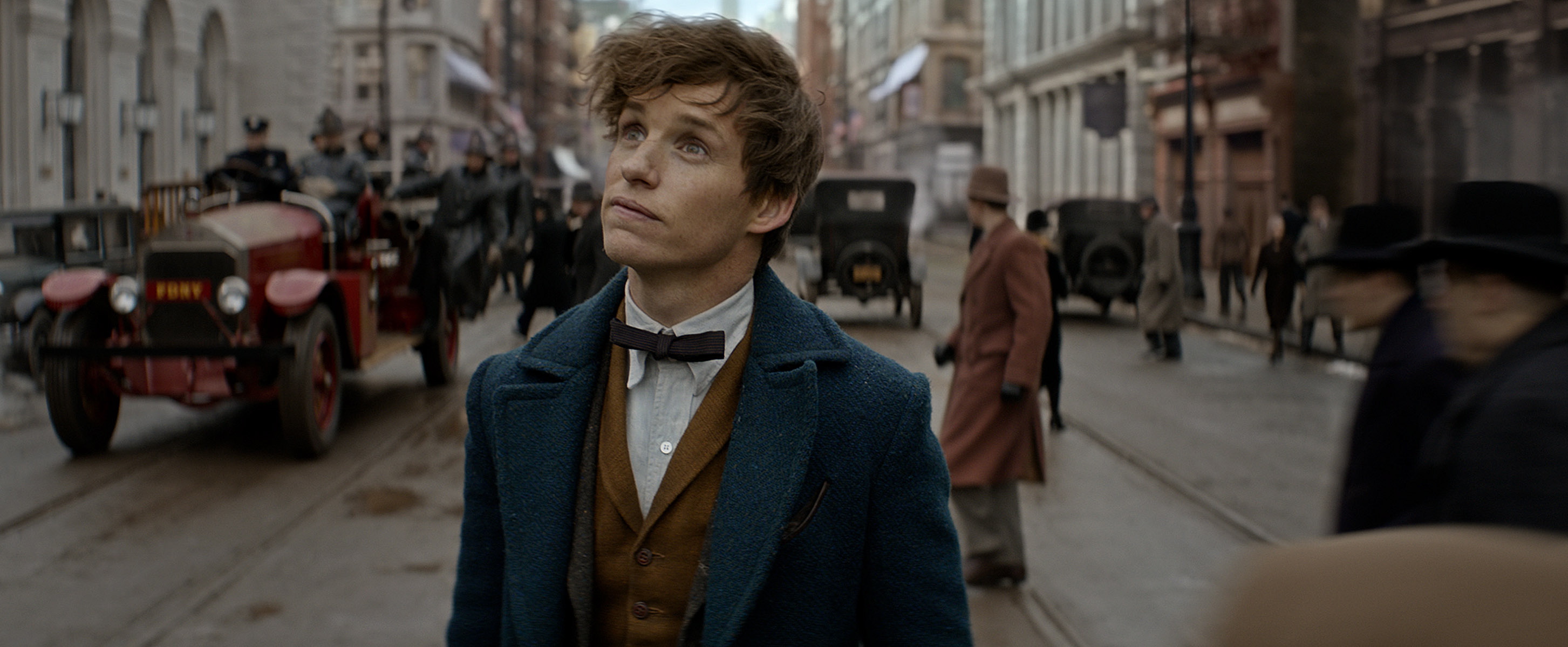 QUESTION

… reverse engineer here because it's set in an earlier time, but it's also geographically– in a different place and sort of make sure that it fits with what we've seen before and yet has to be so removed by almost a century before?

STUART CRAIG

Yes, only in the broader sense does it kind of have to fit really. The big part of the excitement was– it was a new time, a new venue, New York in nineteen twenty six. They were both quite strong periods in terms of architecture actually. The medieval architecture of Harry Potter and the twentieth century architecture of this didn't quite get us into the era of the Empire State and the Chrysler, and those really impressive art deco buildings. They didn't appear well finished till about nineteen thirty one. And that's to say, we're twenty six but even so, it was still plenty of meaty stuff to get stuck into for an art department– where would be architects– as you know– we're, plywood architects… So, it was a good to, get to grips with all that.

QUESTION

What's your favorite part about working in the nineteen twenties? With the sets, with that era? I was talking to Mira and Eduardo earlier this week, and they're having a hay day with design and they love it.

STUART CRAIG

The graphics– which is their business– was so modern and vital and interesting. I wish we could all go their office actually, their room and see– you would not believe that some of those designs were– were as early as nineteen twenty six. They were really, really beautiful. The good thing about this project is that everything in this way is interesting. They're a real extreme so, extreme-extremes in terms of fantastic beasts or creatures– some are tiny and some are absolutely monumental.

There are different sort of social levels. Jacob– the character– lives in poverty in the lower East side, in a tenement building. And the bank and the shores office are pretty splendid and– so, yeah, this movie, it contrasts really and– there's some evil at work and– there's a nice sort of double romance, too– threading through it all. Something for everybody including those designing it and making it.

(picture from Pottermore's coverage of MinaLima on the Fantastic Beasts set)

QUESTION

Another big difference besides the time period is also the setting of a city. And in a lot of ways the city kind of opposes magic because it's much harder to keep it a secret when there are so many people around. And then also even though it's the nineteen twenties technology is starting to become more advanced and magic and technology generally don't mix well so I was wondering how that's been to navigate?

STUART CRAIG

Well, the essential premise and similarity to Harry Potter is that the magical world is invisible to the muggle world and the tension there is very central to this story. You know the whole thing is about fear of being exposed and so on. So, that was a vital positive in the whole thing. So, the second part of your question was…

QUESTION

Just sort of bringing magic into a much more populous and in a way, even though it is an earlier time period than Harry Potter because it's a city where things move faster in New York City than they do in an old Scottish Castle, so, sort of making magic metropolitan.

STUART CRAIG

Yeah. For sure. Yes, the exciting thing about that funny… Harry Potter always felt like a period film. And even though the kids were sitting around in t-shirts and jeans and so on, it still felt like a period film. Very late– sometime in the fifties, it had that kind of old world character really. And here, as you say the much older period in the film feels much more contemporary, much more urgent, much less softer in its architecture and so on, so, all of that were interesting and positive contrasts really and I guess having done eight Harry Potter films- that's a very nice, little point to have made– so fresh and so new.

QUESTION

Can you talk about sort of the magical world versus the No-Maj world like, looking at the Blind Pig design? It seems to have this very like prohibition area– underground jazz club sort of vibe…

STUART CRAIG

Yes.

QUESTION

Like in those comparisons were there certain stylistic elements that you wanted to infuse? Do they complement each other? Could you talk about that a little bit?

STUART CRAIG

Yes, I think they do complement each other. The Blind Pig– I think throughout the Harry Potter films- and this film, there's been a great effort to make everything seem very real– and familiar even. And out of that familiarity and you look at it and you think you understand it. And out of that comes the magic. If place is too extraordinary to begin with then the magic sort of lacks impact in some way.

So, I think the strangeness of the Blind Pig is not in first glance. It is when you actually get involved in the characters and the conversations and really look at the texture of the wall behind them which is kind of drippy and filth and grime and so on. So it's the exposure they're worried about and magic working off something seemingly normal– fairly contemporary in New York. They help each other really.

QUESTION

The MACUSA entrance does remind me of sort of the Ministry of Magic entrance from the Potter films.

STUART CRAIG

Yeah.

QUESTION

Did you sort of take one idea, sort of, like, move it on to the other?

STUART CRAIG

Well, it's the Gothic style. In the Harry Potter films and now in this film we've made the Gothic style-architectural style synonymous with our magical world really. It's their look. It's, again, it is exactly that. So, J.K Rowling made the decision– she had diligently researched her New York of that period and so on. And she found the Woolworth Building in New York. And the Woolworth Building is– she did them– and that was the MACUSA headquarters. And it wasn't apparent from the outside [that it was] a part from the Gothic decoration. But once inside it, the headquarters is housed in there. So, not only that Gothic style did she immediately recognize and want to use, but also in the big entrance archway, right at the top, at the apex of the arch, there's a stone– the carving of a stone owl– part of the decoration there. And I think as soon as she saw that, she must have thought eureka– this is– this is it. This is the one. And yeah, so, they were her choices actually.

QUESTION

I saw the City Hall Subway… and she was there which is awesome. That's such a great location. Can you talk about the challenges of re-creating some of these iconic New York locations? Like, the Woolworth Building and that…

STUART CRAIG

Yes. That City Hall Station still exists but you're not allowed to go there. Nobody. We applied for permission to go and just take photographs and were not allowed. I imagine there's some kind of safety reason. Actually, I think that's perfectly a good explanation. So, as always, throughout all these books, novels' description is– they're very, very descriptive. And it helps a designer a lot and you know exactly where you stand and what in principal you're aiming at, really.

QUESTION

So, did you have to use photos, then, to re-create that?

STUART CRAIG

We did exactly that. Research is so much easier these days– do an online search. It's just transformed what we do totally so, it was really pretty easy to research and to come up with architectural drawings, which we did. So, we were fairly faithful– the production of City Hall. And the Woolworth Building similarly, we copied the exterior at least the bottom– two, three floors– quite faithfully. And then the inside of course, is our made up magical environment. Deep inside (chuckles) there's a kind of layer on the outside, which appears to be attorney's offices, accountants, all functioning normally. But once you get beyond them the sort of inner skin– is the magical one.

QUESTION

Were there any details or areas that you obsessed over, or that you wanted to be painstakingly historically accurate– it sounds like a lot of them– our IMDb users love trivia, so, anything that was especially obsessive for you?

STUART CRAIG

Yeah the two we've mentioned and the Woolworth building particularly. When I first designed it, Jo Rowling visited and was aware about the models that we had made and so– and if you actually look at the pattern of windows in the exterior, it looks like any modern skyscraper and she was concerned and voiced her concerned that it was too modern basically for this world. And so, we made some adjustments. We introduced more Gothic elements into the inside so, it wasn't reality in that sense that we were obsessing about– it was actually getting the right tone for her.

I'm trying to think if there was– they're just fun things aren't they? There are lots of props that we've made that- something called a monitor which tracks- if you wear this– as our heroin, Tina, does– wear the wristband. It's a tracking device simply, but the prop makers just have a ball at things like tacking devices. And so, then, you become very obsessive about– there's another big– like a full sided clock or barometer that measures the level of threat– the threat that MACUSA is feeling inside– it's a sort of threat-o-meter and we obsessed over that, too and even the finite little details.

QUESTION

Apart from MACUSA, is there a specific location or set that you're hoping will be, could become as iconic as Diagon Alley, for instance?

STUART CRAIG

Again, I think it has to be MACUSA. There are lots of other supporting sets– there's extreme poverty in one tenement building, there's a typical New York brown stone that the two girls live in an apartment there– I mean, each one had it's time in terms of our lives and preparing for it– designing it, preparing for it, building it. And as I said, they all have that moment when you care more about that one urgent set more than anything else. But we stand back and look at it all. MACUSA headquarters, and even more than that of course, the fantastic beasts themselves and where they exist concealed inside this little case.

QUESTION

You have to bring nineteen twenties New York to the U.K 'cause you're primarily filming here. What has that been like, and how do you choose the buildings that you use on locations? When you go to Liverpool and use their City Hall?

STUART CRAIG

We had to bring it here for practical reasons as well. You know, to find New York– nineteen twenty six New York is– you can find six single buildings or a couple of buildings but there's so much modernity to deal with. It wasn't practical and also just the idea of– I know filming happens in New York all the time but to shoot an entire movie on the streets of New York, would've been prohibitive in logistical terms, in financial terms. So, we had to build it.

QUESTION

And what has that been like? How do you choose your locations, especially like when you take the set from Leavesden to go to on location. How do you choose the buildings that are most similar?

STUART CRAIG

Yeah, well, the reality was there were very few locations. Actually, there were three, I think, and all of them in Liverpool. And Liverpool– because of the shipping– that was the way they get from Europe to America and New York particularly, in the twenties. Kuehne and Wistow– all these famous shipping lines and famous ships in Mauretania and the Aquitania. The influence crossed both ways. Liverpool was very influenced by New York, and was very wealthy because of the shipping and the supporting industries. So, Liverpool produced some very big, iconic, strong buildings– strong architecturally– with the kind of confidence and money backing that New York had. So, we were able to use something that was in fact the Kuehne office headquarters in Liverpool and we turned that into a departmental store.

And there was a big hall there– St. Georges Hall in Liverpool– a big kind of meeting hall, which we called our City Hall in our version of New York's City Hall. But outside of that everything was built and that's been difficult because when we began Harry Potter– first one, two films– we shot quite extensively on location. We couldn't afford to build the entire world. Well, here we have attempted to build the entire world. It's been you know, <stutters> well, we've been extremely busy as you might imagine. We think in our busiest period, we were up to three hundred and forty, three hundred and fifty construction workers and craftsmen. That's a big number for a film. Fine, that's okay for a major building but–[he shrugs]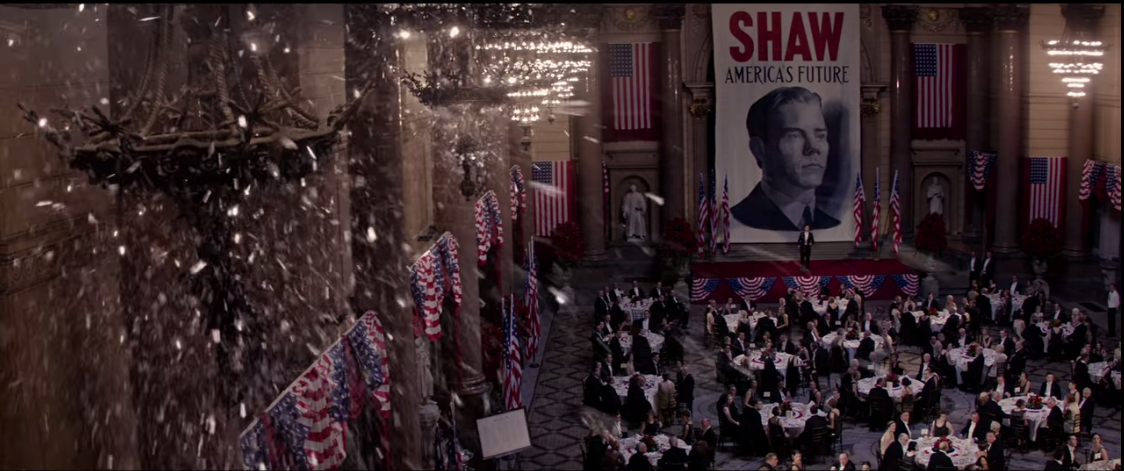 Craig departed us much in the same way Heyman did. Our Warner Bros' host, Stacy got a phone call that said David Yates was just wrapping up filming a scene and would be with us shortly, but we needed to move closer to the stages where Fantastic Beasts and Where to Find Them were being filmed that day. We gathered our notebooks and pens, and followed Stacy and Jayne out the door.