Leaky's "Fantastic Beasts" Set Report: Walking the Outdoor Sets-Part I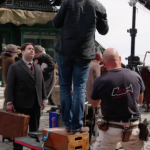 Sep 12, 2016
It was a warm winter's day by Midwest American standards—rainy and 65 degrees Fahrenheit—and somehow I had found myself in a Mercedes-Benz bus with a couple of the coolest Warner Bros. reps and journalists of other online sources (IMDB and Fandango, just to name a couple, and our friends from MuggleNet and SnitchSeeker, of course). We are driving towards the set of the newest Wizarding World films, Harry Potter "spin off series," Fantastic Beasts and Where to Find Them.
Just meters behind Leavesden's Warner Bros. Studio Tour The Making of Harry Potter are the full-functioning movie sets and studios of Warner Bros. Leavesden location. The Harry Potter studio tour is surrounded by stages, outdoor sets, and offices. Mysteriously, with every day tour guests, it seems to easily go unnoticed that fans are so incredibly close to where the real magic is happening—where new movies are being made.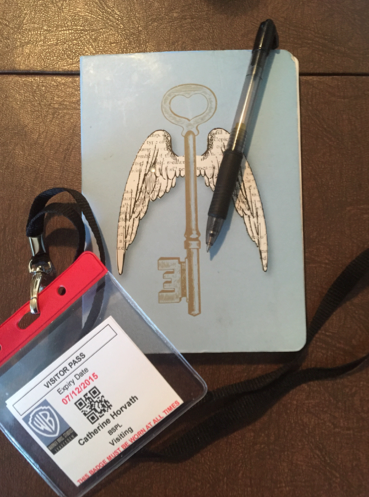 Of course, on such set visits, cameras, recording devices, and anything that can act as such are discouraged. You are to use good, old fashion, pen and paper to record the day's events. Getting through security, to allow a bus full of Internet and website journalists on the "super secret" set of the newest Wizarding World films, is comparable to getting through security at an airport.
There is a small hold up when one of our incredible fearless leaders (Warner Bros. rep/Senior Publicist) is not on the list to receive a clearance tag. Everyone must be accounted for, personal items are to stay on the bus, and everyone must where their visitors passes at all times—including Warner Bros. reps.
Upon being allowed on the premises where the new Fantastic Beasts films are being shot, our bus driver was given directions to the legendary canteen where actors, producers, directors, construction workers, Making of Harry Potter tour guides, and more come to eat together as equals. It was where Alan Rickman queued up for lunch and offered Matt Lewis acting advice on the set of Harry Potter; where Evanna Lynch said he sat, dressed as Snape, surrounded by little children who were unafraid, for they knew there was a kind soul under that flowing black costume.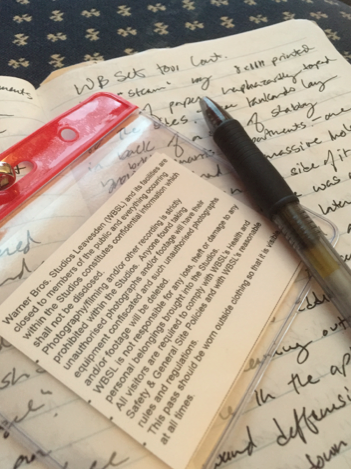 As the bus makes its way towards the canteen, it wines through narrow paved streets lined with boxy, brown, brick buildings that look more like university dorms and apartments than offices where great things are created everyday. Appearances can be deceiving.
As we enter the canteen through its sliding glass doors, and take our seats among its light wooden benches and long tables (reminiscent of those in the Great Hall), cast and crew members and studio employees eye our large group. Everyone settled in, bought a Starbucks (fuel for a long day), and waited for the women in charge of putting our schedule together and making this day (and incredible opportunity) possible for us–a unit publicist, and a fun-loving, energetic director of publicity (who would step down from her position at Warner Bros U.K. a few days after we left).
After all were together, it was decided that our group had time to take a tour of the outdoor set before sitting down for our first round of interviews. Our Warner Bros. guide lead us to the outdoor set just across the parking lot from WB Studio Tour. We walked down a muddy dirt road towards a construction site crawling with forklifts, trucks, equipment and men in vests and hard hats. (Out door sets are constantly changing—building, tearing down, etc.) Before entering the set just beyond a short chain-link fence, we too must be given hard hats and yellow vests.
Jacob's Apartment and His Blue Collar Side of Town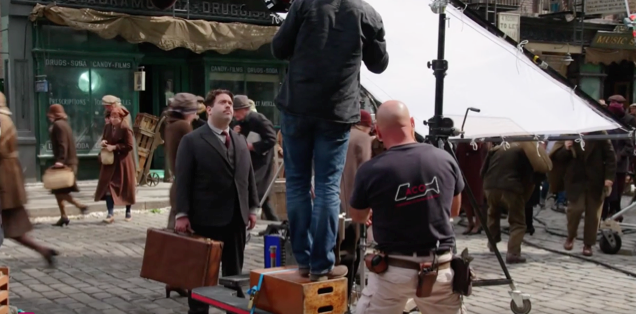 Once on set, it was hard to focus—I wanted to record every detail as possible, not knowing what was important and what to ignore. When we passed through the fence, the first part of set to the left was a group of sooty tenant housing. 1920's New York tenant housing, built with shabby brown brick, with lines of grey laundry strung from window to window, flittering in the breeze.
This part of "town" was where Jacob Kowalski lived, and where Newt would be staying for the first part of his journey. As we know now, Jacob was a veteran just returned home from the First World War. He had found work in a factory but aspired to be a baker. Our No-Maj hero was a small-time blue collar worker, trying to make his way through life. Little did he know what kind of magical adventure and trouble was coming his way.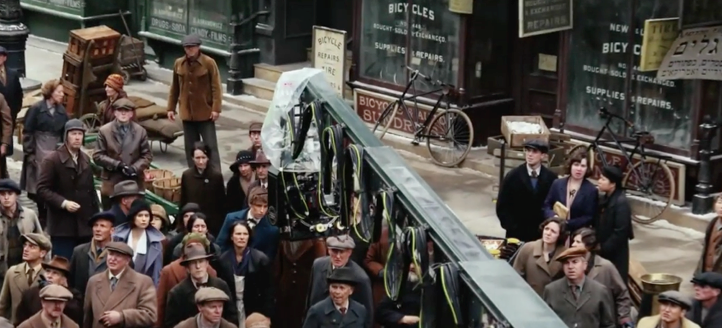 There is a gaping hole in one of the apartments about two stories up, and large tankards labeled "steam" underneath it. Looks like there has been an explosion in Jacob's (Dan Fogler) apartment. We would later see a high-res picture in the producers planning room of Eddie leaning out of this gaping hole, in that blue coat of his, pointing his wand defensively at something unseen. This picture of the set from the short trailer has already been released: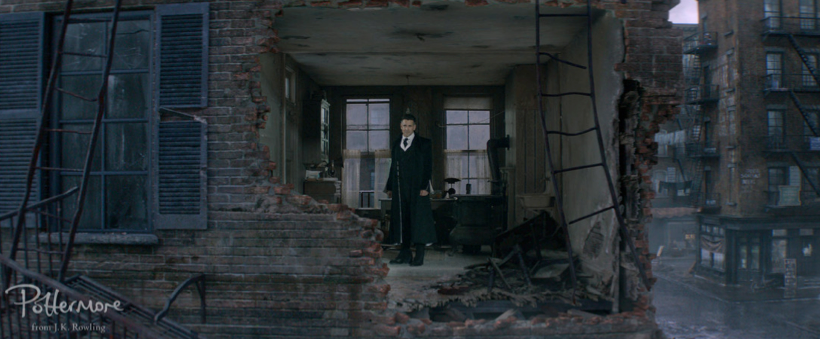 Walking along the empty streets, I felt an eerie excitement creeping up the back of my neck. By the look of the buildings, we were walking through 1920's New York, but (except for our group and scattering construction men) the streets were deserted. We continued down the street, marked "Baruch Place," and round the corner onto "Rivington Street." On this street, just behind the tenant apartment buildings is a street of more rundown shops—selling bikes, groceries, furniture, and more.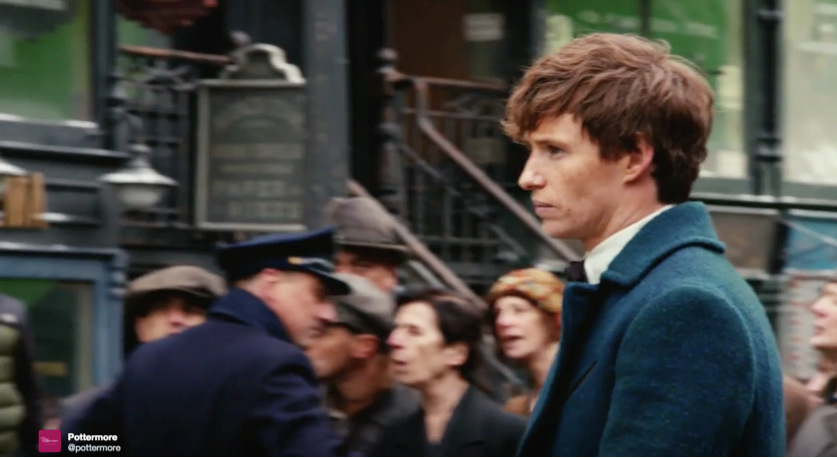 Directly in front of Jacob's apartment on the ground level (Jacob's apartment is on the second level), was a small neighborhood grocer's advertising fresh fruit and eggs and a drink in its cafe, and a bike shop next door. A small flight of stairs between the two stores led up to Jacob's apartment building. Across the street was a gift shop/thrift store with a sign reading, "Need men's furnishings to be sold in 15 days." This store shared building space with a shop selling glassware and china, as well as a laundry matt.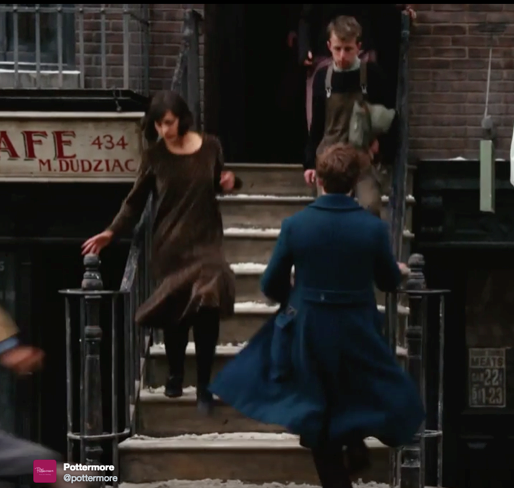 Walking along the dirty brick streets and tan-grey cement sidewalks, it became more apparent that we were in a blue collar, hardworking-but-little-moneymaking, industrial part of town. Among the shops and small business, sprang a large limestone building with ½ circle of windows was labeled "Sternberg Bros.," next door was "Herman Wonsal Manufacturing." Both were probably a work place for most of the extras that played citizens who lived on this end of the city. One of those working citizens may be Jacob.
Read "Outdoor Sets – Part II" and "Outdoor Sets – Part III."