DISCOVER YOUR PATRONUS ON POTTERMORE!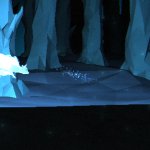 Sep 22, 2016
It is here. It is finally here.
For eons and eons, Harry Potter fans have been asking J.K. Rowling for a Patronus Quiz, to officially be able to discover their Patronus. After bringing back the official sorting quiz and "wands choosing the wizards," Jo finally granted fans their wish.
Having quickly taken the quiz as the news hit, we discovered that the Patronus Quiz is unlike any other Pottermore has ever presented. It is a hybrid between the sorting quiz and a game. As you wander about the dark forest, your mouse becomes a a wand dripping with magic, and you must be quick. One cannot hesitate or doubt their happy memory. At the end of the game, you must "click, drag and release" in a proper wand motion to release your Patronus. It is beautifully interactive.