'Number Four Privet Drive' for Sale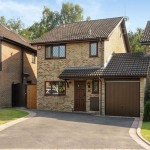 Sep 22, 2016
Time to start saving up your Galleons–the house used as the Dursleys' home in Harry Potter and the Sorcerer's Stone is officially on the market.
The three-bedroom home–which is located at 12 Picket Post Close in Bracknell, about 30 miles west of London–was actually only used to portray Harry's childhood home in the first Potter film. Due to logistical constraints, a studio set was constructed and used for scenes involving 4 Privet Drive in subsequent films.
The home has been sold once before since Sorcerer's Stone, and according to the real estate agent, "has recently undergone complete renovation to an extremely high standard". The house is currently listed at £475,000 ($616,000 USD).