Fantastic Beasts Character Posters Revealed!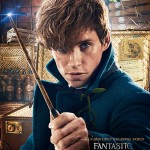 Oct 12, 2016
With the heavily anticipated release of Fantastic Beasts And Where To Find Them edging closer, Warner Bros have released nine character posters featuring everyone from Scamander to Percival Graves!
These exclusvie posters perfectly depict each of the film's magical characters and the beautiful detailing gives us a visual introduction to their story. Specific clues indicate bank robberies, 'Wanted' posters add an eerie feel to the likes of Newt and Jacob, and there is even a suggestion that a Deathly Hallows connection could be involved!
Take a closer look at Colin Farell's character poster and it's hard not to spot the swinging deathly Hallows symbol… Could this suggest a dark link to wizard Gellert Grindelwald perhaps?
Feast below on the new faces!
 Fantastic Beasts And Where To Find Them is set for release November 18th, 2016!