USAopoly's "HARRY POTTER: HOGWARTS BATTLE" Game Review!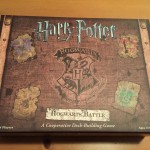 Oct 17, 2016
Need something fun to do while you bide your time until Fantastic Beasts and Where to Find Them lands in theaters? USAopoly has partnered with Forrest-Pruzan Creative, with licensing from Warner Brothers, to bring fans an exciting, new Harry Potter cooperative deck-building game, HARRY POTTER: HOGWARTS BATTLE.
My interest was peaked just by the title of this new game–and not just because it contains two of the most magical words (Harry Potter). I liked the sound of a cooperative game; a game to play along side others, not against them. The game looks like it is housed in a (cardboard) Hogwarts trunk. It is deceptively heavy for its size due to all the cards it contains.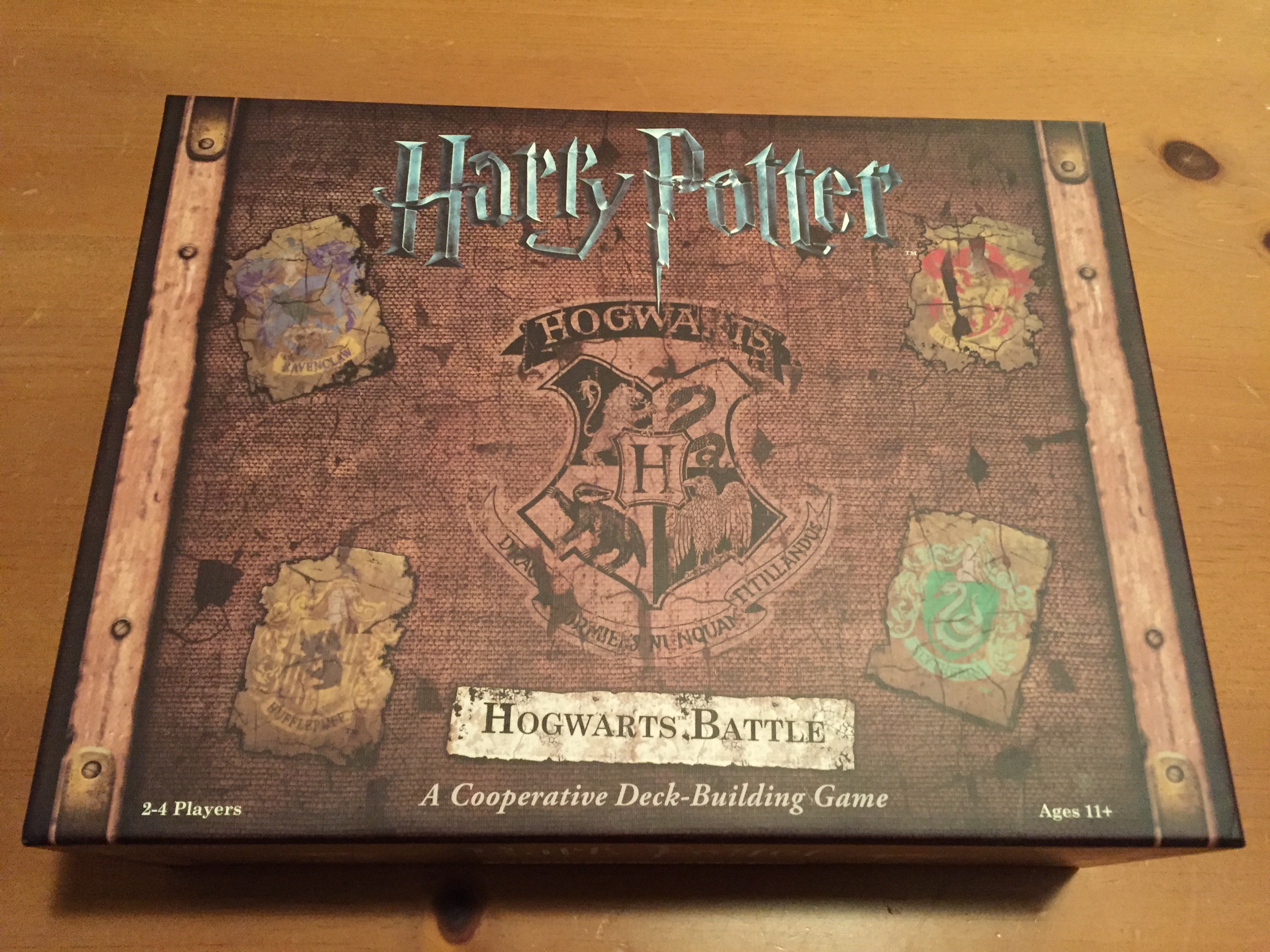 Opening the box was a small treat. One of the back panels of the game board features everything a Hogwarts Hero could need on a journey: a map (and not just any map, the Marauder's Map), binoculars, and rations (yummy Hogwarts treats, of course)!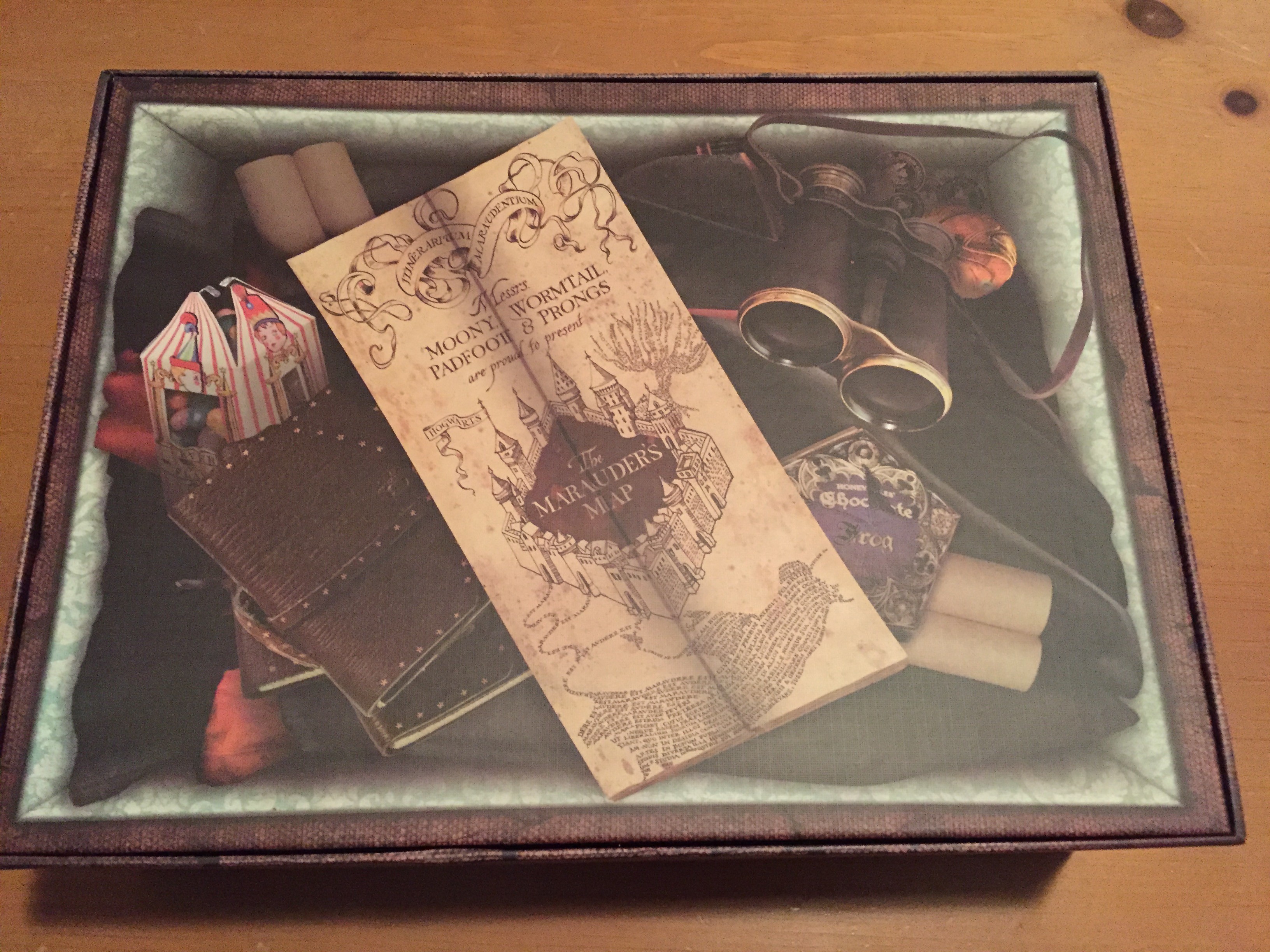 Before even setting up the game, any Harry Potter fan will immediately notice the amount of detail that goes into every aspect of the game. There are seven levels paralleling the seven books–each one becoming increasingly more challenging as your Hogwarts Hero grows up. As you begin the game, you may choose to be either Harry, Ron, Hermione, or Neville. In Game One, the actors on the character cards are from the first film. By the time you build to Game Seven, the actors on the character cards are from Deathly Hallows, and their abilities during game play have become stronger.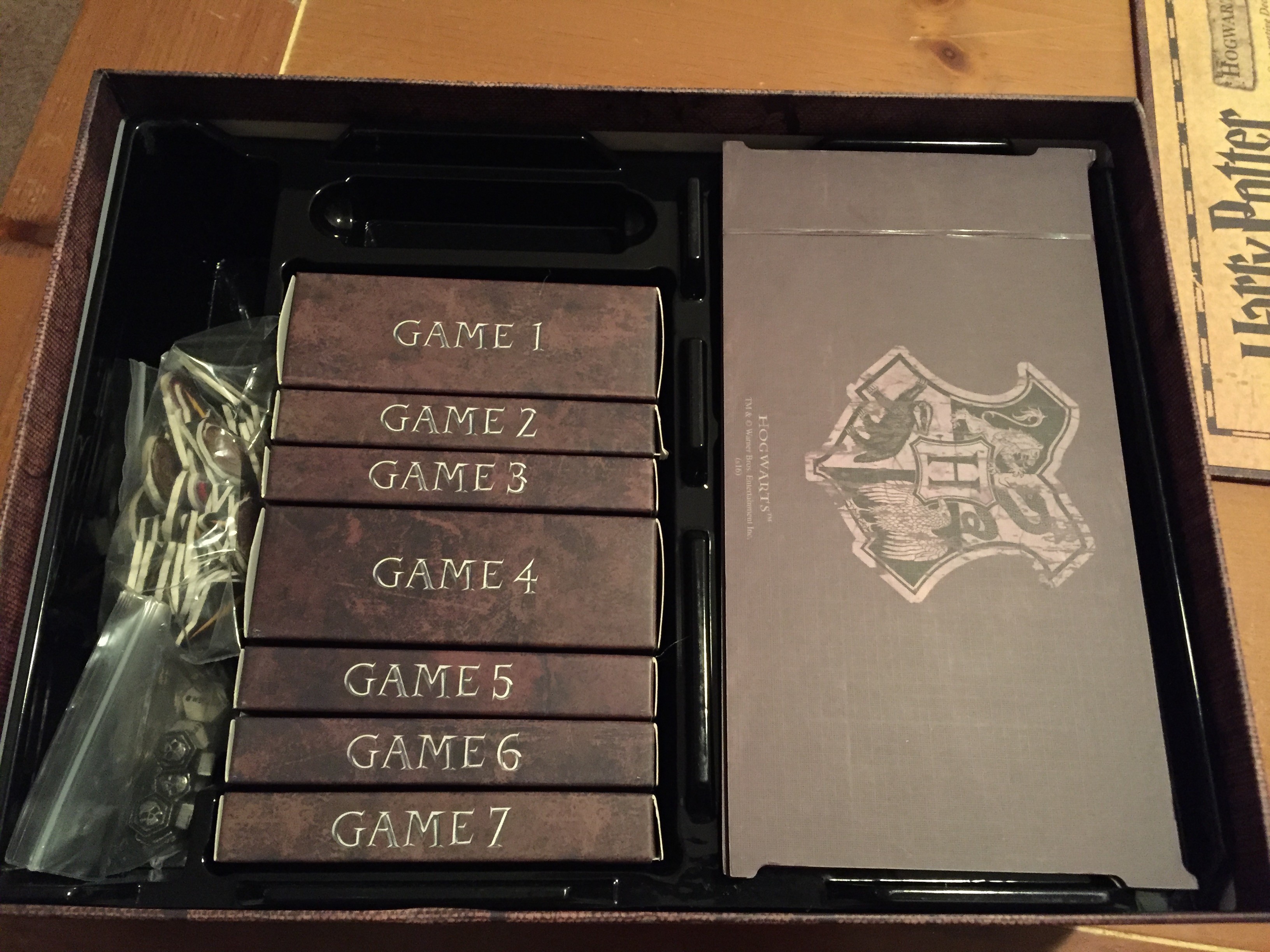 A game board isn't essential in a deck building game, as one really only needs a large flat space to place cards. However, if you are new to deck-building games, as I am, having a game board that reminds you where cards go and aids game play is really helpful. But if your friend, child, or favorite animal happens to lose or destroy the board, you can manage.
After choosing a Hogwarts Hero, players set up life cards around the board. On these cards, players keep track of their Health–which is threatened by the Villains and the Dark Events– and collect lightening bolts to use against the Villains and coin tokens to exchange cards to add to their starter deck.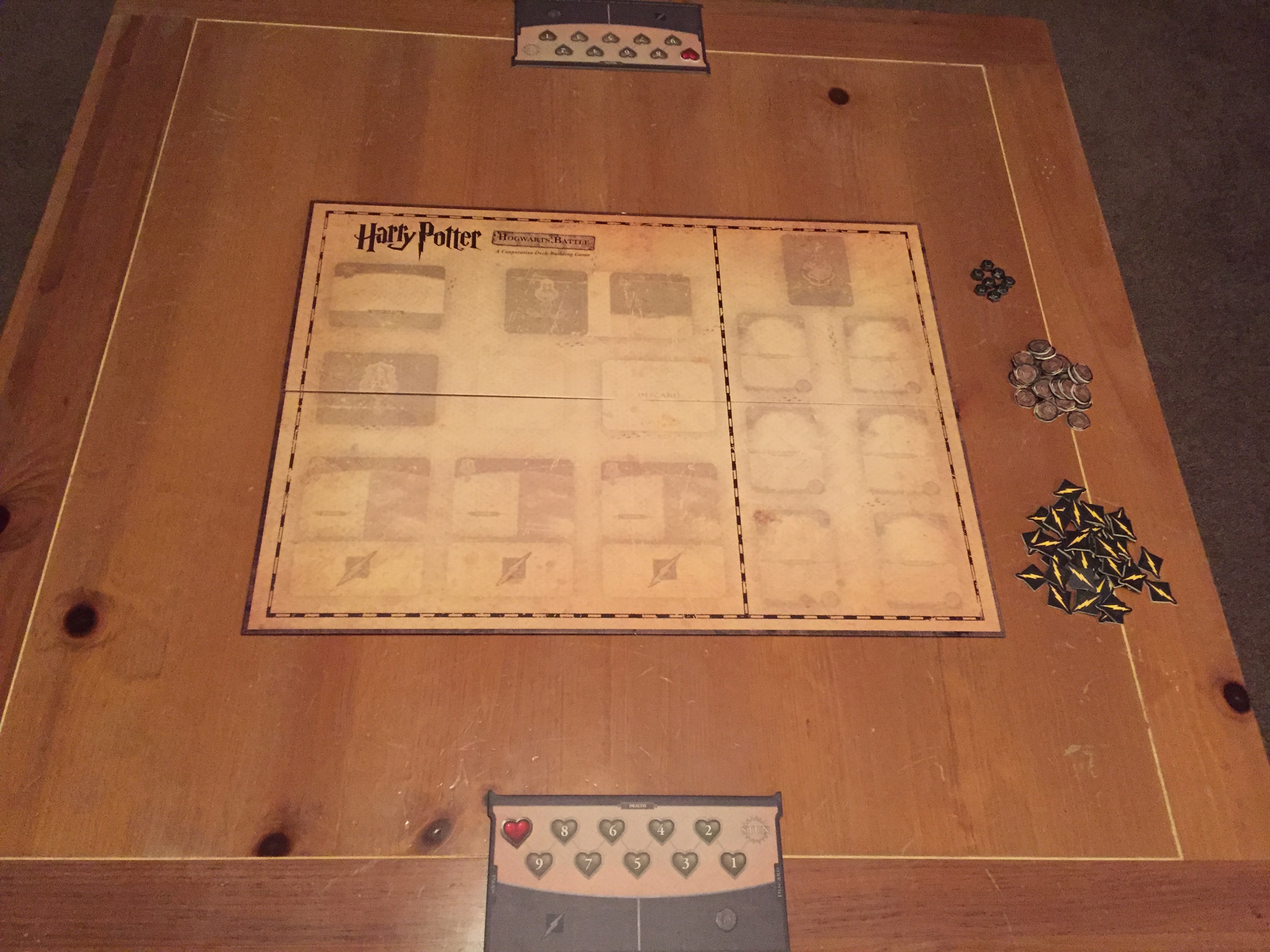 Characters have a starter pack of 10, of which players can only use five at a time. This is the same for every level. One has to immediately start collecting cards, or else the draw deck would run out pretty quickly. All Hogwarts cards acquired immediately go into the discard pile to the right of the player's board. When the draw deck runs out, the discard pile is shuffle and turned back into a draw pile. This was hard to get used to, and frustrating for some players who wanted to use their newly acquired cards immediately.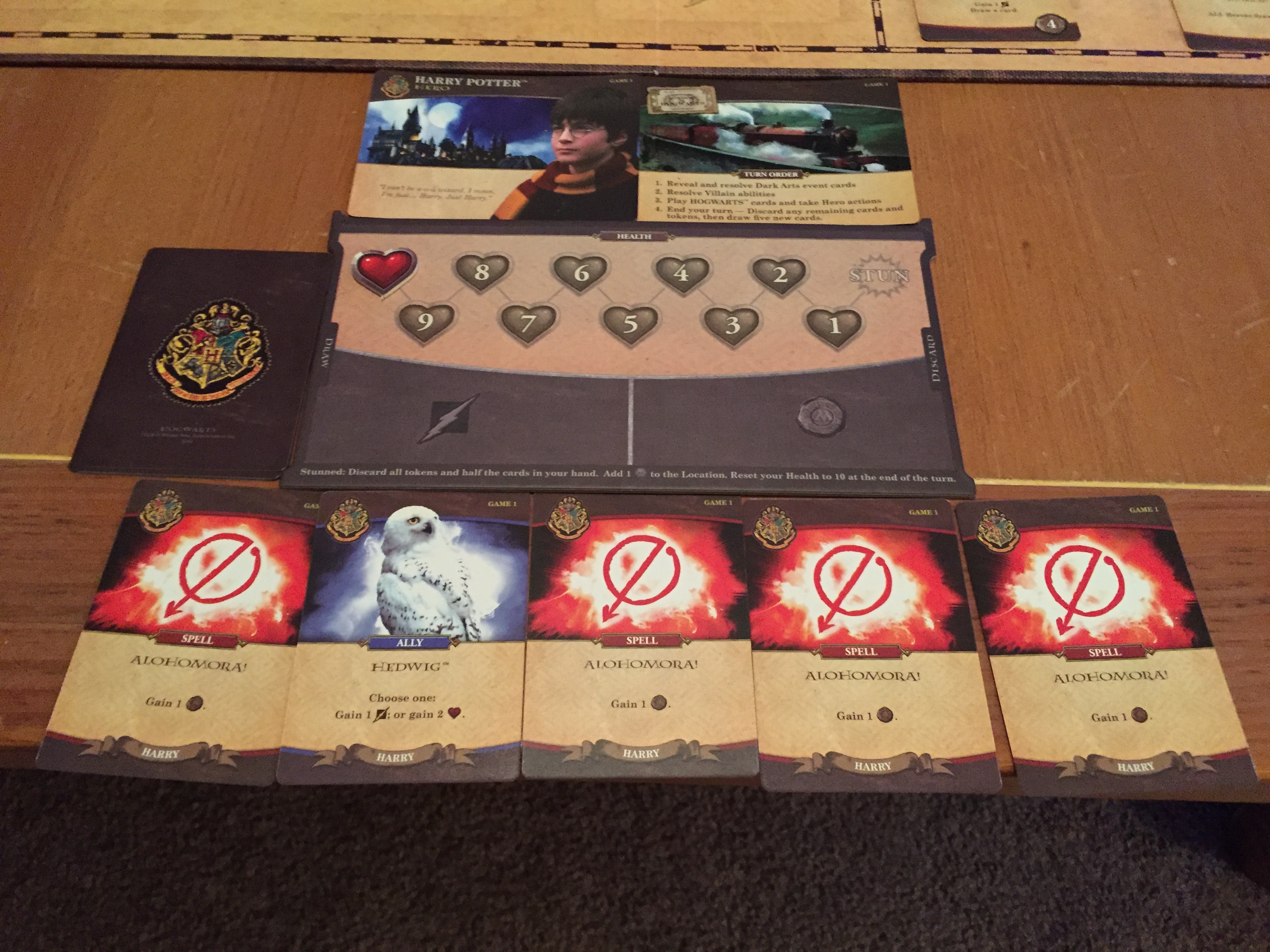 When first reading through the directions, even Game One can be a little confusing. If you have never played a deck building game before, definitely start there. It takes a couple of run throughs before the game takes shape. There are Hogwarts cards to collect in exchange for tokens off to one side. Lightening bolts or tokens must be used during a players turn–any left over tokens or lightening bolts are discarded at the end of a players turn.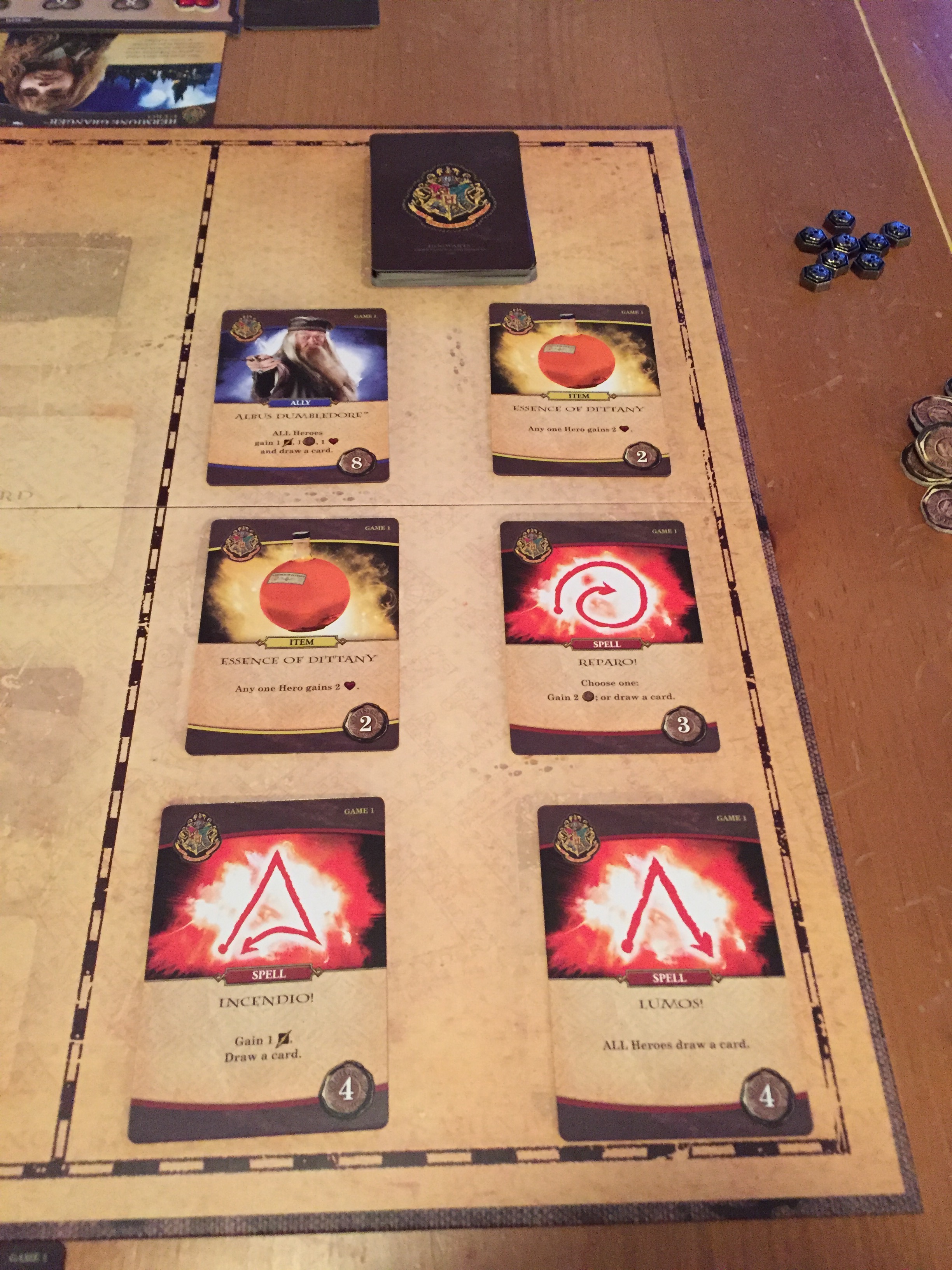 During the course of play, the tokens aren't completely necessary. Tokens are collected based on the 5 cards in a player's hand, put on their player board, and then immediately placed back in the pile when exchanging them for cards from the Hogwarts deck. They do help with organization, but players can easily add up the number of tokens cards in their hand allows, and just take the amount of Hogwarts cards that match the number without taking and replacing tokens from the pile. Tokens may briefly help a player keep track of actions as the game gets more complicated on higher levels. Again, if your friend, child, or favorite animal happens to lose or destroy tokens, you can manage.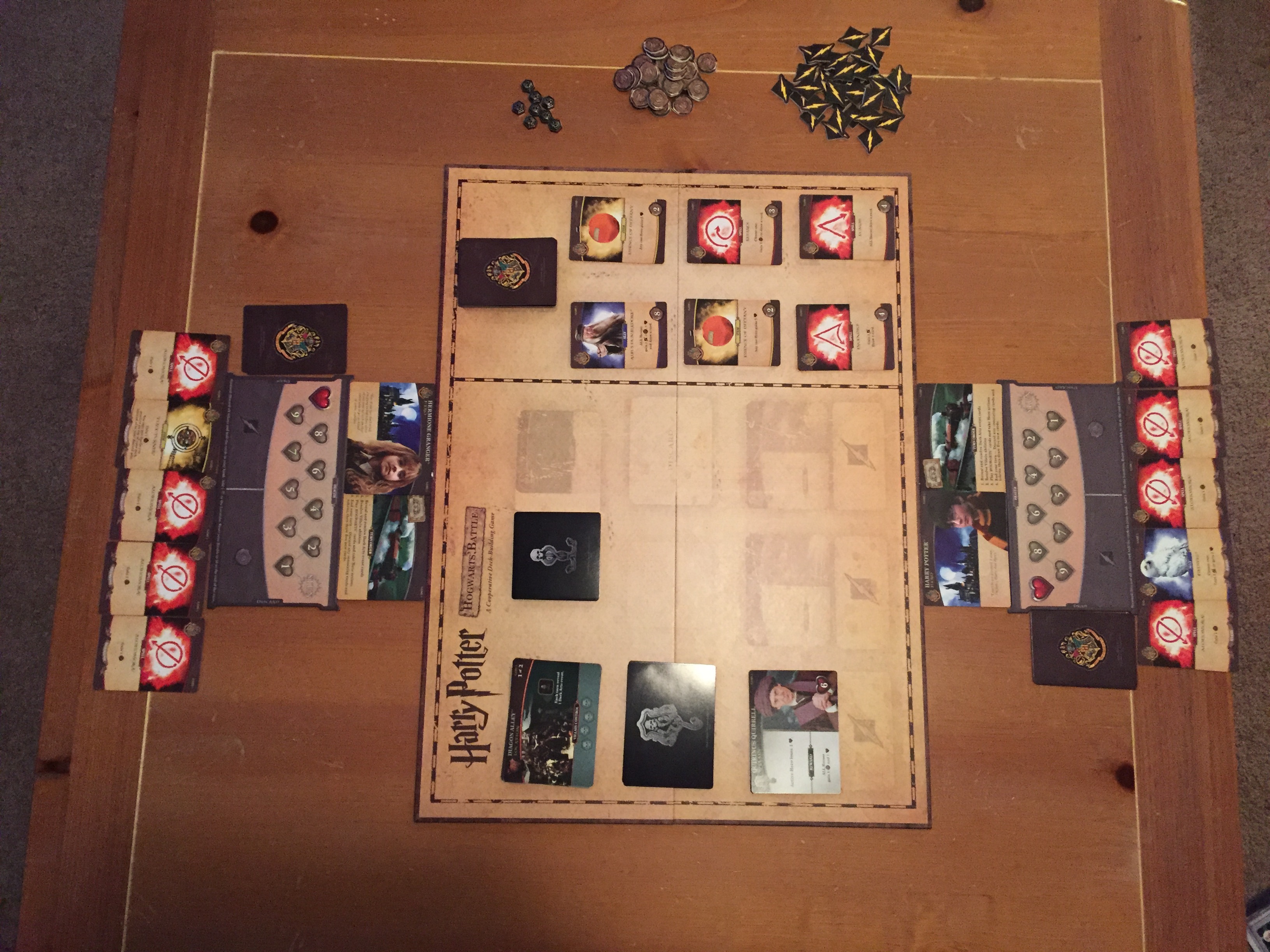 During the first game we played of Game One, the Hogwarts deck ran out of cards to collect. The directions said this may happen. This renders cards that allow you to collect tokens completely pointless. There is nothing to use the tokens for if you can't acquire Hogwarts cards for them. Players must take turns continuing play with the decks they built.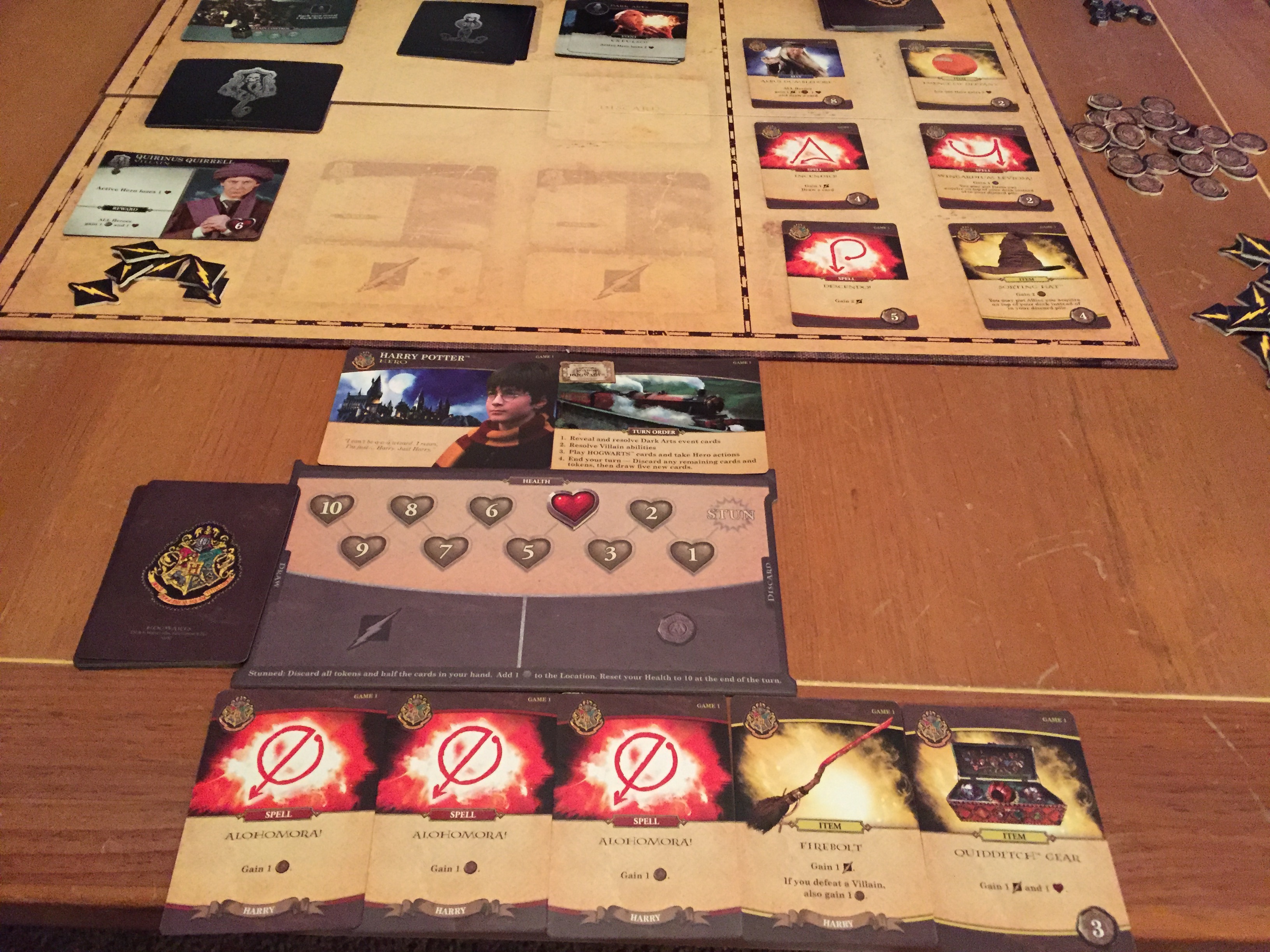 The second time we played Game One, we beat the game before the Hogwarts Deck ran out. Beating Game One almost seemed too easy to beat once we were accustomed to it. However, the more levels you add, the harder the game gets. Instead of battling one villain at a time, later levels have multiple villains face-up with compounding skills that hurt the health of players. In addition to more cards, more villains, more locations to protect, harder villain skills to beat, and higher skills to acquire on Hogwarts cards, higher levels also include a Hogwarts die and additional game rules and components.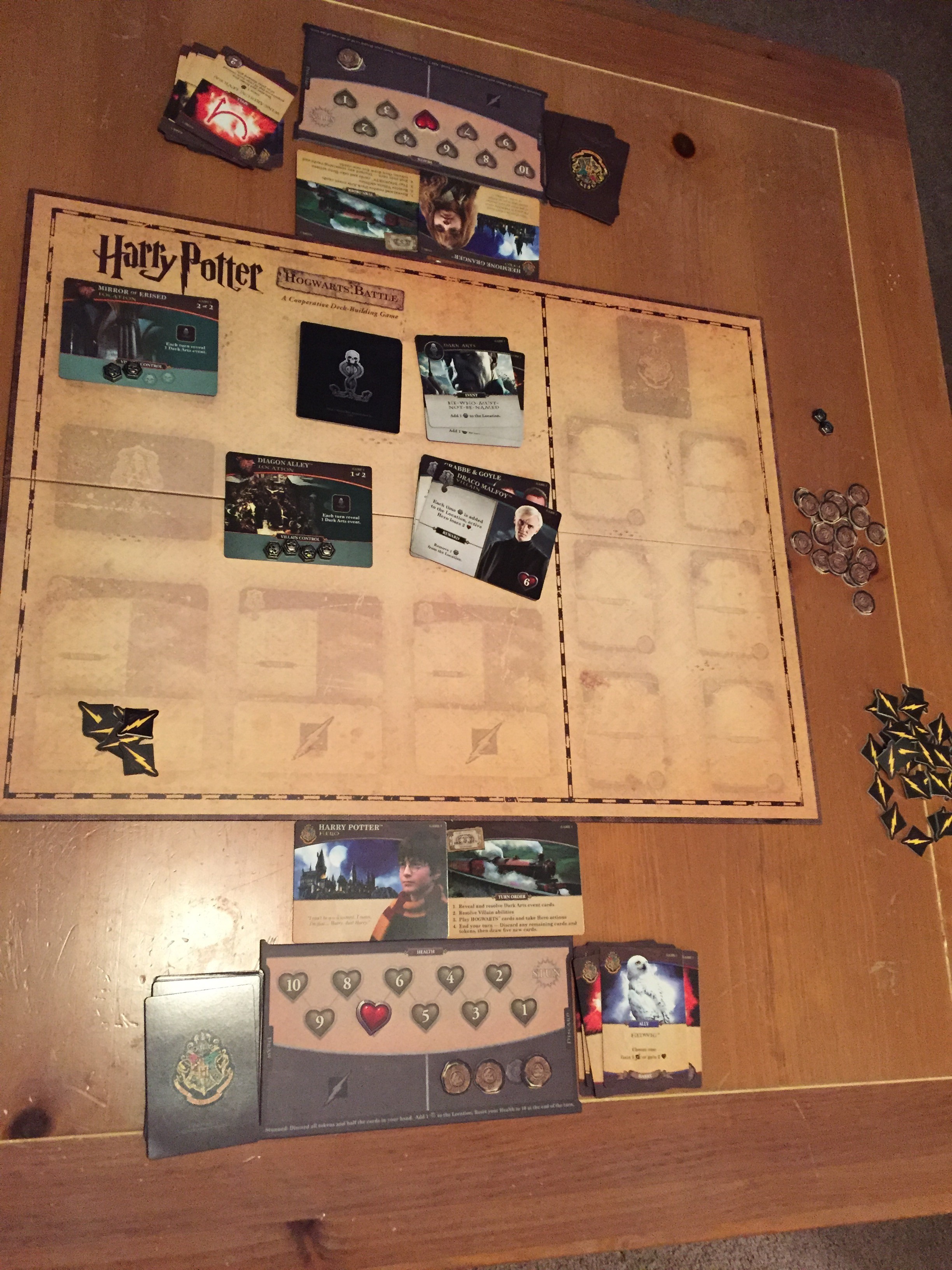 HARRY POTTER: HOGWARTS BATTLE is a little confusing at first. We would definitely recommend sticking to the age recommendation on the box. However, once players get the hang of it, it is rather fun, exciting, and challenging to play through the Harry Potter story with cards. Potter fans will appreciate details and parallels between the game levels and the Harry Potter books; such as defeating Quirrell in level one, Umbridge in level five, and the Voldemort cards upon his return in the story of Harry Potter. The Chamber of Secrets location card during Game Two, and other similarly pertinent location cards, add their own challenges to the game.
Gameplay has its quirks to work through, but overall we enjoyed it and highly recommend this game for Potter fans to add to their collection! Rumor has it Christmas is fast approaching, and this game would make a Fantastic gift for any Potterhead.
This game can be purchased in a number of places, including USAopoly's website, Warner Bros. shop, Amazon, Barnes and Noble, Walmart, and more. (Google is always your friend when it comes to comparing prices and shipping!)