New 'Fantastic Beasts' Clips, David Yates Confirms Dumbledore Appearance!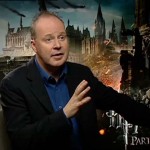 Oct 23, 2016
Colin Farrell appeared as a guest on this week's Jimmy Kimmel Live, and gave us a new clip from Fantastic Beasts!
In the scene, Farrell's character Percival Graves (who has a pretty fancy collar) interrogates Newt Scamander about his history and his beasts in a horrifically dark room, with a couple of lines we're already familiar with:
"Graves: You're an interesting man, Mr. Scamander. Thrown out of Hogwarts for endangering human life – 
Newt Scamander: – that was an accident –
Graves: – with a beast. Yet one of your teachers argued strongly against your demotion now. What makes Albus Dumbledore so fond of you?"
Tina looks on, clearly concerned, and Newt looks absolutely terrified – we don't blame him!
Watch the scene below:
You can also listen to a new track, called "Tina Takes Newt to MACUSA Headquarters", released by WaterTower Music. The soundtrack is available from November 18th. Listen to it below:
David Yates also featured in the SFX Fantastic Beasts (December) edition, taking about narrowing down his casting of Dumbledore in the film (we wonder if/when we'll find out who!). David Heyman and Yates are two of very few who have read the sequel's script. SnitchSeeker reports:
David Yates: The worlds are connected, and there are characters that exist in both. [We hear of] Dumbledore in this film, and we see him in the next part of the trilogy [note, this was reported on before the five movies were confirmed earlier this month]. He teaches at Hogwarts… 

The scenes that Jo has written are lovely. The younger Dumbledore is delightful. He's very mischievous and enormous fun and a bit of a political animal. I'm yet to cast him. I've got a couple of ideas, though…"
Eddie Redmayne also spoke about conducting an interrogation of his own: on J.K. Rowling:
Did J.K. Rowling discuss the role with you beforehand?
Eddie Redmayne: I was lucky enough to meet her just before we started filming. At that point I was so in awe of her. I wanted to be all, "Lovely to meet you!" but we only had an hour so I just went, "So, Newt?" You can ask her anything. Any detail from the smallest nuance. She is so in love with her characters. By that point I'd done so much work on who [Newt] was, and it was two people just talking at each other. It was so helpful.

Was there anything about Newt that you specifically wanted to nail?
Redmayne: Yeah, when [JK Rowling] describes Newt walking through the streets of New York, she describes him as walking to his own rhythm. There's a Buster Keaton vibe quality, she wrote. So I actually decided to work with this guy called Alex Reynolds who's a dancer by trade. Newt has a unique physicality that was very specific to him.
Katherine Waterston also spoke about the special effects, and echoed many other actors' struggles with CGI: not actually speaking to anybody during a scene (often just an 'X' on a stick, an imaginary beastie to be filled in by the production/graphics team later):
"Eddie and I were sitting between setups and I said, "Man, sometimes I just look at these Xs and it's tricky trying to find something to connect to. I look at them and I don't feel anything." 

And Eddie went, "Yeah, yeah. Do you stay in touch with a lot of your exes?" And I was like, "Eddie, the X on the stick!" He thought I was getting really deep!"
You can purchase the edition of SFX here. Go to SnitchSeeker to see photos from the interviews here!
---
NOTE TO READERS:
The Leaky Cauldron is searching for intern writers! If you'd like to take a glimpse at what it's like to share Potter news to a global audience, write about Cursed Childand Fantastic Beasts news and develop your writing and teamwork skills, please write a sample news article and a cover letter, and send it to [email protected]
Please note: this position takes up around 5 hours a week and is voluntary, but you get to be a part of a #1 Harry Potter fansite, with a long history and an exciting future ahead – so many new stories are just around the corner!
We are also looking for volunteer editors. This position involves working with other editors and overseeing a team of around 15-20 writers to ensure Leaky is posting news promptly and updating social media where appropriate.
We'd love to hear from you and get more people on board, so please send in your applications by Saturday November 5th.