Johnny Depp to Star in "Fantastic Beasts" 2!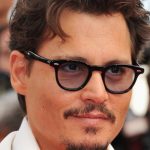 Nov 01, 2016
The Hollywood Reporter has released an article that announce Johnny Depp's involvement in J.K. Rowling's Fantastic Beasts and Where to Find Them series. With the announcement, THR reported that Depp will make a cameo in the upcoming first movie (due out Nov. 18), and take a more prominent role in the next–raising speculation that this well known actor may be playing Grindelwald.
The Hollywood Reporter writes:
"Johnny Depp had better start picking out a patronus. 

"The actor will co-star in the sequel to the upcoming Harry Potterspinoff film Fantastic Beasts and Where to Find Them.

"The first installment of the Warner Bros.' magical franchise is due out in theaters on Nov. 18 and stars Eddie Redmayne as magizoologist Newt Scamander, who is making his way to the Magical Congress of the United States of America in the 1920s when his magical beasts escape from his expanding briefcase.

"Depp will be making a cameo in Fantastic Beasts, but his character is being kept under wraps so audiences will have to keep an eye out.

"David Yates will return to the director's chair for the follow-up, which has already been dated for Nov. 16, 2018."
Stay tuned for more Fantastic Beasts coverage coming soon!!!