Exclusive: Dan Fogler and Alison Sudol on Queenie-Jacob Dynamic, Ron, and Beasts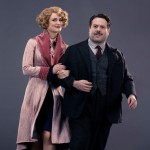 Nov 07, 2016
With much thanks to Warner Bros, Leaky had the opportunity to sit down with Dan Fogler and Alison Sudol for a one-on-two conversation about Fantastic Beasts and Where to Find Them, after the round table interviews today (articles coming soon). Dan walked in, cracking jokes and talking in a dramatic movie accent, instantly bringing joy into the room. Alison took a seat, gently and gracefully. Both actors embodied their characters well. With the actors who portray Queenie and Jacob sitting together, side-by-side, we began to discuss their on screen romance.
In Wizarding America during the 1920's, fraternizing with a no-maj is strictly prohibited. Falling in love with and marrying a no-maj is out of the question. Alison and Dan had a difficult task ahead of them–creating an enduring on screen relationship that faced the ultimate hurtles–and they executed it perfectly.
Earlier in the day, Ezra had expressed his surprise at how sexy the dynamic between Dan and Alison was portrayed on screen. "That dynamic stole the show, in such spectacular ways," Ezra said of his co-stars. When asked if Queenie and Jacob's love would endure, Dan responded with a confident "I hope so; it's pretty powerful."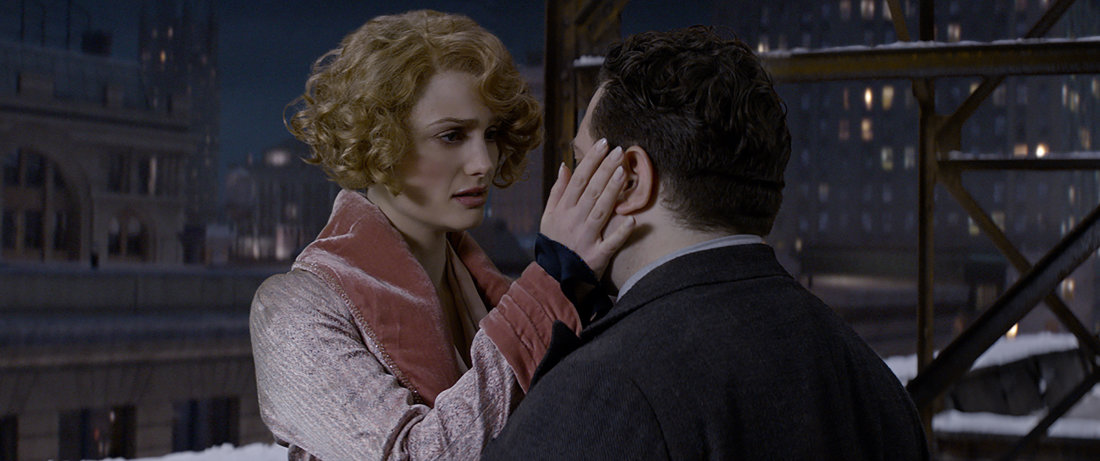 "For Jacob, he's reeling from the Murtlap bite, he already feels like he's dreaming, and he sees this enchanting, delicious woman. For him, I think it is definitely love at first sight. He's never seen anything like her; he thinks she's an angel. Then she can cook, and that's it, it's almost like he's proposing at that point," Dan said, laughing as he described Jacob's feelings for Queenie.
Alison went on to say that, for Queenie, love is not as instantaneous. "It's lovely because there is a fascination, and a curiosity, as she has never met a no-maj before," Alison said. "There is obviously, immediately an energy and a banter between them, and a connection. But it's as she gets to know him more. It's the way he is with her, the kind of person he is, she falls in love. It's quick, it doesn't take a long time."
"He's fairly sweaty when she meets him–it takes him a while to dry off," Dan jokes. Alison agrees that when Queenie first lays eyes on Jacob, he is not at his finest moment.
The scene above, when Jacob and Newt join Queenie and Tina for dinner, is a scene Dan loves. He couldn't help but laugh between his words. "I love that bit because we're siting across the table, and he's trying to be cool. I've been there, where you're like"–Dan grabs the table cloth of the table we're sitting at, and hides behind it–"sitting across from pretty lady, trying to act cool, act like you're not sweating but you're sweating."
With Jacob the baker, and Queenie the magic cook, we discuss the possibility of Jacob and Queenie going into business together (after all, there is a "Help Wanted" sign in the baker window). Though it is just a personal theory, Dan agrees, "that would be genius! She's just popping out strudels like that!"
Alison reminds us that it's not just magic, Queenie is a very skilled cook. "Queenie has true skill. You could be a witch or wizard and be a terrible cook, you know?" Yes, we know. Poor Hagrid. "She's got the gift. But, yes, that would be so fun if they [Queenie and Jacob] went into business together!"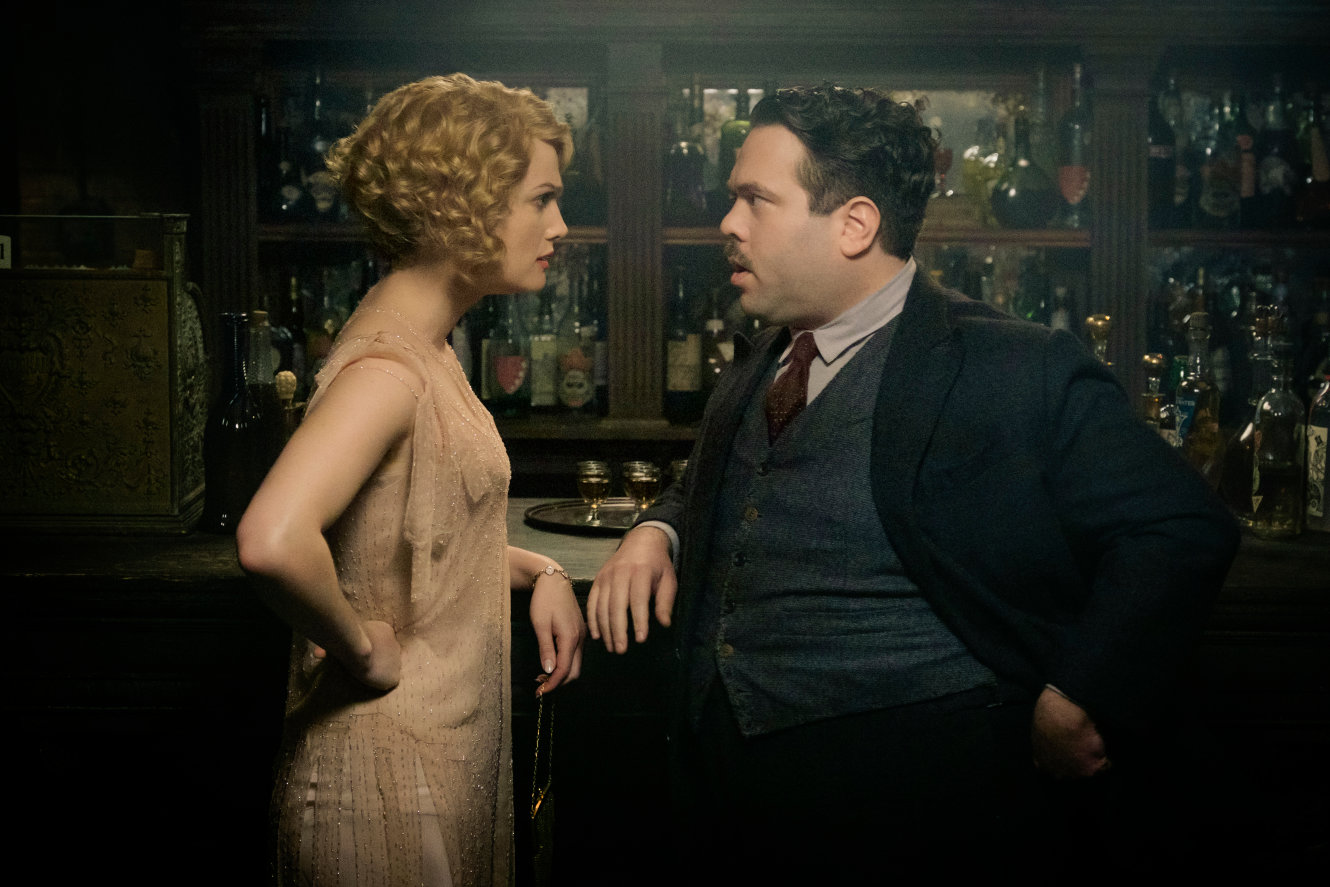 Jacob and Queenie will return for the second Fantastic Beasts film, which will be set in Paris. Dan commented on Jo's inclusion of the two characters in Newt's story, saying "she could have just left them, watched them from a far, but she wanted them back. They get back together and the adventure continues."
Of course, one must keep the secrets, and neither Alison nor Dan would say much more about their character's futures. With the audience falling in love with the duo from the moment they hit the screen together, we will have to weight to see where the relationship goes throughout the next four films (eight years).
After working on the film these last two years, Dan and Alison have grown quite personally attached to their characters. Dan gushed about Jacob, whom he said was like playing his great grandfather. "When I read it, I felt that I could be playing my great grandfather. That's how close it felt to me." It was endearing to watch Dan talk about Jacob in such a loving way, with quick and funny one liners scattered throughout his description. "He's a Kowalski, so I was like 'Okay, he's related to Stanley.' He came back from the war, a soldier, but he's also a classic baker from fairy tales. He's that baker from Into the Woods. He gets to go down the rabbit hole."
When Dan first met Jo, she told him that Jacob was a lot like Ron Weasley, a very loved Harry Potter character. "She told me when I first met her that he was like Ron. They were cut from the same cloth. Ron gets to be the clown, the hero, the romantic I think he get's to be a bit of everything. I love parts like that."
We were both so enthralled with Dan's answer, Alison forgot the question because she was just listening so intently. Alison felt very similar to Dan. She focused on the sadness that linger's in Queenie's sweet and bubbly disposition–a sadness that stems from the death of Queenie and Tina's parents, as well as all of the thoughts she can hear. "There is a sadness in Queenie from just all of the things that she hears on a daily basis–it's a lot. There's a bit of loneliness because she's different. Everybody is magic around her, but she actually has wizarding abilities that aren't set within the normal wizarding set."
I asked Alison if she knew if Queenie was born with natural legilimency powers, or something that she was just particularly skilled at. In the past Potter films, legilimency has been an advanced set of magical practices that must be learned and mastered. "That's a very interesting question. It never occurred to me that it could have been a choice for her," Alison said. "She's gifted, it's just part of who she is, it's another personality trait; it's something that she's learned to live with and that she's adapted to."
Dan interjected with "I believe she was born with it."
Despite being able to hear thoughts, and the loneliness and sadness in Queenie, Alison elaborated on Queenie's innocence. "There is an innocence about her, which is partially due to the fact that Tina has really protected her–taken on a lot of the burdens of the family and raising them. So Queenie's quite young in that way, but then also she is really wise about things, about humanity, because she [can read minds]. She's a very interesting character, full of dichotomy."
Dan brings the discussion full circle, back to the dynamic of Queenie and Jacob. "They are kindred spirits in that sense," Dan said after Alison finished explaining Queenie's dichotomy. "[Jacob] went to war, he's seen some really dark stuff, and the way he's dealt with it and been able to maintain his kindness, which I think that makes him a really good match for her. Also a good match for the team, a good helper for Newt, because he's desensitized in a way."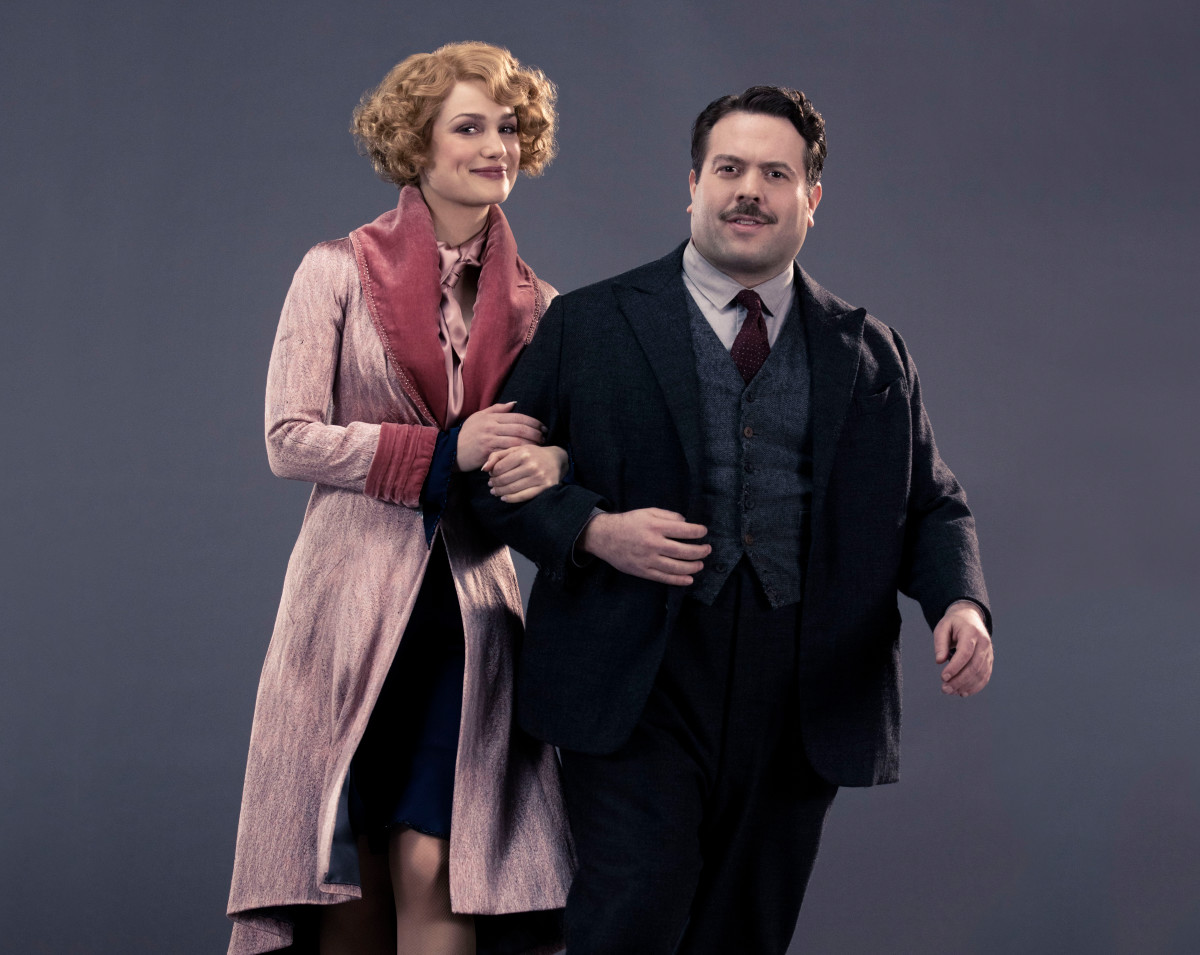 Before I knew it, we had to wrap up and Dan and Alison had to move onto their next interview. In the spirit of the film title, of Fantastic Beasts, Dan and Alison answered one last question: what was their favorite beast?
"I really liked the Demiguise," Dan said. "He seems really nurturing; he took care of the creatures when Newt was gone. He's invisible, can tell the future, it's hard to catch him. I think he's a really cool creature."
"Queenie actually has a really interesting moment with the Occamy, where everyone else ducks for cover because this huge, volatile creature is about to go all over the place. But there is a moment where she and the Occamy are just looking at each other, and I saw it that she was actually able to read the Occamy's mind as well, and it's spellbinding. She's completely unaware of the potential danger she might be in and she just wants to be close to it. I found that to be a really powerful moment, actually. It's an interesting insight into her relationship with the creatures and how that might develop in the future."
It was a long, long day of interviews. Even though they must have been extremely tired, Alison and Dan were really lovely to talk to. It was a great pleasure–thank you!