"Fantastic Beasts" Round Up: Sequel Titles, Heyman Interviews, Watson Loves It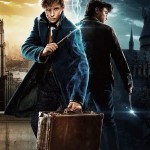 Nov 23, 2016
There has been a constant stream of Fantastic Beasts news since its release last weekend. Emma Watson tweeted about how much she loved the film, to J.K. Rowling's great delight, and Eddie Redmayne announced that the remaining films will follow a similar title format as the Harry Potter series, i.e. "Fantastic Beasts and the…" Producer David Heyman gave more interviews on the Fantastic Beasts film, and announced a new project that he will be working on.
We have seen a lot of praise for Fantastic Beasts over social media, and the Potter family is starting to share their reactions to the film:
Have you seen @fantasticbeasts ? If you have did you love it as much as I did? ?????

— Emma Watson (@EmmaWatson) November 21, 2016
J.K. Rowling liked the tweet and retweeted it. As we wrote earlier, Dan Radcliffe gave some comments on the film (especially regarding Newt's wand–Radcliffe called it "IKEA" and Eddie Redmayne was heartbroken.)
Eddie Redmayne also clarified what the next Fantastic Beasts films will be called. At the Applestore event a couple weeks ago, during the press coverage of the World Premiere of Fantastic Beasts, Eddie said that he had asked David Yates the question we had all been wondering. The director replied that the titles would take on a similar style to the Harry Potter films and be "Fantastic Beasts and the…"
Eddie said: "You know, I did actually ask that question to [director] David Yates and David Heyman yesterday. And the answer is: Fantastic Beasts will remain in the title if we go forward, and then it'll be 'and the…'" 
The Apple store Q&A session can be seen below (thanks to SnitchSeeker who filmed the whole event):

Harry Potter and Fantastic Beasts producer David Heyman gave another interview this week with Slash Film. Heyman talked about Newt, Grindelwald (spoiler alert if you have seen film one yet, stop reading here) and working with J.K. Rowling. Slash Film reports:
When and how was the decision made to come back to the Harry Potter franchise and to start that up again?

When Harry Potter finished, there were some mixed feelings. It was very sad, because we'd become a family sort of, and we all went our separate ways. But that was exciting also, new challenges, new films, new projects. So I went off and made a couple films. I did Gravity and I made a film called Paddington. Then halfway through the beginning of my work on Paddington, Potter began knocking in my head. I was with [producer] Lionel Wigram and we were trying to figure out how could we come back to this world? And Lionel had the idea of doing a documentary about Newt Scamander, a faux documentary where we go with him to see as he's looking for his magical beasts. Pitched that idea to Jo, she said, you know, it's funny, I've been thinking about Newt Scamander myself, and I have this whole story about him, and what do you think of it? She told us and we went, uh-huh.

And she says, so yeah, and I'd like to write the screenplay. And [we had] mixed feelings about that, because she's a novelist, she's never written a screenplay before. So when the screenplay arrived — she handed it to me. And I read it. And as soon as I opened it, I felt [dramatic sigh] relief. Because while it was very rough, it's a first draft from a person who had written their first screenplay, the characters were so vivid. The scenes were thrilling. It's a bit whimsical, a bit light, didn't have the gravitas that one would have liked, that one associates with Potter. And then the second — we hired David Yates, brought David Yates on, Steve Kloves and myself and Lionel and David. And then Jo did a second draft. And that draft was really dark. Really, really dark.

What made it so dark?

It was just quite violent, it was quite ugly. The abuse of Credence was probably featured much more strongly, much more overtly, the suggestion of it was much more explicit. We saw things happening to characters. So we pulled back from that. The big thing was Jo finding her tone. Once she found the tone the rest fell into place quite quickly. She's amazing. She's a writer. She's voracious. She writes and writes and writes and writes and it just pours out of her, ideas. It's an amazing thing. This, we're working on the second script with David and she'd written a first draft, and David asked her to do a treatment, some structural treatment, and two days later, a 102-page scriptment — half script, half treatment — arrived. How does anybody do that? She just locks herself away, she'll go to a cafe or something and just write. It just pours out, which is amazing.

Yeah, [Newt's] really unusually introverted for an action hero kind of guy.

But he's not an action hero, that's the thing about him. I mean, he's a hero. But he's us. He's you. He's me. He's not a superhero. I love some of those superhero movies. But I know I won't be able to fly. I know I won't be able to do things that Iron Man can do, or Superman can do, or Batman can do. I just won't. I know I can love animals. I may not be able to use a wand. But I think that Newt is a very accessible and relatable hero.

Do you have any plans to bring any explicitly gay characters into the Harry Potter franchise?

We haven't talked about it. We haven't talked about that specifically. Not yet.

Is it something that you think could happen, that you want to see happen?

I have no idea. Possibly. I mean, clearly, Jo did talk about Dumbledore being gay. But we haven't talked about that being the driving force behind casting or any of the characters. That hasn't been discussed yet.

And the next [film] is going to go to Paris. So you've started out in Europe, you're going to America now, do you also have plans to visit some of the other continents, like South America or Asia?

We haven't really talked about it. I suspect with the specter of World War II looming large in the not-too-distant future, it wouldn't surprise me if Europe is quite central to this series. But I have no idea.

Who do you think is a bigger threat, Grindelwald or Voldemort? Who do you think is more evil?

I think both are evil. I think the thing that Grindelwald has that maybe Voldemort doesn't is, Voldemort was pure — he was just a brute, a bully. The thing about Grindelwald is, I understand what he's saying. When Grindelwald talks about living in the shadows and why should we live in the shadows, I understand that. Why? Why should wizards have to live underground? That's not right. I don't agree with his attitude toward people who are different to him. But I understand. He makes sense. So he has the ability to persuade, to seduce, to make you come on the side of what he is thinking. That is scary.

As the franchise continues to move forward, are we going to see the storyline in Fantastic Beasts start to converge with real history at all?

I think if you look at all of her works, there's a connection. The themes are connected to real history, both of the time and of today. And clearly, the time that it's set, which is between the wars, 1926 and carrying on, where fascism is on the rise and World War II is around the corner, I know that there must be a reason. Whether Newt goes to war, I have no idea.
The rest of the interview can be read here.
Heyman also announced that he would be producing a film called "Warriors," an adaptation of the popular children's/YA book series about warrior cats. The project should bode well for Heyman, having successfully brought the children's book Paddington to the big screen.  Parent Harold reports:
"David Heyman is the producer of "Harry Potter" movies and he is planning to make a live-action movie about warrior cats. Other than the "Warriors" film project, he is also working on the new "Willy Wonka" movie from Warner Bros.

"Heyman already penned his signature on producing an Alibaba Pictures according to Gamespot. Alibaba Pictures is a live version of the children's book for franchise "Warriors." The storyline is about four groups that are composed of wild cats.

"Alibaba takes the rights of the British book series "Warriors."  In the core Warriors series, it has 36 books all in all and 30 million copies have been sold all throughout the world.

"The main character of the warrior movie is Rusty. He is a feline cat and has been taken care by humans. However, he chooses to collaborate with wild cat clan in the forest.

"David Heyman describes Rusty as a stigmatized, outsider, not from the forest and lived in the comfort of a human home. Therefore, the story of the movie will focus about Rusty. It is about how he will adapt to a new place and how he learns to be in that place even if it takes a lot of hardships. Despite his struggle, he still managed to rise up."
More can be read here.
Fantastic Beasts and Where to Find Them is currently playing in theaters, and the published screen play is widely available from book retailers!