Giving Tuesday: Stand with Aleppo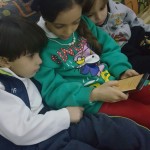 Nov 29, 2016
After Black Friday and Cyber Monday comes the most important, yet least heard of, day in post-Thanksgiving tradition: Giving Tuesday. It is incredibly important to play our part in helping the world heal–one individual does make a difference. Earlier this week, we brought you the story of Bana, a little girl who is suffering so much in Aleppo, and who is a massive Harry Potter fan just like you and me. Just days after Jo Rowling jumped hurtles to get Banna the Harry Potter books, Banna lived through more than one near-death experience, sustained injuries, and has no home. Another young child, Bana's friend, was killed in the bombing (warning, link to *graphic* tweet).
We have no home now. I got minor injury. I didn't sleep since yesterday, I am hungry. I want to live, I don't want to die. – Bana #Aleppo

— Bana Alabed (@AlabedBana) November 28, 2016
  If the Harry Potter series, with Dumbledore's Army and the Order of the Phoenix, and its creator (Jo Rowling) has taught us anything, it is love and generosity. The word "charity" comes from the Latin word Caritas, which was a translation of the Greek word, Agape, meaning "love". As Jo said during the Fantastic Beasts press junket, there is a lot of generosity [and love] in this Harry Potter fandom. We love each other, and we love Bana.
My brothers want to read the Harry Potters too. – Bana #Aleppo pic.twitter.com/ZW6AGggOZj — Bana Alabed (@AlabedBana) November 24, 2016
Bana reads the way all Potter fans read: to escape reality and suffering, just for a little while:
Good afternoon from #Aleppo I'm reading to forget the war. pic.twitter.com/Uwsdn0lNGm

— Bana Alabed (@AlabedBana) September 26, 2016
On this Giving Tuesday, perhaps give up seeing Fantastic Beasts for the fourth time, and give the $15-$20 from the movie ticket, popcorn and drink to an organization that stands with Aleppo, and aims to help bring relief to those suffering in the war torn area. We're pretty sure the creators of Fantastic Beasts, cast and crew, would understand.
Allow in food. Just allow, just…. Please allow it for the thousands starving here. Why is it a problem?. – Fatemah #Aleppo

— Bana Alabed (@AlabedBana) November 25, 2016
Message – we are on the run as many people killed right now in heavy bombardments. We are fighting for our lives. still with you.- Fatemah

— Bana Alabed (@AlabedBana) November 28, 2016
  As written in our last post, "We urge you to consider donating to UNICEF's Syria appeal if you are able, or to spread a message of love and unity in any way you can. This fandom aims to stop wars by spreading love, through words, stories, music, film, donations, crafts or just plain emotion – J.K. Rowling's actions – however small you may consider them – have inspired us to pay more attention, be givers – not takers  (as Queenie suggested!), and spread light in horrific darkness."   Other ways to give to Aleppo are INARA.org, the Red Cross/Red Crescent (IFRC.org), and Oxfam's Syrian appeal. Also follow any of the links embedded in tweets below.
Tomorrow #GivingTuesday. my non profit @INARAorg helps #Syria refugee kids w/medical treatment https://t.co/rv17ksvqmb pls donate &/or share

— Arwa Damon (@arwaCNN) November 28, 2016
See previous tweets, also https://t.co/gie5N0z6y0, @Oxfam https://t.co/DufRd53Npj https://t.co/u8tvoFtVNa — J.K. Rowling (@jk_rowling) November 29, 2016
#StandWithAleppo https://t.co/vtot1Yply5

— J.K. Rowling (@jk_rowling) November 29, 2016
If you cannot afford monetary donations, please spread the word to friends, family and social media followers; bring awareness to those around you. Send thoughts and prayers; perhaps even sign a petition:
#StandWithAleppohttps://t.co/KHtFyPOhFb pic.twitter.com/oid6Sn6KBJ — J.K. Rowling (@jk_rowling) November 29, 2016
Under heavy bombardments now. In between death and life now, please keep praying for us. #Aleppo

— Bana Alabed (@AlabedBana) November 28, 2016