"Fantastic Beasts and Where to Find Them" Box Office Update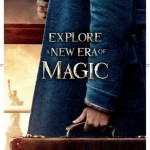 Nov 30, 2016
UPDATE: Fantastic Beasts has surpassed $500 million, as reported just a few hours ago. Half a billion dollars! Variety reported,
"Fantastic Beasts and Where to Find Them" has passed $500 million at the global box office in less than two weeks of release worldwide.
The studio's domestic distribution president, Jeff Goldstein, issued a bullish forecast: "Anticipation grew exponentially in the weeks leading up to the release of 'Fantastic Beasts,' and now with the film in theaters we are seeing strong word of mouth and repeat attendance, which should carry the film through the holiday season and beyond."
Veronika Kwan Vandenberg, president of international distribution and growth initiatives, said, "The enthusiastic global response to 'Fantastic Beasts' proves once again that the appeal of the wizarding world transcends language and borders. We, too, foresee strong holds through the holidays and well into the new year."
---
Last weekend, we reported Fantastic Beasts and Where to Find Them opening box office numbers. It did fairly well, by definition, successful. Why wouldn't it; it's a truly amazing movie. On it's opening weekend Beasts grabbed $75 million in the USA box office, and $143.3 million in foreign box offices. Having spent around $180 million on the project, Warner Bros broke even and then some. We knew the numbers would get even better.
Since Beasts is not based on a novel, and relatively unknown, it has always been about pushing and pulling, getting the initial audience into the theaters on opening weekend to see how amazing this unfamiliar wizarding movie is. Then the message, spread by word of mouth, would keep a pretty constant flow of audiences. With praise from family and friends, following box office numbers could only get bigger.
This happened. The scenario above panned out as expected by many movie makers and critics. In the USA box office, Fantastic Beasts drew in more than $81 million since last weekend's opening of $75 million, more than half of which came from this past weekend (about $45 million). It's total USA box office standing is at $156.2 million.
Beasts was just as well received in foreign box offices. Since opening weekend, Beasts pulled in $174.2 million in foreign box offices, $132 million of which came from this past weekend. It's international cumulative is $317.5 million.
After two weeks in theaters, Fantastic Beasts holds a cumulative grand total of $473.7 million dollars. Considering that Fantastic Beasts is a completely separate film series that is a part of a very familiar franchise, these numbers are amazing. The most successful Harry Potter movie (Deathly Hallows – Part II) brought in a total of $1.34 billion after a summer release and many weeks in theaters. It set box office, movie making records. Prisoner of Azkaban (the smallest box office grossing Potter film) scored a world wide total of $796.6 million. After two weeks, Fantastic Beasts is already more than half way there!
Fantastic Beasts is an amazing film, and justly well reviewed by film critics world wide. The movie is currently in theaters, and the published screenplay is now in bookstores everywhere!