Harry Potter and the Forbidden Journey Removes 3D Effects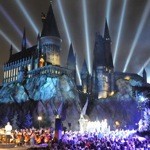 Dec 04, 2016
The original 2D animation used in The Wizarding World of Harry Potter in Orlando will be used in the California park after multiple incidents involving the new 3D effects on the ride making riders motion sick.
The 3D conversion was also criticised for taking away from the animation, due to riders having to wear 3D glasses.
When asked by Behind the Thrills for their comments, universal added:
"We continually evaluate our theme park experiences. By enabling the guests to enjoy Forbidden Journey without 3D is one example of how were assessing various opportunities."
Did you ride the 3D Forbidden Journey in Hollywood? Do you agree with the changes being made?
Read more about the update here!