Emma Watson stars in the first trailer for sci-fi thriller, 'The Circle'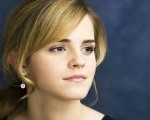 Dec 06, 2016
Emma Watson will star alongside Tom Hanks, John Boyega and Karen Gillan in The Circle – a sci-fi movie adapted from Dave Egger's novel.  in the first trailer released forThe movie, based on Dave Egger's sci-fi novel of the same name. The film released its first trailer today!
The movie follows recent graduate Mae Holland in her employment at a Silicon Valley tech company, The Circle. The trailer shows her interview for her dream job at the firm, and a more than slightly creepy speech by The Circle's CEO, Bailey, played by Tom Hanks. He's really pushing for dystopia.
A summary of the film is as follows:
"When Mae begins to use the company's new technology to broadcast her life, sharing her fears and ambitions with millions of strangers, she learns that her decisions and actions will determine the future of humanity."
The Circle will hit theaters on April 28th 2017. Watch the trailer below!