Harry Potter Sites to See: Fantastic Beasts Exhibit, Philosopher Stones on Display, More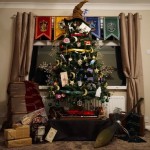 Dec 06, 2016
This Christmas season, there are a couple sites where Harry Potter fans may venture to add a little more magic to their holiday vacation. If museums and studio tours are to your liking, add Warner Bros. Studio Tour Hollywood and Edinburgh's Writers' Museum, across the pond, to your list of possible Christmas destination vacations this year.
For a bit of fun in the sun on the sunny Golden coast, Warner Bros. Studio Tour Hollywood is opening an exhibit featuring real props and costumes from Fantastic Beasts and Where to Find Them, to celebrate the film's theatrical release (in theaters now)!  Fansided reported on the event, writing:
"We are excited to let the world peer behind the lens to see how filmmakers develop the entertainment we love," said Danny Kahn, Executive Director, Warner Bros. Studio Tour Hollywood. "This expansion will transport guests from Harry Potter's Hogwarts adventures back to 1926 New York, where Newt Scamander's misplaced magical case has found its home."

Opening on December 9, this new exhibit presents a journey from concept art to the final designs used on set. Items on display include the detailed costumes of Lord Voldemort, from a young Tom Riddle to his rise as the Dark Lord. To make the exhibit engaging, guests will have the opportunity to be sorted into one of the four Hogwarts houses by the magical Sorting Hat. Standing before a life like image of the Great Hall, guests will join the legendary houses of Hogwarts. The tour ends will an exploration of the newest film from the Wizarding World, Fantastic Beasts and Where to Find Them.
For more information on this event and how to visit Warner Bros. Studio Tour Hollywood, read the original article here. More information from the WB Studio Tour Hollywood website can be found here.
Halfway across the world, Edinburgh's Writers' Museum is displaying a rare copy of Harry Potter and the Philosopher's Stone this Christmas season. The book is a first edition, annotated with handwritten notes and drawings by J.K. Rowling. If that isn't enticing enough, even J.K. Rowling encouraged a visit, with a retreat of Edinburgh Evening News:
A first-edition Harry Potter, featuring anecdotes and illustrations by @jk_rowling will go on display in Edinburgh https://t.co/TkNWJLd4nw pic.twitter.com/tAUo5tbkXe

— Edinburgh News (@edinburghpaper) December 5, 2016
The Edinburgh Evening News offered fans a sneak peek of the book on display with a few pictures. The news article reported:
The original hardback book was annotated by J.K. Rowling in 2013 to raise money for English PEN and the author's international charity, Lumos, which supports millions of children in orphanages around the world to return to family life.

Featuring 43 annotations, including 22 original drawings by the author, the book includes a sketch of baby Harry asleep on the doorstep of the Dursleys; the author's thoughts on Quidditch; and the Hogwarts Crest featuring a bear rather than a badger as the Hufflepuff house mascot.

Councillor Richard Lewis, Culture Convener at the City of Edinburgh Council, said: "This unique first edition features a remarkable glimpse into the Wizarding World of Harry Potter. In it, J.K. Rowling opens her heart about her characters and creations and makes beautiful illustrations of magical scenes from the series."
The book will be on display starting this Thursday, December 8, and will run until Sunday, January 8. The book will be open to different annotated pages on different days. No two visits to the museum will be the same. More information on this event can be read here, from the Edinburgh Evening News.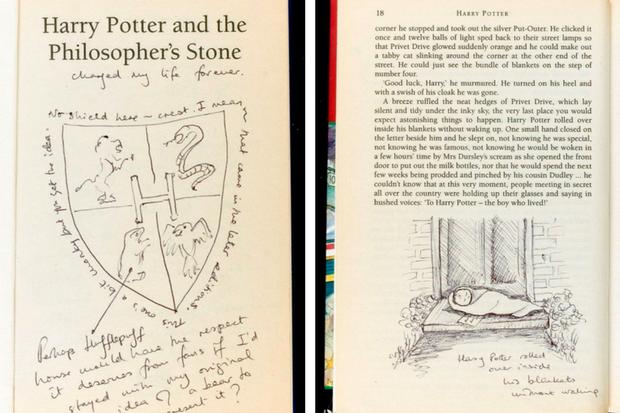 In other Harry Potter related news, you may not be invited into their living room, but this Harry Potter Christmas tree is a must see. Kathryn Burnett from Seaham in Durham made a Harry Potter Christmas Tree that is worthy of Hogwarts's Great Halls. J.K. Rowling even liked it on Twitter! ITV reported on the tree and posted several pictures, one of which can be seen below. More pictures can be seen here.