Newly Discovered Spider Named After Hogwarts Founder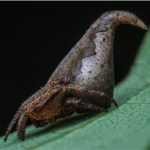 Dec 11, 2016
A new species of spider discovered in India was named  "Eriovixia gryffindori" after Godric Gryffindor, one of the four founders of Hogwarts, and original owner of the Sorting Hat.
Researchers discovered the spider in forestlands of the central Western Ghats, Karnataka, India. The spider camouflages itself by mimicking dry-foliage, and (as an added bonus) resembles the beloved Sorting Hat.
Leading researcher Javed Ahmed said he was a Harry Potter fan as a child, and naturally thought of the Sorting Hat when he first set eyes upon the tiny spider. The discovery is detailed in the
Indian Journal of Arachnology
. Ahmed's passion for the series is obvious in the etymology of the report, which reads:
"This uniquely shaped spider derives its name from the fabulous, sentient magical artifact, the sorting hat, owned by the (fictitious) medieval wizard Godric Gryffindor, one of the four founders of Hogwarts School of Witchcraft and Wizardry, and stemming from the powerful imagination of Ms. J. K. Rowling, wordsmith extraordinaire, as presented in her beloved series of books, featuring everyone's favorite boy-wizard, Harry Potter. An ode from the authors, for magic lost, and found, in an effort to draw attention to the fascinating, but oft overlooked world of invertebrates, and their secret lives."
Ahmed tweeted JK Rowling about the exciting discovery:
@jk_rowling We named a spider, after the sorting hat, from the films! 🙂 Meet Eriovixia gryffindori. Link to paper: https://t.co/XpGcCy4TO6 pic.twitter.com/Qwf1fid7W7

— Javed Ahmed (@curiocritters) December 10, 2016
Rowling retweeted and congratulated Ahmed on discovering a new "Fantastic Beast":
.@curiocritters I'm truly honoured! Congratulations on discovering another #FantasticBeast! ??? pic.twitter.com/NJ4Fe27F1r

— J.K. Rowling (@jk_rowling) December 11, 2016
This is not the first time the series has inspired names of 'fantastic beasts' in the muggle world. In 2014, PLOS ONE published an article about a 'soul-sucking' wasp, named the Ampulex dementor wasp! A lizard, sectumsemper, was also named after one of J.K. Rowling's spells for it's bite.
Read more about the new arachnoid here.