Cursed Child, Fantastic Beasts Original Screenplay & Jim Kay's Chamber of Secrets top Best-Seller lists!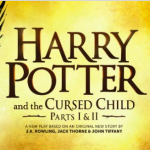 Dec 12, 2016
This year has seen the world of Potter make a comeback, and its success is showing in the charts!
After its debut on the West End, Cursed Child sold over 2 million copies within two days, and has officially been deemed Amazon's best-selling book of 2016. The post-Potter scriptbook, the Fantastic Beasts and Where to Find Them Original Screenplay and Jim Kay's illustrated edition of Chamber of Secrets have also topped Wall Street Journal's list of fiction best sellers, with Fantastic Beasts losing out on the top spot to Jeff Kinney's Double Down: Diary of a Wimpy Kid on both this chart, and the Publisher's Weekly chart.
Cursed Child also topped Amazon's best-selling Kids & Teens books of 2016, Most Gifted books of 2016, and Most Wished For books of 2016.
Fantastic Beasts and Where to Find them: The Original Screenplay, and Jim Kay's Harry Potter and the Chamber of Secrets: The Illustrated Edition also got in the top 10 for Amazon's best-selling Kids & Teens books of 2016. You can see the full list of Amazon's best-sellers for each category here.
Amazon Senior Book Editor, Chris Schluep, said in a statement:
"The power of Potter is still strong, and readers of all ages can't get enough of Hogwarts. Harry Potter and the Cursed Child was the most anticipated book of the year, breaking pre-order records months before its release"
This is the first time a script has made it to the top 20 best-sellers list, and they've managed to get TWO on there! With three books based on the world J.K. Rowling created in the charts – and the last release of a story in the series being nine years ago with Deathly Hallows – it's great to see the series make such a huge comeback.
We hope you're all enjoying reading your copies. Join us in congratulating J.K. Rowling, Jack Thorne and Jim Kay on the achievements!