Rowling Reveals Houses of Fantastic Beasts Favorites: Tina, Queenie, and Jacob!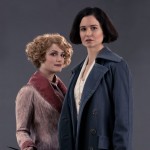 Dec 14, 2016
J.K. Rowling took to Twitter today looking fantastic and festive for the holidays. (She changed her profile picture and cover photo!) As usual, fans hung on her every tweet, awaiting new and exciting reveals. This new series did not disappoint!
Rowling confirmed the houses of our favorite Fantastic Beasts and Where to Find Them characters. Tina is a Thunderbird, the house of the soul and adventurers. Queenie is a Pukwudgie, the house of the heart and healers. And Jacob, were he to be a wizard, would be a Wampus, the house of the body and warriors.
From Pottermore, we already knew President Picquery to be a Horned Serphent, by choice, after a "hat-stall" (statue stall?) indecision in which she was equally favored by all four houses.
Tina: Thunderbird.
Queenie: Pukwudgie. https://t.co/JlbudCKxIl

— J.K. Rowling (@jk_rowling) December 14, 2016
Wampus, of course. https://t.co/IHBS1m0WeU

— J.K. Rowling (@jk_rowling) December 14, 2016
Being a student of Hogwarts in Scotland, rather than Ilvermorny, Newt Scamander is the latest champion of the Hufflepuff House, home of the friendly, loyal, honest, and impartial.
J.K. Rowling also reminded fans that she would be sorted into Thunderbird if she were American. (She first tweeted about her sorting months ago, after the release of the Ilvermorny sorting quiz on Pottermore.) For an enchanting and absorbing read on the founding of Ilvermorny and its houses, visit Pottermore.
Then find out your own house in the distinguished American school of wizardry!