Timothy Spall Wins for "Stanley–A Man of Variety"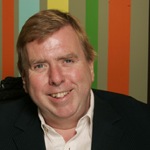 Dec 14, 2016
Timothy Spall – Peter Pettigrew to Potter fans – won the Edgeware Outstanding Achievement Award at the UK Film Festival in London. The Festival, held November 22-26, recognized his role in the movie Stanley–A Man of Variety.
Film-News describes the movie in this brief synopsis:
"[It] tells the story of Stanley, a passionate admirer of classic British comedy, who has been sent to prison for a crime he believes he didn't commit. After years in solitary, the increasingly delusional Stanley begins to talk to his comedy heroes from the past. What ensues is an intriguing psychological mystery in which Spall plays an astonishing 16 different parts."
The Festival is gaining a reputation for featuring films that go on to score nominations -and wins- at the BAFTAs and Oscars, so this already-busy year may continue to pick up steam for Spall. Stanley was released in the UK October 7, and he recently began filming on Finding Your Feet with Imelda Staunton (Umbridge).
To read the full article, click here. To view an interview with Spall at the UK Film Festival, see below.