Production Designer Stuart Craig Talks "Fantastic Beasts"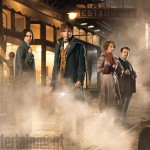 Dec 15, 2016
Production design is a nuanced craft in the film industry. If done well, the sets blend so seamlessly into the director's telling of the story that it belies the amount of work poured into their preparation. It's a perfect marriage of information and intuitiveness, where research mingles with and is enhanced by creativity.
Deadline talked with Oscar-contending production designers Patrice Vermette (Arrival), Jeannine Oppewell (Rules Don't Apply), and Stuart Craig (Fantastic Beasts, Harry Potter) about finding this balance. Craig, who worked on all eight Harry Potter films, observed:
"Because it's set in New York with skyscrapers, [Fantastic Beasts] feels more like a contemporary film than Harry Potter because they're going to school in this medieval castle. It feels period because the setting is period. So there's a strange contradiction there."
It may seem contradictory in terms of set design, but there is no confusion for viewers. The Harry Potter films were so wonderfully crafted that Hogwarts feels like a second home to fans, just as it felt like home to Harry. It was brilliantly constructed to mix the modern and medieval, all around the feeling it should conjure. That magic–is real.
Craig explained:
"We learned on the Potter films that the magic works really well when it's born out of something that seems completely real; something you accept and believe."
We do believe it, and Craig employed this same understanding to his creation of Fantastic Beasts, which transported us seven decades back in the Harry Potter timeline to a bustling and industrious New York City. It's different in virtually every way from the streets of London, where every street corner and structure speak to a long and stately history.
In contrast, the city is changing, and the world is changing. It's 1926. The streets are broad and the buildings are tall. The men wear suits and the women wear bobs and everything feels momentous.
The constant, of course, is the magic. Craig was tasked not only with designing the headquarters of the Magical Congress of the United States of America (MACUSA), but also with making the featured beasts as fantastic as hoped and imagined. Deadline reports:
"The Fantastic Beasts art department's collective imagination ran wild with the design of magical creatures and buildings, but they had to also create, [according to Craig] 'a very authentic-looking, very credible New York.'"
Craig succeeded in every possible way. Now we must wait until February to see whether the Academy agrees!
For the full interviews with Vermette, Oppewell, and Craig, read here. For an inside glimpse at the inspiration for the Fantastic Beast's New York, read the Leaky Cauldron's rundown on the location tours currently available!