Rowling Teases New Books are On The Way!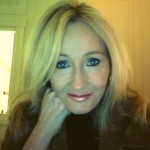 Dec 21, 2016
On Wednesday, Rowling tweeted a lot, revealing quite a bit!
When Twitter user @sharonshh tweeted at Rowling about loving the Fantastic Beasts screenplay, she also asked about any other books being written. We don't know whether it will be a Cormoran Strike novel (under her pseudonym Robert Galbraith), a Potter related book, or something else entirely!
However, Jo's given a few hints. Apparently she's writing one book under each: one that's a Galbraith novel, and one under her own name, and we already can't wait!
Her response was as follows:
One of each, but I'm not sure which will come out first. I'll let you know as soon as I do! https://t.co/gFF8UZmq5W

— J.K. Rowling (@jk_rowling) December 21, 2016
She also responded to several questions on Twitter, including one about Severus Snape. In Harry Potter and the Order of the Phoenix, Snape tries to teach Legilimency , a magical skill used to penetrate other peoples' minds. So when a fan asked her about Queenie's (Fantastic Beasts) mind-reading abilities versus Snape's, she had this to say:
Snape had to train a slight natural ability. Queenie was born with a great talent, though she's not infallible. https://t.co/tpieA0P9EA

— J.K. Rowling (@jk_rowling) December 21, 2016
Rowling also said that she wasn't working on any Newt Scamander novels. Unfortunately for those hoping this was a possibility, she confirmed that there wouldn't be any in future:
No, no, no. There won't be Newt Scamander novels. Only movies. Calm down, there! https://t.co/Zyhim6Wscd

— J.K. Rowling (@jk_rowling) December 21, 2016
Though we're sure this would have been an excellent read, we're still massively excited for what this news means for the near future for those of us who love her other books!
You can find a list of her current writings on her brand new website – perhaps the alleged Newt Scamander book should be the first thing under the 'debunked' button?