J.K. Rowling Shares a Heartfelt Holiday Message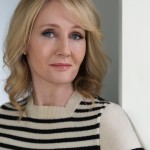 Dec 24, 2016
On this Christmas Eve, J.K. Rowling tweeted a beautiful heartfelt message to her followers about dealing with difficulties during the holiday season. The sentiment seemed to be initiated by the many thoughtful Christmas wishes she has received this year. She shares her gratitude, some empathetic words and a bit of her own history with adversity.
Below are the series of 12 tweets she sent today:
I've also heard from people who are going through very tough times. These always seem worse at Christmas. 2/12

— J.K. Rowling (@jk_rowling) December 24, 2016
If you're lucky enough to be with the people you love, warm and safe, with enough to eat, I'm sure you feel as blessed as I do. 4/12

— J.K. Rowling (@jk_rowling) December 24, 2016
Of course, Jo Rowling's life is now the very life many would jump to when they think of success and acclaim. However, her experiences now are wildly different to her life before Harry Potter. She not only read the letters of many people in far worse situations than many of us can imagine during her post-university position at Amnesty International, researching human rights abuses in Africa, but herself experienced hardship as a single mother. She spoke about her experiences in her Harvard Commencement speech, which was later turned into a book, Very Good Lives. The profits from this went to her charity for children in orphanages, Lumos.
Rowling's new website's 'About' page gives her take on this role at Amnesty, proving Jo's charitable, empathetic heart has always been there:
"There in my little office I read hastily scribbled letters smuggled out of totalitarian regimes by men and women who were risking imprisonment to inform the outside world of what was happening to them. My small participation in that process was one of the most humbling and inspiring experiences of my life."
remember that extraordinary transformations are possible. Everything changes. Nothing is forever. 6/12

— J.K. Rowling (@jk_rowling) December 24, 2016
You never know what the future holds. Astonishing reversals of fortune happen every minute. 8/12

— J.K. Rowling (@jk_rowling) December 24, 2016
Her words of encouragement for those experiencing hardship are bound to reach out to many people given her massive Twitter following, and we hope anybody who is struggling this Christmas is touched by Jo Rowling's personal words of kindness and empathy.
I send you love and wish you luck and better times. Millions of us have been where you are now. 10/12

— J.K. Rowling (@jk_rowling) December 24, 2016
❄️☃️✨🎄 Merry Christmas! 🎄✨☃️❄️

— J.K. Rowling (@jk_rowling) December 24, 2016
Thank you for those sincere and compassionate words of encouragement Jo, and Merry Christmas from The Leaky Cauldron!