Imelda Staunton Stars in National Theatre's 'Follies'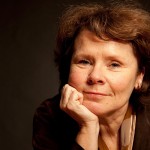 Dec 24, 2016
Imelda Staunton bewilders as the twisted Professor Umbridge in the Harry Potter series, but in Fall 2017 she will bewitch the stage as Sally Plummer in the National Theatre's production of the musical Follies.
National Theatre Director, Rufus Norris, told Playbill.com:
"We are thrilled Imelda Staunton and Janie Dee will return to the National in 2017 in Stephen Sondheim and James Goldman's masterpiece Follies. Musical theatre is hugely important and of course, like audiences all over the world I love Stephen's work. Imelda's performance in Guys and Dolls at the NT is the stuff of legend and I am delighted she is to take the lead in Follies under the direction of Dominic Cooke."
As Norris notes, Staunton is no stranger to the stage. Leaky reported that she was recently named Best Actress in a Musical for her performance in the West-End production of Broadway's Gypsy at the 2016 Olivier Awards. She has also won Olivier Awards for her roles in Into the Woods and Sweeney Todd.
Staunton returns to the West-End in the latest production of Who's Afraid of Virginia Woolf, as well. According to Leaky's recent round-up, that production will run February 22 through May 27.
Her veteran status will serve her well as she takes that momentum to the stage in Follies. The musical tells the story of former Broadway singers and dancers in their golden years who reunite to discuss the turns their lives have taken–and the mistakes that led them there. As they relive old times, their younger selves also take center stage. Staunton clearly has the confidence and presence to shine here.
Staunton will star alongside Janie Dee, Peter Forbes, Philip Quast, and the newly-cast Tracie Bennett, a Tony-nominated actress for End of the Rainbow, playing the role of Carlotta Campion. To read the full Playbill announcement, click here.