Evanna Lynch & Bonnie Wright Visit Haiti for Lumos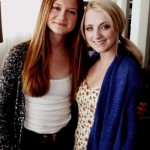 Dec 28, 2016
Evanna Lynch and Bonnie Wright – as Lumos ambassadors – visited Haiti in July to see the amazing work the charity was doing, and to spread the word about children needing families, not orphanages.
Evanna introduces the short video, published on Lumos's Twitter feed, explaining that her and Bonnie were in Haiti to visit the charity's programs. They met with families that had been reunited, giving examples of a child that had been in an institution for 5 years, another family who had been separated against their will, and she notes on how import love and families are to children, saying:
"Without a family, and without love, children can't be children"
She calls for viewers to get involved in the important work Lumos is doing to reunite families, by signing up to Lumos (here), donating money to the charity, and spreading the word.
Lumos summarises their ethos as:
"No child should be denied a family life because they are poor, disabled or from an ethnic minority. Lumos works to support the 8 million children in institutions worldwide to regain their right to a family life and to end the institutionalisation of children."
Evanna also posted a photo of her and J.K. Rowling to her Instagram:
Bonnie Wright also previously shared a photo from the visit on her Instagram:
Other stars such as Warwick Davis and Eddie Redmayne have been involved in the cause, and are helping to spread the word about the importance of giving children a voice.
View the video below, and visit the Lumos website here for more information on the work they do.
2016 highlight: Our amazing ambassadors @thisisbwright & @Evy_lynch visiting #Haiti – watch here pic.twitter.com/qKWsPeGo4N

— Lumos (@lumos) December 27, 2016