'Cursed Child' Set Designer A Leader of Expanding Theater Initiative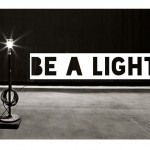 Jan 08, 2017
Christine Jones, Tony Award-winning set designer for Harry Potter and the Cursed Child, is among three dozen leaders in the theater community that have created The Ghostlight Project, previously announced as The Sanctuary Project.
On January 19, 2017 at 5:30 pm in each time zone across the country, participating members of the theater community – from Broadway to regional theaters to high schools, colleges and community theaters – will gather outside their respective institutions to launch The Ghostlight Project. Inspired by the theatrical tradition of keeping a "ghost light" on in a darkened theater, participants will collectively create light for the challenging times ahead.
Since we first reported on the project, the number of participating theatrical institutions have tripled. To date, more than 100 theaters nationwide will be keeping their lights on the night of January 19th to mark the inception of the Ghostlight Project. This includes a group that will gather on the steps of the renowned The Public Theater in downtown New York as well as in Times Square. Hundreds of artists and workers from across the Broadway community, as well as others from across the city, are planning to gather.
As reported by Leaky last month, the project aims to join the theater community nationwide in solidarity, to support vulnerable communities and help create "brave spaces" that serve as places of diversity and inclusion. According the project creators in an update on the initiative from BroadwayWorld.com,
"Creating activated art spaces that include all voices is our goal."  
If you are interested in participating in The Ghostlight Project launch event and/or learning more about the ongoing effort, visit theghostlightproject.com.
You can also contact [email protected] to add your theater to the growing list of partner theaters, or to find a theater near you to stand with the project on January 19th.