Emma Watson Sings in New 'Beauty and the Beast' Teaser Trailer From Golden Globes!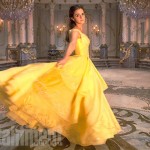 Jan 09, 2017
As hinted yesterday on Instagram, Disney surprised fans at the Golden Globes last night, dropping a new teaser trailer for its upcoming live-action remake of the magical fairy tale Beauty and the Beast.
The footage is mostly familiar, though we get a few more glimpses of the house staff: Lumiere the candlestick, Cogsworth the clock, and Mrs. Potts, the teapot. But the true delight to the eyes and ears is a brief shot of Belle (Emma Watson), high on an idyllic mountain, in a Maria von Trapp moment reminiscent of another well-loved Disney musical. Here we're treated to a snippet of Emma Watson singing one of the film's famous songs, identified as "Belle (Reprise)."
Until now, we had only heard a clip of Watson singing Belle's other classic rendition, "Something There." Leaky reported on that release, confirmed by Jack Morrissey, and the exciting news of a new ballad featuring Belle called "Our Song Lives On," which will be included in the film and official soundtrack.
Disney has perfected the musical film genre, and these clips leave no doubt that we can expect another critical and box office success. Emma Watson, beloved as Hermione Granger, epitomizes the beautiful, bookish, and headstrong title character. With the spot-on casting and director Bill Condon's commitment to closely following the animated fan-favorite, movie magic is being made.
Excitement remains high as we await the March 17th release, and yesterday's reveals did not disappoint! In case you missed the other big surprise, here's another look at the new poster that showed up on Instagram.