Additional Cast Announced for "Cormoran Strike Series"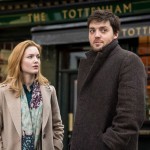 Jan 10, 2017
Additional actors for the highly anticipated television adaptation of J.K. Rowling's "Cormoran Strike Series" were finally announced on IMDB. We reported previously on the casting of the two main characters, Cormoran Strike and Robin Ellacot, played by Tom Burke and Holliday Grainger, respectively. IMDB now also has several smaller roles listed for characters in The Cuckoo's Calling, and a few of them should look familiar.
First off is Game of Throne's Kerr Logan as Robin's (Holliday Grainger) fiance.
The model, Lula Landry, whose murder is the central investigation of the novel, will be portrayed by Elarica Johnson; who also appeared as a waitress in Half-Blood Prince. 
Her adopted brother, John Bristow, will be played by Leo Bill, who's known for his roles in Alice in Wonderland and well as The Girl with The Dragon Tattoo. 
Other newly announced roles include the victim's boyfriend, Evan Duffield, who will be played by Bronson Webb (The Dark Knight). Game of Thrones's Tara Fitzgerald will star as Tansy Bestigui, Lula's neighbour, and last but not least is police detective Eric Wardle, played by Killian Scott (Calvary). 
Keep an eye out for more information about the upcoming series as its released!