How the Fantastic Beasts Came to Life On-Screen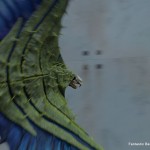 Jan 18, 2017
Within the latest installment in the Harry Potter universe, Fantastic Beasts and Where to Find Them, viewers had the chance to see many magical creatures come to life before their eyes. But these beasts may be more complicated than one might assume. The people responsible for creating and perfecting the beasts so that we might be mystified by their forms was a corporation called Image Engine, who have previously worked on movies such as Jurassic World and Independence Day: Resurgence.
Newt Scamander sets off, in Fantastic Beasts and Where to Find Them, on a mission to return one of his beloved creatures to its homeland. Newt carries with him a case that looks quite ordinary on the outside, but is like a whole other world on the inside, containing many different species of magical beasts.
"These imaginative beasts truly steal the show. Whether large or small, JK Rowling's creatures play a significant role in the expansive adventure. Thanks to incredibly complex visual effects, they're just as tangible on screen as the human characters they interact with. Image Engine played a pivotal role in translating this bestiary from printed page to big screen, taking creatures like the Graphorns and Swooping Evil from Rowling's words and turning them into lifelike digital beings."
What came down to be only a few seconds on screen was one of Image Engine's greatest challenges. For this minuscule scene, Image Engine had to create a family of horned, scaly beasts called Graphorns. The artists underwent a series of research, looking at animals such as rhinos, elephants, caterpillars, ostriches, hippos, lions, and alligators to make sure they got the image of this beast as immaculate and life-like as possible.
"Image Engine created complex muscle, fascia, and skin simulations to anchor the Graphorns in reality, with physics anatomy simulator Ziva providing a strong first musculature pass to work from. Using Vital Skin software, the modeling team applied the muscle and fascia deformation to the Final HU resolution mesh, resulting in realistic skin slide effects across the massive Graphorn bodies."
Image Engine takes pride the amount of detail they put into their work. The creatures build and physical detail was not the only thing that had to look realistic. They also had to move in a way that was graceful and smooth, they had to breathe with their chests rising and their nostrils flaring, and they had to blink. The creatures needed to be presented as living beings that Newt and Jacob.
The inside of Newts case has a unique layout, with drop cloths separating each habitat. Image Engine not only had to handle the Graphorns themselves, but also the environment surrounding them. This task proved challenging because of how the filmmakers wanted it to appear. They wanted it to feel as if it were a diorama, making it appear as if it was a large space shoved inside of a smaller one.
"The diorama was tricky, because we were trying to create something that looked realistic, but looked a little 2D at the same time," says Damien Thaller, environments supervisor. "We needed to find flavor between real world and stylized."
For a setting that was only seen on-screen for a fraction of a minute, the work that went into it was very elaborate and lengthy.
"It was a very complex shot: the final comp was over 100 layers, and used deep compositing and a whole bunch of other effects passes," says Martyn Culpitt.

The Graphorns may have been the biggest project that Image Engine had on Fantastic Beasts, but they also worked quite a bit on the Swooping Evil. This creature is able to expand from the size of a compact mirror into its full-sized form with a four-foot wingspan within a single moment. "That was a big rigging challenge, and required a lot of careful thinking about the best possible approach," says Andrew Kaufman, Image Engine's R&D lead.
The team had to consider many different aspects while creating the beast. They had two forms to work with and had to come up with ways it would move in each of them. When it hung off of Newts finger they needed to give it the sense of hidden weight, to convey that it was not as small as it appeared.
"Image Engine also handled the Fwooper, another winged beast who looks cute and cuddly, but is something of a nuisance. "From an animation and rigging standpoint, that guy was hard make work," says Culpitt. However, plenty of look-development and R&D helped bring it to life."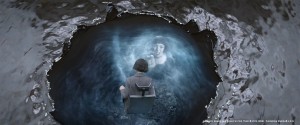 Image Engine also worked on the potion that Tina Goldstein was going to be dropped in near the end of the film. It took them a couple tries before director David Yates was satisfied with the outcome. Two months before final wrap, Yates was presented with a final cut of the potion, but he decided to go in a different direction with it and left the team to remake it in time for final wrap.
"The potion didn't really interact with the character before; we needed to make it feel like it was almost a creature itself, and almost threaten the character in question, like it's about to grab her," says Culpitt.
Despite the limited time given to them to rework the scene, Image Engine transformed the potion into something more life-like. The turnaround was fantastic and just in time for final cut. Everyone was significantly more satisfied with the second outcome of the potion.
"Fantastic Beasts stands as yet another brilliant addition to the growing Image Engine creature and character catalogue, which now features chimeras alongside dinosaurs, sentient robots, and undead mythological kings!"
See a more in-depth explanation about the way these creatures were brought to life here on Image Engines website!