Four Brand New Potterverse Books This Year!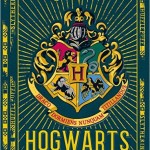 Jan 19, 2017
Start saving now for more visits to your local bookstore, Potter fans. Before summer is upon us, four new books on everything you could ever want to know about the wizarding world–and some features you couldn't have imagined–will be released!
First up is the "Harry Potter: Hogwarts: A Cinematic Yearbook"  set to release on January 31st, which includes activities, photos from the films with a House Sorting, Quidditch, and classes. It will have you yearning for your Hogwarts acceptance letter all over again!
Next is the second volume of the "J.K. Rowling's Wizarding World: Movie Magic" books, and this one is focused on "Curious Creatures." Featuring different creatures from both the Fantastic Beasts and Harry Potter films, it will include posters, profiles, and much more and is set to release on March 14, 2017. (The first volume is absolutely amazing, so there's no doubt this is also a must-have!)
The third new book, "J.K. Rowling's  Wizarding World: Magical Film Projections: Creatures", will come out on the same day. (How thoughtful of the publishers to save us a second trip–two in one go!) From Insight Editions, it will include illustrations on acetate pages. With "Lumos" or a flashlight, fans will be able to send the creatures (Including Dobby!) onto their walls.
And last but not least is another addition to the Harry Potter coloring books, and this time it's all about Magical Artifacts. It'll have illustrations from the previous version of the Magical Artifacts colouring book, but these are one-sided prints that can be torn out and hung up! There's nothing like covering your walls with posters of magical objects. It's set for release on May 9, 2017.
This year is already bringing more Potter to us – and we can't wait!