J.K. Rowling Makes Nielsen Book's 'Bestseller Hall of Fame'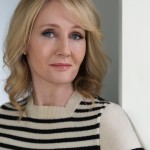 Jan 20, 2017
J.K. Rowling made it onto Nielsen Book's first ever Bestseller Hall of Fame as a result of having reached platinum sales records. She features more than any other author on the list, with nine titles breaking the record.
Andre Breedt, director of Nielsen Book Research commented on the list, which is comprised of 46 fiction books, 34 children's titles, and only 14 non-fiction works:
"These 97 titles offer a fascinating snapshot of the reading tastes of the British public. Most titles are of recent publication, reflecting the fact that Nielsen Book began tracking book sales 18 years ago. This makes the achievement of titles dating back to more than three-quarters of a century even more impressive.

"It is interesting to note how fiction dominates over non-fiction, while the oft-presumed dominant celebrity memoir is represented by only a handful of authors."
The 'class of 2016' – books that reached the million-copy platinum milestone in 2016 – will be officially revealed by Nielsen at the Specsavers Bestseller Awards ceremony in London on January 25th.
According to The Bookseller, Specsavers founder Dame Mary Perkins said:
"These are the books of our lives. I am thrilled to see so many of my own favourites on the list, and have spotted many others that I cannot wait to read."
The list features 97 titles in total (9% of these being written by Jo) and 64 authors.
Read the full report at The Bookseller here.