'Cursed Child' Director Brings Pinocchio to the Stage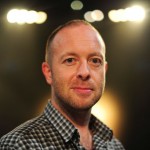 Jan 21, 2017
John Tiffany – director of Harry Potter and the Cursed Child and Once – will be directing a stage adaptation of the children's classic, Pinocchio!
The show will debut at the National Theatre just in time for Christmas this year, and will feature songs from the animated Disney version.
Tiffany will join Cursed Child movement director,  Steven Hoggatt, who will be choreographer on the show. Dennis Kelly (Matilda) will write the show based on a puppet who wants to be a real boy, which will be partly performed by puppets designed by Bob Crowley and Toby Olie.
The Daily Mail reports on Disney's involvement:
"This column broke news of plans for the NT Pinocchio two years ago. Rufus Norris, director of the National, told me in an exclusive interview that the National was not receiving 'one cent' from Disney to put on the show on the South Bank.

The only 'currency' from Disney comes in the form of rights to songs and story."
John Tiffany is an acclaimed director, not least because of his involvement with Cursed Child – he is known for his multi-layered style of theatre, which is often described as 'raw'. The Daily Mail also gave Rufus Norris' comments on Tiffany's involvement:
"'He can build up the theatricality in a handmade way, rather than bringing on tons of scenery,' he said. Which is important since the National is 'not in the market for doing a huge-scale, Disney-style musical'

'We're talking about a story that's essentially set in a puppetry workshop, so there's a lot of that aesthetic built into the Collodi story.'

Martin Lowe will be in charge of the music in the show, which will reportedly feature I've Got No Strings, Give A Little Whistle, When You Wish Upon A Star and Hi Diddle Dee Dee. Thomas Schumacher, president of Disney Theatricals – who gave the rights to Tiffany and Lowe – was glad to hear Tiffany's request to tackle the children's classic:
"'If someone like John Tiffany comes to you and says "I want to do Pinocchio — will you let me have a chance at it?", why not say yes?!'"

'They're going to do a great job,' he told me. 'It needs the safe environment of the National, so John and his team of artists can work on it without any outside pressure.'
Tickets to the show are set to go on sale in the summer. Read more here!