Jason Isaacs in New 'A Cure for Wellness' Preview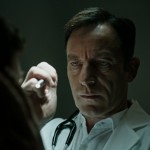 Jan 25, 2017
If you haven't seen the trailers for A Cure for Wellness, they are legitimately spooky. Jason Isaacs, or Lucius Malfoy as we know him, stars as a doctor in the film, but it does not specify what kind of physician. IMDB has him credited, but without the characters name.
Despite its looming premiere date, February 17th, 2017, A Cure for Wellness is already very mysterious and this lack of a character's name just adds to the mystery. Acoording to the trailer, he plays one of the film's more imporant characters, along with Dane Dehaan (Lockhart) and Mia Goth (Hannah).
Comingsoon.net's official synopsis says,
"An ambitious young executive is sent to retrieve his company's CEO from an idyllic but mysterious "wellness center" at a remote location in the Swiss Alps. He soon suspects that the spa's miraculous treatments are not what they seem. When he begins to unravel its terrifying secrets, his sanity is tested, as he finds himself diagnosed with the same curious illness that keeps all the guests here longing for the cure. From Gore Verbinski, the visionary director of "The Ring," comes the new psychological thriller, "A Cure for Wellness."
The spooky trailer shows Dehaan's entrapment in the 'wellness' center, but that's all we're given. It already looks promising as a terrifying ride.
Watch the newest clip below!
And the trailer here!