Eddie Redmayne to Voice New 'Fantastic Beasts' Audio Book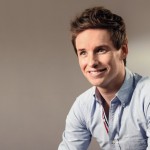 Jan 27, 2017
A new audio book version of Fantastic Beasts and Where to Find Them is coming this March and it will be narrated by Newt Scamander himself, in the form of Eddie Redmayne, who portrays him in the new film that is loosely based on the original book.
Redmayne appeared on this morning's NBC Today Show discussing the project. The audio book will be based on J.K. Rowling's latest updated version of Fantastic Beasts and Where to Find Them and will therefore contain the new foreword and six new beasts as the new book does. The updated foreword touches on some of the plot of the film and contains Newt's visit to New York as well some other new details about his life.
Along with Eddie's lovely voice passionately describing his favorite creatures the book will also feature some creative sound effects to accompany his descriptions. He commented on his role in the audiobook:
"Before I was cast in the film, David Yates told me about Newt and this textbook. I found it so funny and so enchanting and really wittily written. But it wasn't until I started reading it out loud for the audiobook that I realized how tricky and poetic J.K. Rowling's use of sounds and language can be. There are some really great tongue twister words in here! Occasionally, I had to stop recording just because I was incapable of saying the words without either laughing or getting my tongue in a muddle. I enjoyed the challenge and hope listeners can sense that in my narration." 
Laurence Howell, Director of Content at Audible UK also said of the new release:
"We are thrilled to offer Audible listeners the opportunity to enjoy a brilliant performance of yet another essential component of J.K. Rowling's Wizarding World. Both Eddie's narration and the highly detailed sound design really let you immerse yourself in this richly imagined universe.

"Ever since we first made the Harry Potter series available on Audible in 2015, they have been consistently among the highest rated, most downloaded, and most listened to audiobooks in our store."
The audiobook is already available for pre-order from Audible UK, Audible US and Audible Australia and will be officially released on March 14 2017. Proceeds will go to Comic Relief and Lumos.
Make sure to visit Audible to order yours today! To catch a sneak peak of what you have to look forward to check out the video of some clips of Redmayne narrating the book below courtesy of Pottermore: