UPDATE: 'Harry Potter' Gets Technology Upgrades!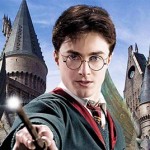 Jan 27, 2017
The Harry Potter series may be set in the medieval castle, Hogwarts School of Witchcraft and Wizardry, but its magic is for all ages and times. In fact, Harry Potter fans can soon experience the wizarding world in updated and highly-advanced ways!
Warner Bros. announced yesterday that it will release all eight Harry Potter films on Ultra HD Blu-Ray over the course of this year. Harry Potter and the Order of the Phoenix, Harry Potter and the Half-Blood Prince, Harry Potter and the Deathly Hallows Part I, and Harry Potter and the Deathly Hallows Part II will be available March 28th.
The first four films, Harry Potter and the Sorcerer's Stone, Harry Potter and the Chamber of Secrets, Harry Potter and the Prisoner of Azkaban, and Harry Potter and the Goblet of Fire, will be released later in the year.
Business Wire with Yahoo Finance explains what you get in the following description:
 "The Ultra HD Blu-ray Combo Packs will include an Ultra HD Blu-ray disc with the feature films in 4K with HDR, a Blu-ray disc with the feature films and special features in HD, and a Digital HD version of the feature films.

Ultra HD Blu-ray showcases 4K resolution with High Dynamic Range (HDR) and a wider color spectrum, offering consumers brighter, deeper, more lifelike colors for a home entertainment viewing experience like never before."
Fans be forewarned, in order to fully experience this amazing upgrade, you'll need to have a 4K Ultra HD TV with HDR, an Ultra HD Blu-ray player, and a high-speed HDMI cable.
If, however, you're interested in something more futuristic, how about virtual reality? Imagine an experience that comes even slightly close to those at Universal Studios theme parks, but in the comfort of your own home!
Microsoft has been developing the HoloLens, an advanced virtual reality headset. The high-end price for this technological wizardry is $2,999. However, Mobile & Apps reports that 3Glasses, HP, Dell, Acer, or Lenovo could have a consumer version on the market as early as the end of this year–and starting at the much more fan-friendly price of $299.
What makes this so exciting for Potter fans, specifically, is that a 21-year-old Nevada college student has created a series of HoloLens VR apps similar to "Pokémon GO." In fact, his Harry Potter application is already complete!
Moble & Apps gave some details on what's currently included:
"He came up with three spells that can be projected to real-time surroundings. The is the 'Incendio' for creating fires within the VR world of 'Harry Potter GO,' 'Wingardium Leviosa' for making digital items float, and 'Expecto Patronum' for warding off the occasional Dementor. Users of this HoloLens VR app can conjure the spells with their voice, in addition to a physical wand that can be used with the gesture tracking."
It sounds like there are some magical things in store for fans as Harry Potter merchandising expands with continued technological advances. Start saving your galleons now! And read the Business Wire report here, as well as the Mobile & Apps article here, for more details.
***** UPDATE: Fantastic Beasts blue-ray release date also set! ********
Warner Bros. earlier confirmed the release date for the digital HD, Blu-Ray, and 4K versions of Fantastic Beasts will also be released on March 28th!
Bring home the magic of #FantasticBeasts on Digital HD 3/7 and Blu-ray™ 3/28. https://t.co/XxDvlPX8Iq pic.twitter.com/VClQxkdKSC

— Fantastic Beasts (@FantasticBeasts) January 27, 2017
Take a look at more information about this edition here, and the combo editions here!