On-Set Photo from Gary Oldman's 'Darkest Hour' Surfaces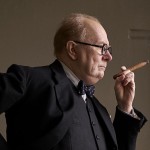 Jan 28, 2017
Gary Oldman is best known to Harry Potter fans as Harry's godfather, Sirius Black. Black was a bit of a renegade in his time, rejecting his family's pureblood mania, joining the Order of the Phoenix and, though wrongly-convicted of murder, risking the danger of capture to come out of hiding and fight for Harry. Oldman now stars as Winston Churchill in the upcoming biopic, Darkest Hour.
Churchill is another man known for his boldness and bravery, qualities that were much needed in order to combat the dark rise of the oppressive Nazi regime. The film is set during the first years of WWII, when the prime minister emerges as a decisive leader. Considering Oldman's depth of talent and experience portraying formidable, strong men, it looks to be an incredible film.
Darkest Hour is directed by Joe Wright, who deftly handled both the sweeping drama and relational intimacy of Pride and Prejudice and the critically-acclaimed Atonement, another epic set during the Second World War. Filming is already underway, and the crew was recently spotted setting up in part of the Manchester town hall.
Manchester Evening News reports the hall has been used for the BBC dramas Our Girl and Witness for the Prosecution, as well as Meryl Steep's Suffragette and Dan Radcliffe's Frankenstein.
Though Oldman has not yet been seen on location, it gives fans a brief glimpse into Wright's plans for the film, as the hall is known to be used for government and parliament buildings. Also, read Leaky's previous coverage of Oldman's conversation with Paul Clayton in Off the Record for more on his portrayal of Churchill in Darkest Hour.