David Tennant says it's going to be all okay!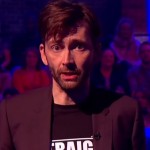 Jan 29, 2017
With the ever changing climate of our political world, it's easy , and justifiable to be scared about what the future could hold. In times like these, an encouraging speech is always required.
And we get one; from non-other than the Doctor himself! David Tennant, who played the Tenth Doctor, DI Hardy in Broadchurch,  and Barty Crouch in Goblet of Fire; appeared on The Last Leg was asked by a twitter user to say it'll all be okay.
"It's all going to be okay. Trust me, I'm a doctor. But it's up to us to make it okay and to be positively rebellious and rebelliously positive. As long as we stand up for what we believe in, don't give in to anger or violence, look out for the little guy, keep an eye on the big guys, refuse to keep our mouths shut, and just generally try not to be d***s," he said, then "every little thing is gonna be alright.
It's a wonderful way to keep a positive attitude – and who better to ask for the speech to come from?
From all of us at Leaky Cauldron, thank you David Tennant.
Watch the speech here, and tell us what you think!