Julie Walters and Cast Begin Filming 'Mary Poppins Returns'!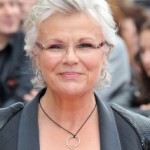 Feb 10, 2017
Walt Disney Studios announced that Mary Poppins Returns is now currently filming at Shepperton Studios in Surrey, England, boasting a star-studded cast which includes Julie Walters, beloved matriarch of the Harry Potter series first family, the Weasleys.
Walters will play Ellen, housekeeper for the now-grown Michael Banks, who still resides on Cherry Tree Lane. No doubt she will pull off the role to perfection, able to swing from kindly and accommodating to no-sense and back again without batting an eye–as she often did with Harry and the Weasley children.
This sequel to Disney's famous classic will feature a new trio, however. They are the children of Michael Banks, who, after suffering a personal loss, encounters again the nanny with a cheery disposition who can right dreary situations like no one else can.
Michael Banks will be played by Ben Whishaw, while his sister, Jane, is portrayed by Emily Mortimer. They are joined by Hamilton and Moana-sensation Lin-Manuel Miranda as an "optimistic streetlamp lighter" named Jack. Colin Firth will now run the Fidelity Fiduciary Bank as William Weatherall Wilkins, chaired by Mr. Dawes Jr., who is played by none other than Dick Van Dyke, the loveable chimney sweep and everyman, Bert, from the 1964 original.
Finally, the titular role will be filled by the amazing Emily Blunt, who will also introduce viewers to her cousin, Topsy, played by the incomparable Meryl Streep. Both women starred in the film adaptation of the musical, Into the Woods, so we know their voices are up to the task!
E Online notes the film, directed by Rob Marshall, will take place in 1930s London during the depression, and the release date is set for December 25, 2018. We look forward to seeing this stellar cast, and Julie Walters in particular, revisit that whimsical lane where you never know what a change in the wind may bring!
Here's the twitter announcement that started the buzz! Look closely and you can read more details about the upcoming film.
EVERYBODY FREAK OUT
Production has begun on "Mary Poppins Returns," a sequel to the 1964 film, starring Emily Blunt and @Lin_Manuel :O pic.twitter.com/bXvCARd1S6

— Jason Imms (@jasonimms) February 10, 2017