Colleen Atwood Talks Designing the 'Fantastic Beasts' Costumes
Feb 15, 2017
Three-time Oscar winner, Colleen Atwood made a spectacular entrance into the Wizarding World with her costumes for Fantastic Beasts and Where to Find Them. From the simple, no-maj New Yorker look to the striking dress of President Picquery, as well as darning 3,500 extras in 1920s clothing. Deadline has provided some insight on just how she managed to pull it all off.
Atwood did quite a bit of research for this project, beginning with studying reals of Jimmy Walker, the mayor of New York at the time that Fantastic Beasts takes place. She did a lot of museum hopping and unearthed as many photos as she could of non-posed photos of people in the 20s.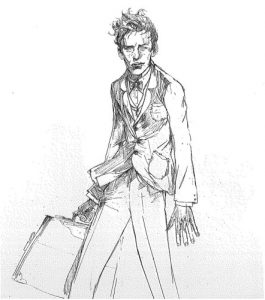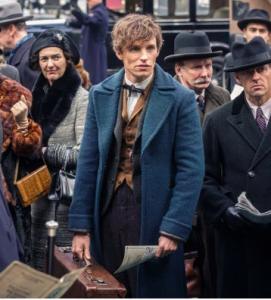 She explained that she prefers to collaborate with sketch artists that more resemble animators. To get the best results, she believes the artist must be able to get a feel for the character, the way they might act and move. Like the sketch above, drawn by Warren Holder, Atwood likes to have the artists "do weird poses" as opposed to drawing them in a presentational style that only showcases the clothes.
Though she goes through the motions, Atwood believes sketches and research are only "shorthand" for the real work. "My real design process takes place with my cutter on the form," She said. "If I can convey a mood, a feeling of a situation with the fabrics, then I can explain it and communicate it to others."
It was a scavenger hunt searching for all the pieces to construct the costumes. Atwood began her world-wide search in L.A., eventually moving outside of the United States to look for pieces in Paris and Rome as well. "It was interesting, going from place to place and seeing the things in period, and how they were interpreted in different cities." She explained.
Atwood also elaborated on the color of Newt's coat, it certainly stood out in the film with its odd blue tone. She drew inspiration from the beasts in the film, with their bright colors and their strangely beautiful forms. She wanted Newt to resemble his beasts, in a way.
"It was a wool that I had in my stock, actually, that I dyed to get the color that I wanted, so it was a process to get the color right. Taking more yellow in, putting more yellow out. Little tweaks with it, but I finally got to a point to show it to the Davids—that would be [director] David Yates and [producer] David Heyman. Eddie [Redmayne] and I were all over it, we loved it, but we were like, "Well, I guess we'd better show it to them, because it's a big commitment."
Yates and Heyman were a little weary at first, as Atwood described, but once she explained that putting the coat over browns, greys, and blacks that it wouldn't be as loud, they came around to the idea.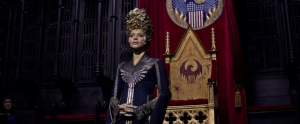 Another piece of clothing that stood out in the film was President Seraphina Picquerys golden headpiece. Atwood explains that she found the piece in her storage room, a piece based on an Indonesian wedding crown. Though the crown you see in the film is not how it originally looked. Atwood says that she fully disassembled the original piece and used all of the pieces to create the one Carmen Ejogo wore in the film.
Atwood said that she really wanted to assert Seraphina's power through her clothing. In the scene with her standing in front of all those other important people, she had about an extra foot to her height with the headdress and the heels she was wearing.
Atwood was very passionate about the clothing in Fantastic Beasts and Where to Find Them. See more details about her experience costuming the film here!