Emma Watson gives Magical Advice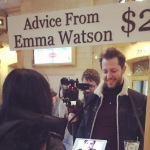 Feb 16, 2017
Harry Potter fans know her as the glorious Hermione Granger, but Emma Watson is also a feminist, an avid reader, and now she is a magical advice giver as well.
Earlier this week in Grand Central Station, a sign was spotted being held by American writer Derek Blasberg that read: "Advice from Emma Watson, $2″; and had an ipad beneath it with her video calling from it.
Mashable says that it was being filmed for a project of some sort, though it wasn't specified.
  While the video doesn't have any audio, it's easy to assume that it's rather wise and wonderful advice to the lucky recipient. Although the sign didn't say where the money was going, Emma donates to numerous charities and causes, so it can be assumed that it went to a good cause.