Emma Watson in 'Bringing Beauty to Life'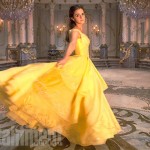 Feb 16, 2017
Excitement continues to rise as we look forward to seeing Emma Watson, our beloved Hermione Granger, bring the iconic character of Belle back to the silver screen March 17th. The release date for the highly-anticipated live-action remake of Disney's classic film, Beauty and the Beast, is little more than a month away, but fans can't get enough of the promotional clips and featurettes that keep surfacing in the meantime!
Most recently, Watson joined fellow cast members Dan Stevens (Beast), Luke Evans (Gaston), Josh Gad (Le Fou), Ewan McGreggor (Lumiere), Ian McKellen (Cogsworth), Gugu Mbatha-Raw (Plumette) and Oscar-winning director Bill Condon in a new featurette titled "Bringing Beauty to Life."
Bill Condon admitted that he found the original 1991 animated version to be "the most beautiful and perfect movie," which begs the question–why remake such a film? He explained that bringing the story to life as a "fully photo-real version" was a great opportunity to re-establish Belle as a 21st century heroine.
The cast realized, of course, what a huge responsibility they were taking on. Watson said they truly wanted to do it justice, while Gad added that "it was something we all knew we had to live up to." McKellen said that it was wonderful to participate in a project where there were so many "people concentrated on making magic that will endure."
Interspersed with the commentary are amazing glimpses of the sets–from the town to the castle–and more clips from the film. They are combined with the beautiful score by composer Alan Menken, and the cast made a point of mentioning the music and its important contribution to the film. Evans noted that the songs "arouse emotion [and]carry you along." Condon summed it up by saying, "There's something about this story and the score that draws everybody in."
View the full featurette here.
And for a snippet of one of those unforgettable songs, view this newly-released clip of Gaston (Evans) and LeFou (Gad) extolling his "virtues" in the village pub.
As previously reported by Leaky, this film is already breaking records, and it most certainly looks like one not to be missed. As Gad said, "This version of Beauty and the Beast will define a whole new generation in a wonderful way." And we can't wait!