JK Rowling Tweets 'Fantastic Beasts' Sneak Peek!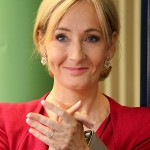 Feb 28, 2017
JK Rowling is known for being a prolific poster on twitter. She offers generous support to deserving causes, including her charity foundation, Lumos, and others. Sometimes she'll dive into the choppy sea of political debate. At other times she engages with delighted fans and answers their burning questions about favorite characters and plot points from the Harry Potter and Fantastic Beasts series. And, occasionally, she treats us to an exciting revelation or sneak peek!
Well, fans, Rowling did just that yesterday, tweeting a purposefully-vague (we presume) photo of what appears to be a Fantastic Beasts script! The picture is positioned to reveal nothing more than the author, Rowling herself, and that it's the confidential property of Warner Bros.
Having a Beastly day… pic.twitter.com/xRGCC9gt3B

— J.K. Rowling (@jk_rowling) February 27, 2017
If you look closely, it appears something was scrawled over top of the script. Perhaps a note was made on a paper, and bearing down on it left the indentations beneath. It could mean something–or nothing! (A 'revelio' charm would come in quite handy here…)
The other notable question, of course, is that it's unclear which script we're being shown! Moviefone speculates that Rowling may be indicating she's completed the script for Fantastic Beasts 3 since, as the site points out, she'd completed the second prior to the release of the first film.
It's also possible she's hinting to the fandom that production on the second film is about to begin and her caption, "Having a Beastly day…," refers to time spent in preparation pouring over script details.
Either way, it's exciting to know that the franchise is moving forward! Ever since Rowling announced the series would include five films instead of three, the fandom has been abuzz with theories about possible storylines and the characters we hope to meet–some for the first time and some returning as their younger selves.
Leaky has joined in the discussion, reporting on the plot of the sequel, including what we know and what we hope to find out. We've also offered theories on Leta Lestrange's impact and contribution to the story, as well as Zoe Kravitz's comments on the role. She is quoted as saying:
"I just went off of who was involved, and J.K. Rowling and the Harry Potter films, so I knew it was going to be incredible, especially with how involved J.K. is. And then, I got to see the film, after I was already signed on, and it exceeded my expectations. That was a really interesting experience, to sit back and watch a movie that you loved, and then get to walk out and say, 'I get to be in that!' It's a very cool thing."
Her point about Rowling's involvement is well made. Rowling seems to have the Midas touch and, whether it's writing the Fantastic Beasts scripts herself or communicating regularly through twitter, the fans know how lucky we are to have her and how unique and special being a part of this wizarding world is!
Whatever this sneak peek means, Jo, we can't wait for more!
To read the full Moviefone article discussing Rowling's tweet, click here.